Actress scores in Julie & Julia
We've all heard it.  And probably said it.  "Meryl Streep could fall off a log and get an Oscar nomination."  Well, this year's log is Julie & Julia and Streep falls off it with spectacular style and charm.
The film itself does not, unfortunately, hold together quite as well as the marvelous Ms. Streep, but it's fun in its way.  The two stories, one of Julie Powell who blogs and cooks and has self esteem issues and the other of Julia Child directly prior to becoming an international phenom, are each quite charming.  Nora Ephron just fails to either write a script or execute a movie that brings them together in a satisfying or technically proficient way.
But Streep – holy mackerel.  She's phenomenal as Julia Child.  I know – she makes it look so easy, as if she was born to play this role.  But think back – how many times have we watched her act and thought exactly the same thing?  She was born to play Sophie in Sophie's Choice.  She was born to play Karen Silkwood (in Silkwood, duh) and Sister Aloysius in Doubt.  Well, she can't be born to play everyone and there's no way this is as easy as she makes it look.
In our hearts we know this to be true.  Streep has made some crap over the years, just like every actor.  She-Devil and Death Becomes Her?  Craaaaaaaap.  So it isn't that she's always perfect or gets a pass from the Academy and a nomination for every golden word that falls from her mouth.  She's an amazingly talented actress who has managed to choose wisely and work her magic in some incredible roles.  That isn't luck, it's skill.  Meryl has mad skillz.  I can't believe I just wrote that.
So the next time I'm considering dismissing a Streep Oscar nomination as simply default by the Academy I'm going to make myself see the movie in question.  It isn't falling off a log – she earns those accolades and for the most part I'm always glad to have seen the work that garners them.  Julie & Julia certainly isn't the best movie she's ever been in, but the performance is delicious.  I typed that in my very best Julia Child voice.  Divine!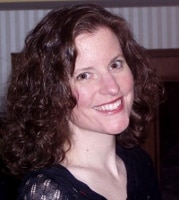 Sue reads a lot, writes a lot, edits a lot, and loves a good craft. She was deemed "too picky" to proofread her children's school papers and wears this as a badge of honor. She is also proud of her aggressively average knitting skills  She is the Editorial Manager at Silver Beacon Marketing and an aspiring Crazy Cat Lady.