Mad Hatter makes Willy Wonka look bland and sane
I adore Johnny Depp.  He's never taken the easy way out and let his pretty boy looks dictate his career choices.  From What's Eating Gilbert Grape to Ed Wood to Cap'n Jack Sparrow in the Pirates of the Caribbean saga, he's taken on the unusual, the wacky and the drunkards.  Sure, the fact that he's the poster child for being beautiful doesn't hurt, but it doesn't define him as an actor.
When I heard Depp was to be the Mad Hatter in Tim Burton's version of the acid trip that is Lewis Carroll's Alice in Wonderland I was terribly torn.  I can't stand this story – the continuous idiotic nonsense plays less as whimsical and more as lunatic for me.  I've never read or seen a version that didn't turn me off.  But Depp is a draw, even for haters like me.  Now that I've had my first glimpse of the trailer I'm whole again.  I've seen all I need to of the character and the movie.
Now all I saw was a bit of the tea party scene.  Cutie Mia Wasikowska, who turned in a terrific performance opposite Jamie Bell in Defiance is Alice and Depp is decked out in Burton-esque splendor as the Mad Hatter.  I hated it.  Don't get me wrong – it looks great.  The visuals have Burton's signature weird-ass, over the top flair and Depp definitely knows how use make-up and special effects to make an engaging (yet creepy) lunatic.  But even that small snippet was sensory overload.
Burton's visual style and Carroll's fantastical story would seem like a perfect match.  But for me they're far more like the perfect storm – way too much weirdness all in one place, all at one time.  It looks like this one is going to appeal to hardcore fans of the story or Burton but not those whose tastes run more toward films with oddities like "plot".  It also, like so many Alice remakes before it, looks too scary for young kids.  I think I'll skip this one – I'm not in the mood for either hallucinogenic stories or the freakish Depp nightmares that would surely follow.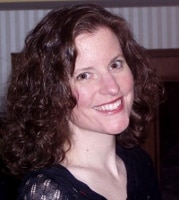 Sue reads a lot, writes a lot, edits a lot, and loves a good craft. She was deemed "too picky" to proofread her children's school papers and wears this as a badge of honor. She is also proud of her aggressively average knitting skills  She is the Editorial Manager at Silver Beacon Marketing and an aspiring Crazy Cat Lady.