A few tidbits for your viewing pleasure
So, are you sick of summer blockbusters?  Seen 'em all?  Hate summer blockbusters?  Maybe it's time to try something that just may have passed under your radar its first time around.  There's a world of fun, light movies out there, perfect for summer nights, in which few if any items actually blow up.
Most of the film world is made up of small movies with small budgets that few people ever see.  They're the building bricks upon which blockbusters are born – every actor and director starts out somewhere.  Here are three of those to try out as we approach the dog days of summer.
Waitress (2007)
Keri Russell of Felicity fame stars as Jenna, a young woman stuck in a loveless marriage and an unwanted pregnancy.  She gets through the day by dreaming of bigger things while practicing her art – the art of making the perfect pie.  She works at a pie diner and much of the movie is framed by her marvelous creations, often with very un-dessert like names reflecting her inner conflicts.
What makes Waitress special is the performance of the entire cast as well as the unconventional fairy-tale type structure of the narrative.  Terrific turns by Nathan Fillion, Cheryl Hines, Adrienne Shelley and Andy Griffith (yep, one and the same) pull together the strings of the sweet, funny and poignant film.  Tragically, director Adrienne Shelley will not be making more movies, as she was murdered before she could see the beauty she created in Waitress.  All the more reason to eat up this one.
Once (2006)
Hate musicals?  Me too.  But I love Once.  This little film from director John Carney garnered an Oscar for Best Original Song and makes all the Disney pabulum of the past years look like schmaltz in comparison.
The story is very simple – two people meet by chance and connect through music.  Glen Hansard and Marketa Irglova play the street musician with higher aspirations and the truly gifted pianist struggling as a single parent in a new country.
What makes Once special is the fantastic music by Hansard and Irglova, the lack of pretense of the entire production and the genuineness of all involved, looking to make a movie with little money and great dreams and succeeding wildly.
Happy, Texas (1999)
Okay, now one that is just plain silly.  Steve Zahn (who I love) and Jeremy Northam are escaped convicts that just happen to wind up being mistaken for a gay couple coming to a small Texas town to coordinate a little girls beauty pageant.  I know, it's a ridiculously stupid premise.  But it's handled with just the right touch.  It doesn't pretend to be realistic, it just has a good time with its own farcical antics.
What makes Happy, Texas special are fine performances by Zahn as he gets into his role as pageant director and William H. Macy as the town sheriff.  Formulaic and predictable, it's also silly and fun and light – never taking itself too seriously.
Each of these small movies is easily available for rent and could be just the right thing for a summer evening when you aren't in the mood for 3-D or big screens.  Or, for that matter, spending uber-bucks at the theater.   I highly suggest consuming these treats with a nice slice of Jenna's Kick in the Pants Pie.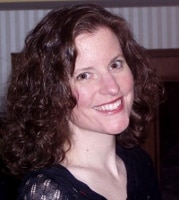 Sue reads a lot, writes a lot, edits a lot, and loves a good craft. She was deemed "too picky" to proofread her children's school papers and wears this as a badge of honor. She is also proud of her aggressively average knitting skills  She is the Editorial Manager at Silver Beacon Marketing and an aspiring Crazy Cat Lady.