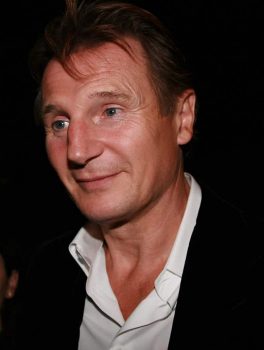 Sue's Taken review is live on the site now. Comes complete with a poll about whether you like the kick-ass Liam or the studious classically trained Liam. No, you can't vote both. Only one Liam to a customer.
And you'll be pleasantly surprised at Sue's deconstruction of this action flick. There's definitely something for everyone. Enjoy the trailer too with our fancy new Amazon widget.
Rest assured that Liam's daddy gone wild in Taken doesn't look quite so happy as one of our favorite Irishmen does in this 2008 photo.
But am I the only one who keeps hearing the voice of Aslan in The Chronicles of Narnia? And would Aslan really condone M. Neeson's, I will find you… and I will kill you schtick?
Yeah, you're right. Who cares. Go check out the Taken review.