[wptabs]
[wptabtitle]Biography[/wptabtitle]
[wptabcontent]
For most people, rudeness is a fault, to be avoided whenever possible. For Simon Cowell, it's a job requirement. Cowell's blunt criticism has made the American Idol judge one of reality TV's biggest stars.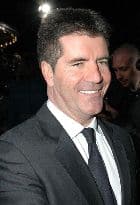 Cowell, who was born in London in 1959, spent the first part of his career behind the scenes. After getting his start in the music business at BMI Music Publishing, he set up his own label, Fanfare Records, with partner Iain Burton. In 1989, he joined BMG as an A&R consultant (managing, among others, Irish boy band Westlife), and according to the American Idol website is still an executive with the company. Cowell's claim to fame, however, has its roots in Pop Idol, a talent competition that enlisted Cowell for its judging panel. When Simon Fuller, the show's creator, brought the concept to the U.S., Cowell went with him, and quickly became the judge audiences and singers loved to hate.
Besides a book about the show (I Don't Mean to be Rude, But…) and various TV/movie cameos, Cowell has gotten involved in other reality TV enterprises. He was the executive producer of Cupid, a dating show that lasted one season, and serves in the same role for ABC's American Inventor. Through his production company Syco, Cowell also created the UK talent competition show The X Factor with himself, Sharon Osbourne and Louis Walsh as judges. In 2005, he was sued by Fuller for allegedly stealing Idol's concept and design. The lawsuit was settled out of court, however, and Cowell subsequently committed to five more years with American Idol.
–A. Wu
photo by Wiki edit Jonny at en.wikipedia
[/wptabcontent]
[wptabtitle]Posts[/wptabtitle]
[wptabcontent]
[associated_posts]
[/wptabcontent]
[wptabtitle]Reviews[/wptabtitle]
[wptabcontent]
[/wptabs]