[wptabs]
[wptabtitle]Biography[/wptabtitle]
[wptabcontent]
Richard Gere has, over the years, become famous for more than just baring all in his breakthrough role in American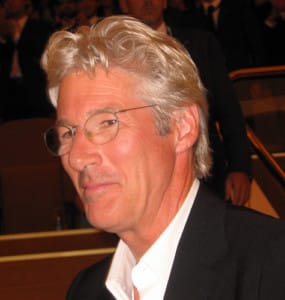 Gigolo.  At 60+ years old, the actor has been banned from the Oscars (for one year after a 1993 remark about China), won a Golden Globe (for Chicago), been nominated for a Razzie – twice (for Autumn in New York and King David), been People Magazine's "Sexiest Man Alive" (1999) and starred with Julia Roberts in Pretty Woman, which made just a little bit of a splash.  He's also a Buddhist who first became interested in Nepal in 1978.  Yep, the man gets around.
Born in Philadelphia in 1949, Gere started his post-high school career with a gymnastics scholarship to the University of Massachusetts, Amherst.  The whole college thing didn't take and he quit after two years to try his hand at acting.  Already a fairly accomplished musician, 4 years after leaving college he landed a plum role in a production of Grease.  The Hollywood ride really began in earnest with Gigolo in 1980 and has continued steadily through highs and lows, genre work and mainstream roles.  Though perhaps best known for his work as a romantic leading man, he's also appeared in thrillers (Primal Fear being my favorite), crime drama (Anton Fuqua's Brooklyn's Finest) and made quite an impression as a tap dancing lawyer in a musical (Chicago).
Gere has been active socio-politically for many years.  He advocates for a free Tibet, Survival International (an indigenous rights organization), AIDS awareness and ecological issues.   Married to model Cindy Crawford from 1991-1995, he is now married to actress Carrey Lowell, with whom he has one son.
–S. Millinocket
Photo courtesy of spaceodissey         
[/wptabcontent]
[wptabtitle]Posts[/wptabtitle]
[wptabcontent]
[associated_posts]
[/wptabcontent]
[wptabtitle]Reviews[/wptabtitle]
[wptabcontent]
[/wptabcontent]
[/wptabs]