Michael Keaton's career as an actor began, of all places, in Mr. Roger's Neighborhood.  In 1968, the young Keaton, having worked on the show as a stagehand, first stepped in front of the camera to appear in several episodes of the children's TV show.  That was enough to send him to Hollywood to try his hand at acting.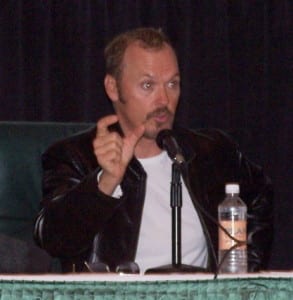 Born in 1951, Keaton's given (and still legal) name is Michael John Douglas.  Obviously, he needed to change that once he came to Los Angeles and so took the surname of Diane Keaton.  He thought it sounded good.  As Michael Keaton he began making TV appearances in the 1970's, with a failed TV series with James Belushi (Working Stiffs) in 1979 leading to his first big screen role – starring alongside Henry Winkler in Night Shift in 1982.
Keaton was one of Hollywood's hot properties throughout the 1980's, with a string of big hits including Mr. Mom in 1983, Gung Ho in 1986 and Beetlejuice in 1989.  His biggest starring role came in 1989 with he was cast to play Batman by Tim Burton.  He played the role twice before the franchise was handed off to director Joel Schumacher and the title role to Val Kilmer.
Keaton worked steadily throughout the 1990's, with varied results.  His efforts to diversify his roles met with both acclaim (Jackie Brown) and critical failure (Jack Frost).  Since 2000 Keaton's work has consisted of a mix of occasional big screen appearances, TV and voice work.  He most recently appeared in The Other Guys with Will Ferrell and Toy Story 3.
Keaton has one grown son, Sean, born in 1983, with then-wife Caroline McWilliams.
photo by Alex Archambault