[wptabs]
[wptabtitle]Biography[/wptabtitle]
[wptabcontent]
James Franco Biography
My first memory of James Franco is one of teen angst, TV style, in the short lived but excellent 1999 show Freaks and Geeks.  A launching pad for Linda Cardellini, Seth Rogan and Jason Segal, the show proved to be gold for Franco as well.
Born in California in 1978, Franco segued quickly from television to the big screen, first in the romantic comedy Whatever It Takes, returning to the small screen in 2001 for the title role in Mark Rydell's biopic James Dean.   Much critical acclaim followed that performance and Franco was on his way to becoming a Hollywood A-Lister.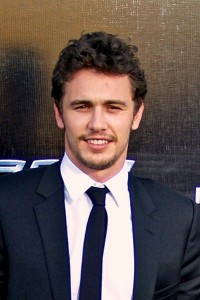 Franco's first major commercial success came in 2002 when he was chosen to play opposite Tobey Maguire in Spiderman, and again in 2004 in Spiderman II.  And again in 2007 in Spiderman III.  In between those commercial blockbusters, he appeared in a variety of smaller films, including City By the Sea with Robert DeNiro and Robert Altman's The Company.
Franco really began to hit his stride as an actor in the late 2000s with acclaimed performances in Knocked Up, Pineapple Express and in 2008, Milk, which garnered an Independent Spirit Award.  Showing his versatility, he went from comedy to drama to adventure with 2010's 127 hours, for which he received an Oscar nomination.   Also in 2010, he was tapped to host the 83rd Academy Awards with Anne Hathaway.
Interestingly, with his Hollywood star clearly rising, in 2009 Franco chose to accept a recurring role on the ABC Soap Opera General Hospital, incorporating the experience into a museum exhibit.  He plans to continue the role into 2011.
After leaving UCLA in the 1990s to pursue an acting career, Franco returned and received his Bachelor's Degree in English in 2008.  He took this academic proclivity to extremes by moving to New York and simultaneously attending 4 different graduate schools focusing on writing.  He received his Master's in Fine Arts from Columbia in 2010 and continues to pursue his education as a PhD candidate at Yale as well as a student at the Rhode Island School of Design.  He's a busy boy.
Franco has long been a painter, another avenue he continues to pursue along with acting and academics.  He has been linked romantically with actress Ahna O'Reilly since 2006 but has never been married and has no children.   No matter how you slice it, James Franco is taking his world by storm.
photo by David Shankbone
[/wptabcontent]
[wptabtitle]Posts[/wptabtitle]
[wptabcontent]
James Franco Posts
[associated_posts]
[/wptabcontent]
[wptabtitle]Reviews[/wptabtitle]
[wptabcontent]
James Franco Reviews
[/wptabcontent]
[/wptabs]