[wptabs]
[wptabtitle]Biography[/wptabtitle]
[wptabcontent]
Born in 1969, Scottish actor Gerard Butler was a lawyer before taking to the stage.  After being fired from his first job in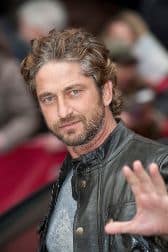 the legal world in 1995 he decided to take a career turn and try acting.  After small stage and screen roles, he broke out in 2003, being cast in both Michael Crichton's Timeline and Lara Croft: Tomb Raider.  Butler received his break into the ranks of leading men in 2004 courtesy of Joel Schumacher and the lead in the film version of Phantom of the Opera.
He has gone on to star in action, comedy and even voice work for animated films.  Perhaps (and perhaps unfortunately) known to most American audiences from his role in 300, he also starred in P.S., I Love You opposite Hilary Swank and provided voice talent for How to Train Your Dragon in early 2010.
Despite rampant speculation to the contrary, Butler remains a bachelor at 40.  The ruggedly handsome Scotsman has inspired innumerable internet fan sites and has loyal followers all over the world.
— S. Millinocket
photo by Siebbi
[/wptabcontent]
[wptabtitle]Posts[/wptabtitle]
[wptabcontent]
[associated_posts]
[/wptabcontent]
[wptabtitle]Reviews[/wptabtitle]
[wptabcontent]
[/wptabcontent]
[/wptabs]