[wptabs]
[wptabtitle]Biography[/wptabtitle]
[wptabcontent]
This handsome, intelligent actor/director grew up in Lexington, the son of a TV talk show host and newscaster in Cincinnati.  Born May 6, 1961, Clooney tried out for the hometown Cincinnati Reds at the height of that team's renown with superstars Pete Rose and Johnny Bench.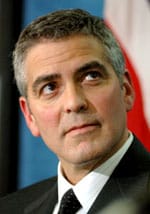 Failing to make a career on the baseball diamond or in college, Clooney had no shortage of famous relatives to help him enter show business. Aunt Rosemary Clooney and her husband Jose Ferrer were household names and their sons Miguel and Rafael Ferrer were well known actors.   By the age of 17, Clooney was an extra in a film shooting in his hometown and spent the next seven years taking bit parts on his way to being an overnight success.
Most became aware of the handsome young actor when he appeared on The Facts of Life after that showed had jumped several sharks.  By his mid 20s, though, Clooney's breakout role was the same other hunky actors had followed:  medicine.
As Dr. Doug Ross, George Clooney anchored an ensemble cast that featured future breakouts like Juliana Marguiles and Anthony Edwards.   The show was ER and that show along with NBC's Thursday night comedies was the network's go-to drama through much of the 1990s.
He was one of the earliest to leave that ensemble cast, becoming one of the world's best known leading men while simultaneously taking quirky roles in smaller films.   The leader of his own Rat Pack, Clooney remade Oceans Eleven with Brad Pitt, Julia Roberts and as well known as cast as Sinatra's original.  The group rapidly completed two sequels.  The three films combined for more than $400 million in US box office receipts.
A multiple Emmy and Academy Award nominee, George Clooney won the Best Supporting Actor Oscar in 2005 for Syriana.
[/wptabcontent]
[wptabtitle]Posts[/wptabtitle]
[wptabcontent]
[associated_posts]
[/wptabcontent]
[wptabtitle]Reviews[/wptabtitle]
[wptabcontent]
Up In The Air – Clooney charm in a novel package.  A good movie, not a great one.
The American – I love you George, but this sucks.
The Descendants – Clooney + Hawaii = Gorgeous Scenery
[/wptabcontent]
[wptabtitle]Poll[/wptabtitle]
[wptabcontent]
[poll id="15″]
[/wptabcontent]
[/wptabs]