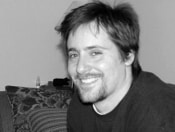 My earliest memory is Regan McNeil's head spinning around, of puking pea soup, of a bed shaking so violently the little girl on it is bounced all over the place. I remember a swollen face full of cuts. I remember a body rising slowly off the bed, high into the air.
The Exorcist was released when I was 14 months old, but I saw it at a drive-in, so it had to have been a summer re-release because the drive-in isn't open in winter here. I don't know exactly, and for years my mother didn't believe that I remembered that night, until I told her I had thrown up on my pillow. I had to have been only 2 or 3, but The Exorcist is the first thing I remember in my life.
That pretty much set the stage for everything that came after for me. I've been a horror junkie all my life, and horror movies are one of my passions. I love the big budget, big stars movies, but the cheap, cheesy stuff is just as good, sometimes even better.
The movies you find in Horror Corner are going to vary greatly between Hollywood blockbuster horror films and low-budget backyard affairs filmed with a Wal-Mart camera and cast filled with the director's friends. The only sure consistency is going to be the truth. Whatever I thought of it, good or bad (and I like reviewing the bad ones most), I won't sugarcoat it. Enjoy.
Reviews by C. Dennis Moore