Movies with Moms, for Moms, about Moms
Everybody has a mother story.  Good, bad or indifferent, motherhood affects every human being at a literally cellular level.  Each year as we prepare to celebrate Mother's Day with either joy or trepidation, movie nerds thoughts automatically turn to Mom Movies.  Mom Movies come in all shapes and sizes (just like Moms).  Lots of them make me want to barf.  Too sappy, too corny, too unrealistic.  And yet…there is a huge number of awesome movies featuring awesome moms that just beg to be seen this or any time of year.  Here are ten of my faves – I'll break them up into categories:
Old Fashioned Mom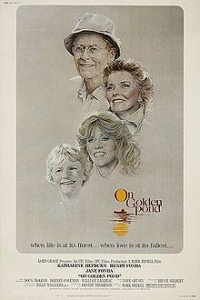 In this category I'm starting with one of my very favorite movie moms, Ethel Thayer.  On Golden Pond was one of my own mom's favorite movies and for good reason.  Katharine Hepburn is a perfect counterpoint to Henry Fonda's grumpy old man with her portrayal of a loving but practical mom.  She loves both her husband and her child and is able to see the good and bad in both.  Made in 1981, OGP holds up well as a portrait of a family that struggles to communicate within the family unit as three grown adults.  If you haven't seen it, you're missing fantastic performances from both Fonda and Hepburn and a seriously lovable Mom portrayal.
Playing a completely different sort of Old-Fashioned Mom is Julianne Moore in the 2005 charmer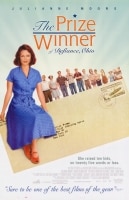 The Prize Winner of Defiance Ohio.   Moore plays Evelyn Ryan, a mother of 10 (!) living in the 1950s, caring for her brood and putting up with her alcoholic husband who fails entirely as a traditional provider.  Evelyn's reaction to such painful and humiliating circumstances is to begin entering contests that offer money and merchandise as prizes.  The Prize Winner of Defiance Ohio is based on a real woman, but it isn't really a true story.  It's stylized and corny, an homage to an era of creativity and a woman who smiled through adversity.  Moore is outrageously over the top, just like the rest of the movie.  And both are sweet and vibrant and utterly delightful.
Fierce Mom
Fierce movie moms are some of my favorites, kicking ass and taking names – sometimes literally.  We'll start out with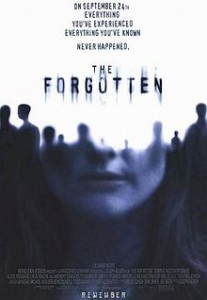 a juicy little thriller.

Pretty much panned when it came out in 2004, The Forgotten has Julianne Moore fighting The Man to recapture the stolen memories of her son.  There's lots of paranormal mojo going down in this one, which is pretty much what led to its panning.  But I'm a fan – I like that whiff of the supernatural and Moore's single-minded certainty that she is right about her child.  Don't let its reputation for sucking scare you away, there are some great moments in this movie and as a whole it's a solid thriller with a nice paranormal vibe.  Two in a row for Julianne Moore – she's fierce and old fashioned!
Our next Fierce Mom shows up in a completely different type of movie altogether.  The story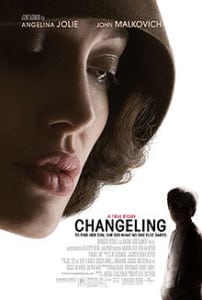 of Christine Collins in 2009's Changeling will give you chills, not because it's a thriller but because it's true.  Angelina Jolie portrays a single mom in 1928, a time period that had no love for single moms.  Wen her son disappears, Christine is, of course, devastated.  But she's also persistent and will not let the police forget her child.  When they find and return her son we watch with horror as her insistence that this is not her child falls on deaf, cruel ears.  A great performance from Jolie and an absolutely fabulous period setting make Changeling heartbreaking and chilling.
Dysfunctional Mom
I also love Dysfunctional Mom.  Mostly because I think, deep inside, every mom is really a Dysfunctional Mom.  Not to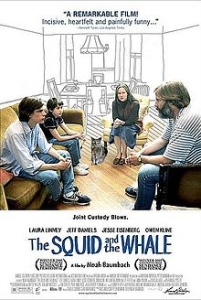 the degree of these moms, but we all have our days…  That's why you're getting two of these as well!
The weaker of our two Dysfunctional Moms has to contend with an uber-Dysfunctional Dad in The Squid and the Whale.  Laura Linney plays Joan, wife of Bernard (Jeff Daniels).  The pair is dissolving and their two sons are caught in the middle.  Linney's role is woefully underdeveloped but she still does an admirable job portraying a woman who is clearly less of a jerk than her husband but carries some of the same self-centered arrogance that makes him such a douche bag.  While the movie is a serious look in some ways at the effects of the divorce on the kids, the parents get to be delightful dick-heads.
Patricia Clarkson get the chance to spin out a deliciously complex, mean, scared and thoroughly Dysfunctional Mom in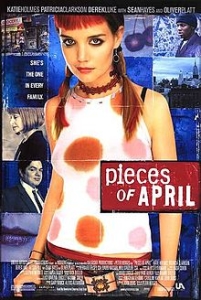 Pieces of April.  While the 2004 film primarily centers on young adult April (Katie Holmes), it is Clarkson who gets the meatiest role as her mother Joy.  The two are estranged and it isn't hard to figure out why – Joy, despite her name, is nothing but.  She's nasty and judgmental, unaccepting and cruel.  As Joy and the rest of the family travel to visit April for Thanksgiving we see all that and more – Joy is more than she appears.  Clarkson and Holmes are both terrific in Pieces of April, but it's Clarkson who gets the Dysfunctional Mom juices flowing.
Old Mom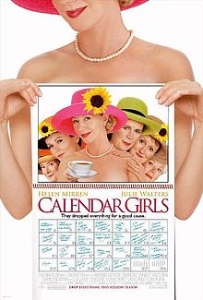 Oh, come on, that's not nice!  But there are plenty of Moms of a Certain Age to be found on film.  Lots of them get the short end of the stick – left in bit parts or to play doddering biddies.  But once in a while, we get a movie like Calendar Girls, that puts aging mothers on the pedestal they deserve.  Naked.  That's right, the whole film is about aging naked women.  Starring the uber-fabulous Helen Mirren, Calendar Girls is based on a true story of a group of English women who modeled for a pin-up calendar in the nude as a charity project.  This is the perfect movie for those of us who fail to recognize the beauty in our mom-worn bodies.  These women wear nothing and they wear it so marvelously well.
Young Mom
Well of course we need Young Mom to balance Old Mom.  In this case, it's Really Young Mom.  Teenage pregnancy is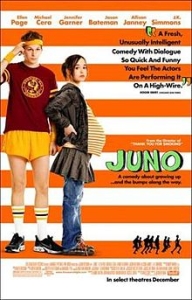 the subject in the 2007 indie hit Juno, and the somber topic has never been so cleverly and enjoyably examined.  Ellen Page plays the title role of the girl with the bun in the oven, whip smart but so vulnerable and naive.  She's ably supported by a fabulous cast including JK Simmons as her equally smart father, Alison Janney as her step-mother and Jennifer Garner and Jason Bateman as the potential adoptive parents to the baby in her ever growing belly.  The witty script by Diablo Cody and able direction of Jason Reitman makes Juno a pleasure from beginning to end.
Tear-Jerker Mom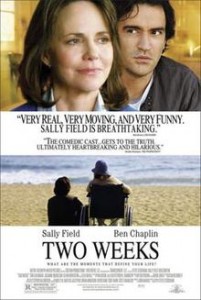 Oh, this is a hard category.  Tear-jerkers are so often schmaltzy and awful and manipulative.  But there are tear-jerkers out there that didn't set out only to tug your heartstrings – they're a movie first and a tear-jerker second.  Two Weeks almost broke my heart because it's so real it hurts.  The film chronicles the journey of four siblings as they gather to bear witness to the death of their terminally ill mother.  Sally Field gives a tremendous performance of the ill woman, both as the siblings gather and in a set of recordings made by the oldest son (Ben Chaplin) before her illness advanced to a critical stage.  We come to know her through the tapes and the children through their actions and reactions to their sad and difficult reunion.  Anyone who has been in a similar situation will see the truths here and feel the pain of the characters.  Make sure you have tissues on hand.
Insane Mom
My favorite movie mom of them all is Insane Mom.  But it can't be just any old insane mom – it has to be the kind where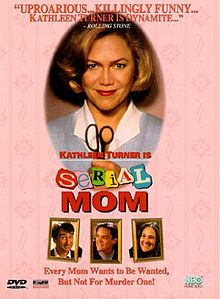 the insanity is filled with morbid glee.  Not slashers or child abusers or criminals, just wackadoo nut jobs.  And there is no mom truer to the ideal Insane Mom than Beverly Sutphin of Serial Mom. Kathleen Turner stars in this 1999 John Waters film about a prototypical suburban housewife with a penchant for eliminating anything that annoys her.  It's over the top, ridiculous and strange to the core.  It's also damn funny, with Kathleen Turner wallowing in the role of Beverly while tooling around her technicolor suburb, wreaking havoc and wearing an apron.  John Waters isn't for every taste, but if you're in the mood for a badass, mentally disturbed Insane Mom you can hardly do better then Serial Mom.
Happy Mother's Day
And there you have it, a list of movies to help you get in the Mood Of The Mom.  May she be old or young, old-fashioned or dysfunctional, every mom is worth celebrating in some way – even if it's just to rejoice that your mother isn't a serial killer.  Break one of these movies out for a laugh, a cry or a tastefully done dose of older woman nudity.  You'll be glad you did.  Enjoy!
– S. Millinocket