"What Do They Want?"
Main Cast: James Wolk, Tom Lipinksi
Director: Chris Sparling
Four brothers have returned home to say goodbye to their dying mother, and then things go south real quick in MERCY.
It all starts when Dr. Turner knocks on the door and George, Grace's husband and father to two of her sons (Grace's older two are from a previous marriage; their father was killed in a car accident when they were little, freeing Grace from an abusive marriage), tells him to kick rocks.
Dr. Turner hands George (Dan Ziskie, Blindspot) a medical bag and tells him Grace is in pain and the contents of the bag can help take away that pain. He doesn't even need to come inside, George can do the procedure himself. George is having none of it and throws the bag in the garbage where his boys, TJ (Mike Donovan, Cloak and Dagger) and Ronnie (Michael Godere, Blindspot) find it.
George insists he won't hear of it, and he throws the bag away again. Then he tells TJ and Ronnie that Grace got a lot of money (we're never told how much) when her previous husband died, and George has arranged it so that, when Grace is gone, the money will go to him, and, upon his death, to TJ and Ronnie, cutting out Grace's older boys, Brad (James Wolk, Watchmen) and Travis (Tom Lipinski, Blindspot).
Later, when all the boys, George, and Brad's girlfriend Melissa (Caitlin FitzGerald, New Girl), are gathered around the backyard fire, George reiterates they will NOT be using the contents of the bag, period, end of story, go to bed.
That night, Brad and Travis are woken up. It appears someone has been in the house. George, along with TJ and Ronnie, are nowhere to be seen, but there are two hooded figures chasing Melissa through the woods, trapping them all in Grace's room, and then lighting a fire in the yard, spelling out the word MERCY in lighter fluid.
Brad insists they won't get away with this, and Travis tries to escape on his motorcycle.
At this point, we're 40 minutes in and the movie starts over, this time from several different perspectives, giving us a wider look at the overall story, and there are some really interesting revelations. Is this a horror movie? No. Home invasion, sure. Suspense thriller, absolutely. It wasn't scary, though, let's get that out upfront. But I REALLY enjoyed it, more than I think I had any right to.
MERCY is written and directed by Chris Sparling (writer of ATM and GREENLAND, and writer/director of THE ATTICUS INSTITUTE) and stars a bunch of people I've never seen before. The only recognizable face was James Wolk as Brad and even then I've only seen him in Watchmen 4 years previous. They all seem to be fairly well-seasoned actors with a ton of credits, just nothing I've seen before. That experience paid off, though; they all did an excellent job in some pretty limited rolls considering the turn the story takes late in the game.
Oh, did I not mention the turn? Holy crap. This, for me, made MERCY. I mean, I was fully engaged up to that point because Sparling had crafted such a taut thriller already, but this new plot twist there at the end … normally if you tell someone there's a plot twist, they're on alert through the whole movie trying to figure it out, but this one … go ahead, you're not gonna get it until it's too late.
And it's so subtle, draws almost no attention to itself until it's past, but so jarring if you've been watching closely.
Up until that point, I was on the fence whether to even review MERCY, because, sure it was a good movie, well-made, well-acted, but at the end of the day, it's a home invasion and who needs more of those. But then I saw that, and it totally changed my entire outlook on the movie, to the point I was immediately trying to organize my thoughts so I could wake up this morning and tell you all about it.
I'm just impressed with the way it was written, how the story was constructed, and how Sparling parsed out the revelations, both character and plot, getting us to the end. MERCY is a movie I would watch again, and, I think, would get even more out of on a second viewing.
More 4 Star Horror Corner
Apt Pupil ~ A Classic Horror Story ~ Under the Bed ~ Into the Dark: Down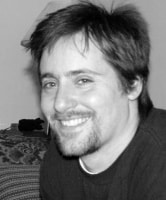 C. Dennis Moore is the author of over 60 published short stories and novellas in the speculative fiction genre. Most recent appearances are in the Dark Highlands 2, What Fears Become, Dead Bait 3 and Dark Highways anthologies. His novels are Revelations, and the Angel Hill stories, The Man in the Window, The Third Floor, and The Flip.