REVOLTING CHILDREN
Main Cast: Alisha Weir, Emma Thompson
Director: Matthew Warchus
I have been rather disappointed at the dearth of new performance opportunities coming in to my representation.  Surely there must be a project out there that requires a star of my magnitude to help secure funding or to lift box office.  But no, there's been very little arriving at my management offices and, since moving to Condo Maine high atop the Nakatomi tower, I no longer get unsolicited scripts tied to bricks and lobbed over the fence.  At least I have to replace the window glass less often. 
There was apparently a nibble for a several episode arc on the next season of The White Lotus but after my dear friend Elizabeth Short had her troubles some years ago, I've tended to avoid projects with colorful flora associated.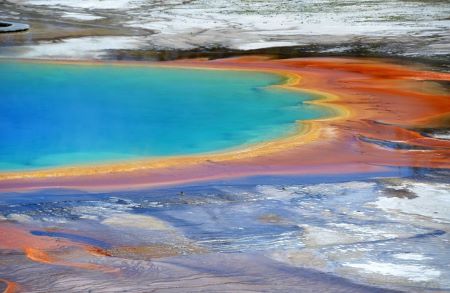 There were some tentative feelers out from the producers of Yellowstone to bring me on board and, as I don't have an issue with colorful geologic features, I did take a meeting.  I went in assuming I would be considered for Kevin Costner's love interest but when they began discussing Kevin Costner's great aunt, I left in a huff as I am far too young, at 39 to play such a role, even with Max Factor wrinkle number 7 age makeup.

I may have to develop a suitable project in house again through MNM productions.  In the meantime, my streaming service, VickiTube, continues to top the charts for small independent channels.  My morning chat show, Virtually Vicki, is getting excellent numbers in Des Moines and Schenectady. 
We're having some very special segments next week, discussing the legacy of Lisa Marie Presley with special guest Esmerelda Glutz, long time assistant bookkeeper for the contracted yard service at Graceland.  I have some feelers out to Priscilla about MNM enterprises releasing a set of collectible figurines of Graceland service workers through the ages.  I feel like the area of domestic help is one that just hasn't thoroughly explored by the fine collectible market and I am always trying to get a jump on The Franklin Mint and The Bradford Exchange.

While looking at films newly released on Netflix. I ran across the new adaptation of Roald Dahl's Matilda, helpfully entitled Roald Dahl's Matilda: The Musical.  I had a few meetings with the creative team on the stage version's transfer from London to Broadway about appearing in a leading role.  I gave an absolutely splendid reading of the title role but they felt that their insurance would not cover my doing eight shows a week on my knees in order to make me the proper height for the costumes. 
There was some talk of my taking the lesser role of Miss Honey but we could not agree on above the title billing so I moved on to other things.  I was interested to see what the creative team had done with Matilda in opening it up for film, so I opened up a bottle of Drambuie and a bottle of Macallan and made myself several Rusty Nails before settling down in the home theater to enjoy.

In making Matilda: The Musical, Tristar pictures wisely hired the original stage creative team to do the adaptation including Matthew Warchus (director), Dennis Kelly (book/screenplay), and Tim Minchin (music and lyrics).  Having this trio who had long worked with the material, beginning with the Royal Shakespeare Company production of 2010, continue to shape it for the new medium of film seems to have prevented a good deal of the wrong headedness which often comes when a film company takes over a stage musical.  They often become too faithful to the original and stage bound or they go too far afield and lose the elements that made the show a success.  It's a tricky business. 
Warchus, Kelly and Minchin understand that the needs and rhythms of film are very different than those of stage and seem to have rethought the material with some care.  Some characters and plot lines were excised leading to a cleaner narrative.  Musical numbers which did not further the central plot were removed and replaced with ones which assisted in the story telling and which also lent themselves to the more open world and staging of film.  Warchus, known for his ability to direct stage spectacle, allows the more open confines of film to give his musical numbers room to breathe, particularly those set in the school which provides ample opportunities for him to exercise the more whimsical pieces of his imagination.

On stage, the key role of Miss Trunchbull, the evil headmistress, is usually played by a man in drag (in the British pantomime dame tradition), a characterization that will shortly become illegal should certain conservative legislators have their say.  The more realistic world of film makes this less appealing and so an absolutely unrecognizable Emma Thompson essays the role and brings every bit of lip curling villainous snarling she can muster to the screen and you can't take your eyes off her.  Naomi Donne, Ms. Thompson's hair and makeup artist deserves some sort of award as the camera detects nothing unnatural, just the heightened reality that is the tone of the film. 
In the title role, little Alisha Weir holds her own and has a singing voice you can actually understand.  (One of the complaints of the stage adaptation was that the register of the children's voices and the rapidity of some of their lyrics made significant sections of the musical score unintelligible. At least with the film, you can turn on closed captioning if you're in doubt.)  Good teacher Miss Honey (Lashana Lynch) and ridiculous parents (Stephen Graham and Andrea Riseborough) do yeoman work and are perfectly serviceable in their roles but their characters  have less to do in the film than they have to do in the stage version or in the nonmusical film version of Matilda from the 1990s.
The film becomes mainly about Matilda, her imagination, her refusal to be cowed, her willingness to stand up for what she sees is right, and her ultimate triumphs.  Supporting her are a lot of other very talented youngsters who have very specific looks that label them as somehow outside of norms making the ultimate message one of community being necessary for any sort of justice.  There are some sly visual references to various famous images of revolution and freedom throughout the latter part of the film, especially when the kids start singing about being revolting children.

While Matilda: The Musical is strong as a film, I don't find the music especially so. Minchin's score helps move things along and gives us a few pleasant tunes but the vast majority is unmemorable and won't last in your head for ten minutes after the final credits roll.  Even with the opportunity to revisit the work and supply some new songs for new story beats, he hasn't been able to come up with anything likely to be sung outside the context of the film.  I don't smell Oscar in the air, not even a nomination although the new material would be eligible.

By all means, give Matilda: The Musical a whirl.  It's good fun, passes quickly, has a truly greatish performance from Emma Thompson, and has some decent messages for the kiddos in your life.

Book caravan. Solitary confinement. Dynamite in hair. Gratuitous alphabet song. Telekinesis. Bad wallpaper. Maternity ward dancing. Evil contracts.  Statue toppling. Carnival rides.
To learn more about Mrs. Norman Maine, see our Movie Rewind introduction.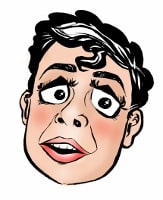 Originally from Seattle Washington, land of mist, coffee and flying salmon, Mrs. Norman Maine sprang to life, full grown like Athena, from Andy's head during a difficult period of life shortly after his relocation to Alabama.