"You're too tall to have a breakdown"
Main Cast: Kate Box, Madeleine Sami
Creators: Kate McCartney, Kate McLennon
Welcome to Deadloch, a small Australian town located on, of course, a lake called Dead Loch. Senior Sergeant Dulcie Collins (Kate Box) relocated here with her wife from Sydney, with a solemn vow not to get lost in her job. She has, until now, kept her promise.
But a body has washed up on the shore of Dead Loch, and the town of Deadloch is in disarray. Dulcie is assured that help is on its way – she doesn't dabble in homicide anymore. When the help turns out to be the brash Detective Eddie Redcliffe (Madeleine Sami) Dulcie is unable to turn her back on the increasingly complex investigation.
From this very basic premise outline, Deadloch takes us into the life of a small town, woman police officer (who also happens to be lesbian) and what that entails. The town is both a haven and filled with those who would as soon cast Dulcie out as trust her with the investigation.
Eddie proves little help, at least at the beginning. She's in a rush to solve the case, overlooking evidence, and doing everything possible to further undermine Dulcie. This is not an investigative match made in heaven.
The eight episodes of Deadloch take us into life in this small Tasmanian town as well as into an increasingly troublesome investigation. We get to know Dulcie's wife Cath (Alicia Gardiner) and quite a few other citizens in Dulcie's sphere. To be fair, everyone is in everyone's sphere in Deadloch.
The show is billed as a comedy/mystery. Most of the comedy comes in the form of Dulcie's infuriating interactions with just about everyone. She's a long-suffering woman with a good heart and seemingly endless patience. Those around her are clingy, smug, eager, driven, loving, apathetic, incompetent, engaged, overbearing, homophobic, or sometimes all of the above. Some of them are endearingly quirky, others are just poison. Each and every one has an opinion about how Dulcie lives her life and does her job.
Eddie is supposed to be funny. After a while, she gets there. For the first two episodes she's almost unwatchably annoying and distracting. Once the showrunners reign the character in, Sami has a chance to make all those eccentricities work to move the case forward.
Showrunners McCartney and McLennan set out to put a funny, Australian spin on British detective shows like Broadchurch. Not having seen that series, I have no idea if they succeeded. But I did like Deadloch.
In particular, I like Dulcie. This is a character with a lot of depth and her life is a riddle with few clues. Kate Box does a really impressive job portraying the frustrations of her daily life and her drive to solve this case. She's smart and underestimated, with a talented investigative mind. I also love the focus on women's friendships and their transformative power.
You'll need to get through Eddie's jerk phase to enjoy the show. Even if you find her intolerable in episode one, try to get through to episode three. It's like someone flips a switch and turns her down several dozen notches.
Once that happens, the intricacies of the case will pull you from one episode to the next. There are plenty of twists and turns, and most of them you won't see coming. Overall, I enjoyed Deadloch, post Eddie 1.0. I hope we get more time with these women in a second season.
Deadloch is streaming on Amazon Prime Video.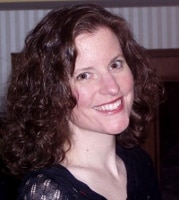 Sue reads a lot, writes a lot, edits a lot, and loves a good craft. She was deemed "too picky" to proofread her children's school papers and wears this as a badge of honor. She is also proud of her aggressively average knitting skills  She is the Editorial Manager at Silver Beacon Marketing and an aspiring Crazy Cat Lady.