THINGS THAT GO BUMP
Main Cast: Boris Karloff, Gloria Stuart
Director: James Whale
Greetings from Condo Maine, high atop the Nakatomi Plaza building at Century City. Here in my glamorous new abode cum working studio, I and my coworkers are on the job day and night to keep quality entertainment flowing to my new streaming service, VickiTube bringing joy and escape from the anxieties of modern life. Virtually Vicki, my series in which I insert myself through digital green screen technology into classic films, freshening them up for a new generation, has been such a sensation that we're going to launch a news magazine show using some of the same principles. Fifty-Nine Minutes will drop on Sunday evenings and provide a searing and candid look at the great events of our time from a diva's point of view. I and my cohosts will digitally insert ourselves into the news footage to give all the folks at home a better understanding of the issues involved. This weekend, I will be doing a piece on the Capitol Insurrection which concludes with my doing a pas de deux in the rotunda with the Q-Anon shaman. Of course, the real shaman has some legal issues at the moment, something to do with organic food if I have read the papers correctly, so we are using Derek Hough as a stand in.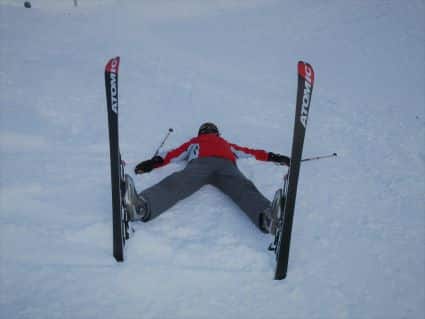 The other major piece for our premiere edition involves inserting Vera Charles into a truly touching story on how Covid related travel restrictions are forcing the residents of the Hamptons to vacation this winter in Steamboat Springs, rather than in Gstaad. We wanted to make sure we had a story that middle America could fully relate to. Now I just have to make sure the set is fully clear of alcohol before we shoot Vera's luge and ski jump segments. Vera, martinis, and winter sports simply do not mix. We did a production of Carousel on Ice many years ago on the Kenley circuit and the poor dear had one too many during intermission. She did an unchoreographed cartwheel during This Was a Real Nice Clambake and one of the blades of her skates got hung up in the bodice of my costume and she sort of hung there gasping like a flounder while I sang You'll Never Walk Alone. I was not amused although the audience seemed to find it uproariously funny.
I have had The Criterion Channel added to my streaming services as a research tool for me to find long neglected classics which I can update for Virtually Vicki. Black and White films in particular benefit from the addition of me in living color. In flipping through the selections, I ran across James Whale's 1932 Gothic classic, The Old Dark House, one of those films often mentioned by those versed in Hollywood lore, but not as frequently seen. Never having seen it myself, I decided to give it a look. Universal Pictures, which made the film the year after Whale's version of Frankenstein caused a sensation and introduced the world to Boris Karloff, obviously tried to market the film as another entry in its classic horror fare and gave Karloff top billing and just his surname for a supporting role, but the film is something else entirely.
The Old Dark House is based on a novel by J. B. Priestley entitled Benighted, a dramatic thriller which tells the story of disparate travelers who are forced to take shelter in a crumbling mansion due to a powerful thunderstorm. The first to arrive are the Wavertons (Raymond Massey and Gloria Stuart) who have gotten lost in the Welsh countryside together with their friend Roger Penderel (Melvyn Douglas). They find the house to be occupied by the creepy decayed aristocrat Horace Femm (Ernest Theisiger), his judgmental sister Rebecca (Eva Moore), and their mute and scary manservant, Morgan (Karloff). The trio are given succor, somewhat unwillingly, and soon are joined by two more travelers requiring protection, the nouveau riche Sir William Porterhouse (Charles Laughton) and his mistress, the chorus girl Gladys (Lilian Bond). As we go through long night's journey into day, we get damsels in distress, monstrous family secrets, fights (drunken and otherwise), and loves spurned and loves found. There are a few middling scares, but Whale isn't really interested in creating a classic horror piece, he's having fun subverting Gothic horror tropes to tell his real story.
Priestley's novel, to which the screenplay (Benn W. Levy) closely adheres, is an allegory. It's actual topic is the dissolution of British society after World War I with the house representing the old order, the Femm family the old aristocracy whose power is passing, and the travelers the various traits and types of the modern era that are rising to replace them. Whale is a clever enough film maker to not hit the audience over the head with all of this subtext but it's there in the underpinnings of how The Old Dark House works. The subversive humor he brought to his other films, especially Bride of Frankenstein made a few years later is fully on display. He is helped by the fact that this film was produced prior to the introduction of the Hayes code. This allows the film to deal frankly, if subtly, with such subjects as adultery, homosexuality, and addiction. There's not a lot that's terribly risqué, but Whale has great fun with the Gloria Stuart character. Shortly after arriving at the house, she changes into a diaphanous white satin lounging gown (as one does when one is an uninvited guest in the middle of the night) which clings to her every curve and Whale makes sure her breasts and derriere are the focal point of a number of scenes.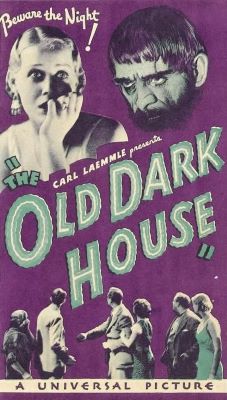 The cast is first rate. Karloff again shows what a fine physical actor he was in another mute role, proving that his Frankenstein's monster was no fluke. His last exit up a staircase with a body in his arms is full of pathos. All of the Femms are delightfully weird, each in his or her own way. Charles Laughton is having great fun tearing up his working-class accent and self-made man heartyisms. Gloria Stuart, best known these days as old Rose in Titanic, is lovely and alluring, even if inappropriately dressed for the occasion. The dialog is sharp. While the single setting of the great hall of the Femms is suggestive of a stage play in some ways, Whale keeps things moving and never lets The Old Dark House grow static.
Whale was one of the great visionaries of the early talkies. A World War I veteran, he became a rising star with his direction of R. C. Sherriff's drama Journey's End, first on London's West End, and then on Broadway which brought him to Hollywood and Frankenstein. There is an excellent biographical film about him late in his life entitled Gods and Monsters in which he his played by Ian MacKellan. The Old Dark House, probably the least seen of his major projects (and at one time thought to be a 'lost' film), is worth a look, especially if approached with the knowledge that it's not a traditional horror film as one might expect.
Stuck car. Dragon newel posts. Dusty bedroom. Cupboard under the stairs. Flaming arras. Gratuitous calling out of sin. Fall from height. Wet shoes. Overturned dinner table.
To learn more about Mrs. Norman Maine, see our Movie Rewind introduction, visit her entire back catalog and follow her on Twitter at https://twitter.com/missvickilester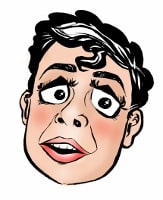 Originally from Seattle Washington, land of mist, coffee and flying salmon, Mrs. Norman Maine sprang to life, full grown like Athena, from Andy's head during a difficult period of life shortly after his relocation to Alabama.