SPARKS PIERCING THE DARK
Main Cast: Anthony Ramos, Corey Hawkins
Director: Jon M. Chu
Cherry Jones arrived in town and we were able to shoot the opening sequence for my new yacht restoration show for my VickiTube streaming service, Cherry Yachts of Fire, over the weekend. We got some truly spectacular footage of flames consuming the outdated teak wood paneling of the main cabin and the chintz curtains in my boudoir were really quite lovely as they spouted little gouts of sparks as they went up. Unfortunately, not all of the crew were as accurate with the army surplus flame throwers we had gotten for bulk discount at the local thrift shop. A few of the fires went outside of their original planned limits, nearly taking the engine room with them but Captain Drew and the yacht crew soon brought things under control with their extinguishers and with a little help from the harbor fire boat. Miss Jones gown (a Bombalurina from my personal stock of GlamourPuss haute couture – high fashion based on the costume designs from Cats) was barely singed although her makeup did become a little soot stained necessitating some studio reshooting. We have more fire footage than the show needs which gave me a brilliant idea – I'm going to have my people reach out to John Malkovich to see if he's willing to reprise his role as Pale in Burn This together with Cherry. That will give us a place to use all of our outtakes. I do so believe in not wasting film.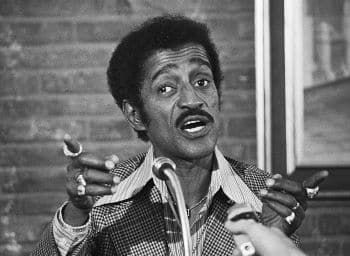 While this project is zooming along, I do need to find something that will get me back in front of the camera rather than in a production role. Every day letters arrive at Condo Maine from my fans asking me when they can see me again in a new musical spectacular. The proliferation of streaming services is leading to a demand for content so I am constantly sent scripts, but I refuse to take on just any project – anything I appear in must be tasteful, showcase my talents, and make the world an improved place. Playing some sort of alien dancing girl in some show called The Mandalorian, the last script to arrive, just isn't going to cut it. Besides which, I make it a habit never to appear in things named after medieval stringed instruments, the reason I turned down the lead in Lute Song on Broadway some years ago. Some whippersnapper named Mary Martin got the part. There's another script sitting on my desk, a musical version of something called Candyman which I'll take a look at later this week. They better assign me the title song that Sammy Davis Jr. did so well if they want me to consider it seriously.
I finished everything up a bit early this evening, so I decided to venture out to the Cineplex for a film.  My local theater off of Santa Monica Boulevard has opened back up to the vaccinated and has acquired a liquor license so I toddled off picked up a bottle of rose at the snack bar and bought a ticket to the new film version of Lin-Manuel Miranda's Broadway success, In The Heights which recently opened.  I have not seen the stage version of the piece but had heard some of the music a dozen or so years ago when I was in talks to take on the role of Vanessa for the national tour.  I ended up declining the part as there simply wasn't enough tap to make it worth my while.  Therefore, I went in with a vague sense as to what the film portrayed, some idea of the musical language, but not a lot of understanding of the details. 
I ended up being very pleasantly surprised by In The Heights and its depiction of New York Latin/Caribbean culture in the early years of the 21st century.  The original piece starred Mr. Miranda in the central role of Usnavi but, a generation later, he's aged out of the role, passing it on to Anthony Ramos (from the original cast of Hamilton).  Mr. Miranda still keeps an eye on his neighborhood though through a cameo role as the piraguero.
In the Heights is a valentine to the Latin and Caribbean communities of uptown Manhattan centered in the neighborhood of Washington Heights.  Here in this magical land lives a young man named Usnavi who, along with his young cousin Sonny (Gregory Diaz IV), runs a corner bodega.  He is in love with the beautiful Vanessa (Melissa Barrera) who works at Daniela's (Daphne Rubin-Vega) salon but who dreams of escaping downtown to be a famous fashion designer.  Usnavi has dreams of his own, mainly to return to his home in the Dominican Republic and restore the beach bar that belonged to his father prior to their emigration. 
Meanwhile Nina Rosario (Leslie Grace), the bright kid who got out and enrolled at Stanford, returns with her own problems to the taxi business run by her father (Jimmy Smits) and where Benny, his dispatcher and Usnavi's best friend (Corey Hawkins), is in love with her.  Overseeing all of this is the beloved neighborhood matriarch, Abuela Claudia (Olga Merediz) who watches over the young with the wisdom of the aged who have seen it all. 
The plot of In the Heights is relatively unimportant.  Each of our principals has a dream, some for themselves, some for others.  They pursue these dreams, wrapped in a community of immigrants with the dreams of immigrants to America for centuries – a better life for themselves and their children – and some of the dreams come true, but not always in the way you might expect.  Through all of this, the characters and the audience are taken on a journey of the importance of family, community, mutual support, and love.
Many screen adaptations of stage musical properties feel clunky and stage bound, rather than cinematic.  Writer Quiara Alegria Hudes and director John M Chu (Crazy Rich Asians) have, through some sort of alchemy, avoided this.  There isn't a moment or a number in In the Heights that doesn't feel cinematic.  The film unfolds with a breeziness that keeps the audience floating along and completely accepting of its magical world where neighbors of all shapes, sizes and colors start hip hopping together in the street or emulating Esther Williams at the community pool.  The film accomplishes this with a richness of background detail in terms of both setting and performance.  There's always someone or something to look at in the frame that may not be central to the story or the principals, but which fills out this hyper-real world.  This does lead to the film's one fault, though.  They're cramming in so much that it's about fifteen minutes longer than it should be and there are a number of moments that drag.
Anthony Ramos carries In the Heights effortlessly; he's good looking, but in a quirky way with his freckles and his oversized ears which make him somewhat endearing and he has plenty of charisma which make you care how things are going to turn out for him in the end.  The other stand out in the ensemble is Olga Merediz.  Her big eleven o'clock number, Paciencia y Fe, is the most memorable moment of the film, both in terms of staging and in terms of the emotional content Ms. Merediz brings to it.  Most of the rest of the energetic young cast are fine in their roles but don't have a boffo moment quite like this, although Benny and Nina's duet, When the Sun Goes Down, is a magical little moment, brought to life through imaginative staging and film trickery and a little Fred and Ginger on the side of a tenement building.
We don't get a lot of live action movie musicals these days that work as both entertainments and films so In the Heights is definitely worth seeing, even at evening prices.
Tropical beach.  Spoiled milk. Gratuitous Mark Anthony. Winning lottery ticket. Dumpster diving. Graffiti art. Pool noodle choreography. Transsexual salon customer. Havana train riders. Fire hydrant joy.
To learn more about Mrs. Norman Maine, see our Movie Rewind introduction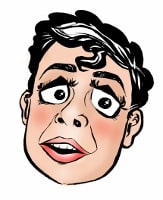 Originally from Seattle Washington, land of mist, coffee and flying salmon, Mrs. Norman Maine sprang to life, full grown like Athena, from Andy's head during a difficult period of life shortly after his relocation to Alabama.