THE DEVIL MADE ME DO IT
Main Cast: Mia Farrow, Ruth Gordon
Director: Roman Polanski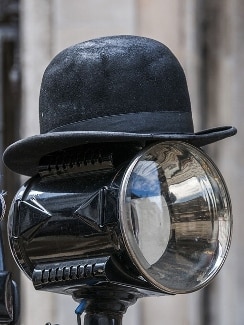 Darling readers, I have some truly excellent news. I received a message this morning from Joseph, my manager; a leading actress has dropped out of a major production of the musical Cabaret and the producers would like me to take on the role starting next week with a few put in rehearsals. It's been a few years since I've essayed the part of Sally Bowles but, at my ever-youthful professional age of 39, I know I can still carry it off. I think I even have my bowler hat from the last time I played it on stage a few years back. I'll take it with me for luck. I was so excited by the offer that I forgot to ask Joseph where I would be going which may make packing interesting as I could need wardrobe for anything from Miami to Fairbanks. Fortunately, my thirty-nine pieces of matching Louis Vuitton are up to the task. I'm sure I'll figure it out when I pick up my tickets at the airport in the morning. My standard contract requires first class transportation and accommodations including full bar in my hotel suite.
I immediately called up Lulu Pigg, my tap therapist, Madame Mimi, my vocal coach, and Ms. Laurie, my private accompanist. The gals and I all put in a solid four hours working on my tap routines for Maybe This Time and Don't Tell Mama. My interpolated high Bs in the title number were a little flat so I'm going to have to spend the flight doing some vocalises. I'm certain the mellifluous sounds of my coloratura register will be most pleasing to the other passengers in the first class cabin. I'm assuming they'll be so thrilled by the presence of an international superstar in their midst providing free entertainment that they may ask for several encores. Ms. Laurie wanted to know if this production required the cast to be a quadruple threat (actor/singer/dancer/orchestral musician). Management haven't told me that but I'd better pack the sousaphone just in case.
After our work session, the gals and I had a light lunch of tuna salad and bananas foster accompanied by a lovely pitcher of pina coladas. They then departed so I could toss some cunning little frocks from my extensive wardrobe into my luggage. While trying to decide which of my formals I would look best in at the inevitable press interviews, I decided to turn on Netflix for a little company. A quick scroll through the available titles revealed Roman Polanski's 1968 horror masterpiece, Rosemary's Baby. I hadn't seen this film for some decades, so I decided to settle in and give it another viewing. Most films of the 60s feel awfully dated some fifty years on. This one remains eminently watchable and modern in tone. The visual details such as modes of dress or cars on the street have changed. The psychological details of these characters remain timeless.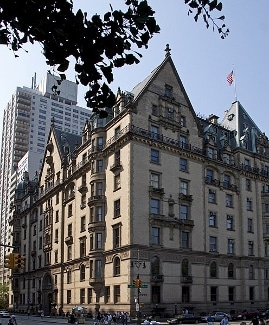 The film, based on Ira Levin's novel of the same name, was a hit with audiences and critics alike at the time of its initial release and spawned a whole rash of imitators over the ensuing few years, but none was as good. The titular Rosemary (Mia Farrow at her most waifish) is a young newlywed in New York City. Her husband, Guy (John Cassavetes) is an up and coming actor on the Broadway stage but his career seems to have stalled. Somehow they have at least a little bit of money as they move to a new apartment in the Bramford (a thinly disguised Dakota), a historic neo-gothic pile somewhere in Manhattan. In between ordering new furniture and covering shelves with contact paper, Rosemary befriends Terry (Angela Dorian), a troubled young woman who has been taken in by their eccentric new neighbors, the elderly Roman and Minnie Castavets (Sidney Blackmer and Ruth Gordon in her Oscar winning turn). Like most elderly neighbors, they are by turns nurturing and annoying but after a few unusual occurrences including an unexpected suicide Rosemary suspects something unusual may be going on. When her old friend Hutch (Maurice Evans) starts to fill her in on the sinister history of the Bramford over the years, Rosemary starts to become suspicious. Then comes a night of strange dreams or nightmares and Rosemary is suddenly pregnant, just as Guy's career starts to take off. Is she pregnant with his baby or was she assaulted by a different father to be? And what about her new gynecologist (Ralph Bellamy) and his insistence on herbal supplements often used in satanic rituals?
The plot isn't the important part of Rosemary's Baby. There are no real secrets. The audience is more keenly aware of what happens to Rosemary and why than she is. The point of the film is to explore themes of life, death, the dangers of reproduction, the powerlessness of the individual against the group, the masks that we wear, and the secrets that we keep, even from our nearest and dearest. The highly literate script, adapted by Polanski himself, takes most of the dialog verbatim from the original book. The talented cast makes the language flow even in its slightly heightened novelistic form. Polanski is out of favor these days and has been for decades due to odious issues in his personal life, but at the time of this film, completed less than a year before his life was upended by the Manson murders in Los Angeles, he was at the top of his game as a writer/director.
Mia Farrow (whose marriage to Frank Sinatra imploded because of Rosemary's Baby – he wanted her to give up her career and when she refused, he served her with divorce papers half way through the filming in front of the cast and crew), carries the movie. She is our surrogate, our way in, and her ability to project Rosemary's confusion and vulnerability, as well as her maternal strength make it a greatish performance. John Cassavetes, as her ambitious husband, is nearly her equal. However, it is the supporting cast of Hollywood and Broadway veterans playing the other denizens of the Bramford that totally steal the show. Ruth Gordon deserved her Oscar for her fearless performance as Minnie. On the surface, addle brained and harmless, but the ruthlessness and capacity for great evil always bubbles under the surface and she becomes incredibly scary as the movie inexorably makes its way to its inevitable conclusion.
Polanski's ability to create a feeling of dread and psychological horror make the audience think that they have seen far more than they actually see. Much is made at the end of the movie about Rosemary's baby's eyes and most people who saw the movie years ago are convinced that there's a shot of the eyes, confirming what they have suspected regarding the baby's true parentage. No such shot exists. We create it as we have been led by a master film maker to a certain point where are personal imaginings take over. All the best horror films work this way. Their strength lies in what we do not see and where our imaginations fill in the gaps. The big mistake in most modern horror is to leave less to the imagination. When the screen runs red with blood, we can distance ourselves from the makeup effects and laugh at our foolishness. There is no such possibility here.
If you've never seen Rosemary's Baby, give it a watch. It's amazingly good. If you've seen it but it's been years, give it a rewatch. It holds up remarkably well.
Hollow medallion. Personable young gynecologist. Gratuitous elevator operator. JFK and Jackie dreams. Tannis root. Wandering into traffic. Stashed pills. Gratuitous Patsy Kelly. Naked chanting. Scrabble as plot device.
To learn more about Mrs. Norman Maine, see our Movie Rewind introduction, visit her entire back catalog and follow her on Twitter at https://twitter.com/missvickilester
Images by Martine COUSSON from Pixabay and Tony Hisgett (C.C. 2.0)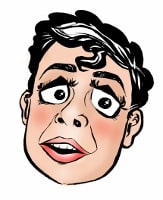 Originally from Seattle Washington, land of mist, coffee and flying salmon, Mrs. Norman Maine sprang to life, full grown like Athena, from Andy's head during a difficult period of life shortly after his relocation to Alabama.