BABES IN TOYLAND
Main Cast: Forest Whitaker, Keegan-Michael Key
Director: David E. Talbert
I spent today in the home studio (hurriedly converted from the dining room and butler's pantry) working with my esteemed colleagues Belle Poitrine, Vera Charles, and Eve Harrington on some new segments for my new morning chat show, A View with Vicki, now available on VickiTube, my fabulous new streaming service. I asked my cohosts to bunk with me during the pandemic and form a kind of famous koffee-klatch pod here at Condo Maine but they have other business to attend to outside of our filming sessions so we have had to institute some strict social distancing protocols to keep everyone safe from Covid-19 during production. Our first try involved borrowing the old Lucite cone of silence from the Get Smart set and then having it duplicated for each of us, having the four of us all in our own little acrylic chambers. This proved to be an unworkable solution as we could not hear each other or the crew for cues. The less said about our attempts at four-part harmony on The Carol of the Bells, the better. I had them carted away to the LA Zoo where they are being turned into terrariums for their new bearded dragon exhibit.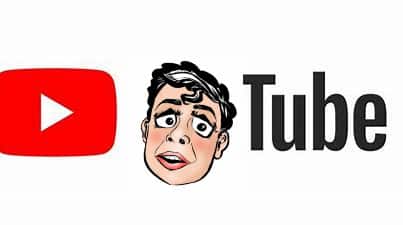 Our next experiment, which has been slightly more successful involves having our anchor desks suspended outside of the dining room windows. Fortunately, these are on the east side of the building so we can take advantage of the morning light, and the traffic noise from Santa Monica Boulevard isn't too distracting forty five floors up, but it has taken some getting used to in order to sit nonchalantly in a lounge chair with a sheer drop under your feet. The craft services table has also attracted a small mob of seagulls who have an unfortunate habit of flying into shot when they swoop in and try to make off with a spare donut. After a few weeks, we're becoming old hands at the production schedule, although Belle's chest tends to throw her a bit off balance and she nearly took a tumble and Vera is just a little too fond of her Irish Coffee in the morning. Still, the dailies have been looking good and we've been able to assemble a tight little product to help lift the spirits of the country weekday mornings at 7 Pacific, 10 Eastern.
We remain devoted to our mission of providing astute commentary on the weighty issues of the day from a woman's point of view. I was especially pleased with our taping this morning on the subject of Christmas sweaters and whether it's necessary to stay within the red/green/white holiday palette or if it's permissible to widen the subject matter and bring in dazzling shades of turquoise and aubergine. There were great ideas on both sides and I sent some of them to Kim Dee and Mary Gee, my genius seamstresses to start mocking up some possible patterns and we can test them out as last minute holiday gift ideas through the VickiWear line of inexpensive sports clothes for the active woman.
Fabrics being very much on my mind, I decided to retire to the home theater to find a holiday film that knows how to make proper use of gaberdine and organza so I pulled up the Netflix and put on their new movie, Jingle Jangle: A Christmas Journey with Forest Whitaker, Keegan-Michael Key, and Phylicia Rashad. I had caught a trailer for it, and it looked peppy and colorful and had, for once, an appropriate number of ensemble dancers in bright costumes rather than hordes of CGI people doing nothing in particular. So, I poured myself a hot cocoa, added a generous dollop of crème de menthe and settled in for a few hours of whimsey.
Jingle Jangle is the sort of musical film that the networks used to make at holiday time, back before cable and streaming fractured their audience. It takes place in alternative reality of vaguely Dickensian Victoriana but with generous dollops of late 19th century steampunk, early 20th century automobiles and late 20th century dance styles. If you go in wanting realism, you're going to be sorely disappointed. If you're willing to suspend your disbelief and go along for the ride, it's enchanting. We start with a grandmother (Phylicia Rashad) telling a very special story to her grandchildren at Christmas time, one she has never told before, and we are transported with them to a distant past and to the shop of Jeronicus Jangle, Jangles and Things, where he, the greatest inventor of toys sells improbable mechanical constructs to a delighted public. Young Jeronicus (Justin Cornwell) has a loving wife (Sharon Rose), a lovely daughter (Diaana Babnicova), and a doofus of an apprentice Gustafson (Miles Barrow). Soon, the part he needs to complete his greatest invention, a sentient matador doll (Ricky Martin), arrives and Jangle thinks he has it all. But the doll, wanting to be unique and not the prototype for a long line of identical toys, has other plans and convinces young Gustafson to escape with him, his plans, and the book in which Jangle has recorded all his ideas for inventions and toys. Calamity follows calamity and Jangle soon loses livelihood, reputation, and family and ages into Forest Whitaker while Jangles and Things becomes a ruin of a pawn shop.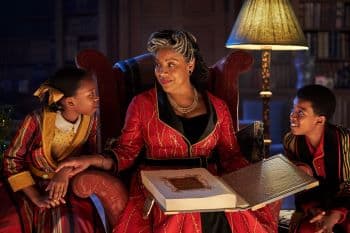 One Christmas, while Gustafson, continues to dominate the toy market with his stolen inventions (now played by Keegan-Michael Key), Jangle's estranged daughter, now grown and played by Anika Noni Rose, decides to send her own daughter Journey (Madalen Mills) to stay with her grandfather for the holiday. Will the crusty old grandfather be rejuvenated by his grandchild? Will Journey and Jangle's new assistant Edison (Kieron L. Dyer) fix the Buddy 3000 talking robot that isn't working quite right and could put Jangle back on top? Will Gustafson get his deserved comeuppance? Will grandmother narrator reveal her connection to the story she's telling? Will the bank, represented by Mr. Delacroix (Hugh Bonneville), foreclose on Jangles and Things? Will the buxom post mistress (Lisa Davina Philip) with a thing for Jangle have a boffo belt number? If you can't answer all of those questions within five minutes of Jingle Jangle starting, you've never seen a holiday musical special.
What makes Jingle Jangle visually arresting and important is the casting and music/dance idioms. Most of the classic holiday cinematic tales, made by and for a mid-20th century American audience are lily white. Once in a while you can see a person of color peeking out of the back of the ensemble but it's relatively rare. This film revels in its multicultural casting putting BIPOC front and center. The leads are predominantly of African descent. The ensemble a rainbow of races. There's no caste system on view; everyone joyfully treats everyone else as a human being. The dance infuses elements of hip hop and urban dance styles in with more traditional musical comedy choreography and the chorus, dressed in Victorian clothes but with a traditional African flair in the colors and prints, is having such a good time, that you can't help but be carried along. The music, by various composers but with an overall polish from producer John Legend gives us a beat and not the cloying, anodyne sound such productions have often had in the past.
I'm very glad Jingle Jangle exists. That a child of color can watch it and see people who look like them participating in all of the usual holiday tropes as central figures and protagonists and figures of agency. What dreams might this unleash as that child grows? Representation is so important. It's equally important that white children see a holiday film where people that look like them are not at the center of the story. The performances all through are fine. I was especially taken with Forest Whitaker (I had no idea the man could sing) and with Keegan-Michael Key as the villain. Madalen Mills, as the granddaughter, is also charming.
If Jingle Jangle has one significant fault, it's in length. It clocks in at just over two hours and it feels overly long, as if writer/director David E. Talbert couldn't bear to let any of his baby be left on the cutting room floor. I didn't mind too much but it's going to be tough on some children to sit through some of the saggier bits. A subplot involving a robot rescue and a chase through industrial tunnels in particular feels lifted from a different story and could have been excised without too much difficulty. But, other than that flaw, it's a fine family entertainment.
Jingle Jangle is streaming on Netflix.
Ladder riding. Special delivery. Horn honking. Mathematical graphics. Set borrowed from The Emerald City. Flying robots. Flying children. Flying inventors. Flying grandmothers. Faulty gyroscope.
To learn more about Mrs. Norman Maine, see our Movie Rewind introduction, visit her entire back catalog and follow her on Twitter at https://twitter.com/missvickilester
Photo by Sincerely Media on Unsplash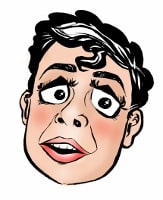 Originally from Seattle Washington, land of mist, coffee and flying salmon, Mrs. Norman Maine sprang to life, full grown like Athena, from Andy's head during a difficult period of life shortly after his relocation to Alabama.