LAND OF MAKE BELIEVE
Main Cast: Tom Hanks, Matthew Rhys
Director: Marielle Heller
The household staff managed to clean up in the aftermath of my estate sale. Those items unsold have been crated up and are off to Goodwill where I trust they will bring glamor and Hollywood mystique into the lives of the less fortunate. Most of the other packing is done and the actual moving of household goods from Casa Maine to Condo Maine is scheduled for this next week, assuming that the contractors are finished with the new space. I had hoped to find a new young decorator for the penthouse condo at the Nakatomi Tower which is to be my new home but most of my leads did not come to fruition so I called up Mr. Brad, who has done design work for me before and launched him on the project.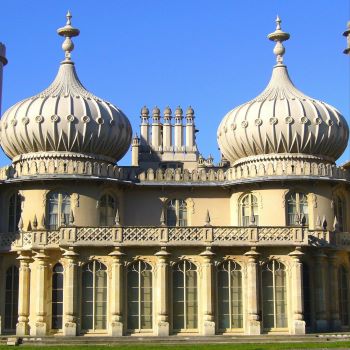 Mr. Brad was thrilled with my idea of using the Brighton Royal Pavilion as a unifying design theme for the new space and we have decided that the look we're going to go for is Ottoman Fantasy. I contacted the building owners about the possibility of placing an onion dome on the roof, but was told that would not be possible, something about weight distribution, and that all of my improvements would need to be on the inside. The plasterers are busy creating faux dome ceilings in a number of the principal rooms to give it that exotic look and I have a muralist busy working from high resolution photographs of the Hagia Sophia and the Topkapi Palace to create just the right wall and ceiling paintings. My master boudoir is going to be based on the harem quarters of Suleiman the Magnificent and the home theater is going to be done in marbles reminiscent of the ruins of Ephesus. It's going to be simply thrilling. I asked if we might have a third tap in the sunken master bathtub which would give ass's milk, but apparently that's against code.
I was in such a good mood after reviewing plans with Mr. Brad, that I decided to reward myself with a film. The home theater at Casa Maine is in the process of being disassembled so I had to make do with a quiet corner and my trusty iPad. Scrolling through the pay for view offerings, I chanced upon last year's A Beautiful Day in the Neighborhood, and, given it's been a glorious day, decided that this was just what I needed. I was sorely in need of a drink but there wasn't much around, the bar and bar ware having already been packed into a crate that once had held Lesterene shrimp and avocado facial scrub trial size tubes, so I had to make do with a Pabst Blue Ribbon I swiped from one of the electrical crew. I took a swig or two and settled in for a trip to the neighborhood and the land of make believe.
The film is interesting as it takes an oblique approach to its subject, making Tom Hanks' impersonation of the wholesome, but deep, Fred Rogers a supporting character in a much larger story. Tom Hanks doesn't look much like Fred Rogers and there is no attempt to make him up with prosthetics into a replica of the beloved television icon; instead, he creates a rich impression of the man and finds his gentle nature and essential goodness allowing us to believe in him and not caring about whether he matches our memories of Mr. Rogers physically. The story actually centers around Lloyd Vogel (Matthew Rhys), a hard-hitting Esquire journalist who has anger management issues after being abandoned as a child by his ne'er do well father, Jerry (Chris Cooper). Lloyd has a patient wife (Susan Kelechi Watson) and a new son and when his sister Lorraine (Tammy Blanchard) tries to bring the family together at her latest wedding, things do not go well. Sensing that one of her star journalists is having, as they say, issues, Lloyd's boss (Christine Lahti) assigns him to write a piece for Esquire's Heroes Issue on Fred Rogers. Lloyd is dismayed by what he sees as a waste of his talents but after learning of his wife's fond memories for Mr. Rogers Neighborhood as a child, he dutifully heads from NYC to Pittsburgh to meet the man and get in some interview time. What happens is a slow healing of Lloyd as Fred Rogers proves not to be a character, but a genuine person, full of natural curiosity, empathy and kindness and Fred, along with his wife Joanne, by simply being an honest human, helps Lloyd come to terms with his father, his role as a father, and his own decency that has been wrapped up in layers of cynicism for far too long.
By all accounts, Fred Rogers was Mr. Rogers in all aspects of his life and was a decent person in almost every way and he found a way of communicating all of the deep questions and fears of everyday people to the very young through simple morality tales played out on a basic living room set and the cardboard and foam core fancies of the land of make believe with its puppet denizens. (Some of whom make cameo appearances in the film). Screenwriters Micah Fitzerman-Blue and Noah Harpster, inspired by an actual Esquire article written by Journalist Tom Junod, understand that Fred isn't all that interesting. What's interesting was his ability to be a catalyst for change in individuals by helping children (and more than a few adults) grapple with the big cosmic questions about love, loss, society, and the beauty of Lady Elaine Fairchild. A Beautiful Day in the Neighborhood belongs to the dysfunctional Vogel clan. Fred Rogers is just the mirror that helps each of them, in their own way, come to grips with past and present and push forward into a more promising future.
The recreation of Fred's TV studio and sets are prop perfect (and become the setting for a rather amusing dream sequence part way through the film). The childlike look of make believe is carried into the rest of the film through interstitials that set place, filmed in the style of the TV series' beloved opening sequence as the camera swoops through the model town to come to rest on Mr. Rogers front door. Director Marielle Heller moves between the very real world of Lloyd's New York life, and the slower paced and somewhat dreamier world of the Pittsburgh television station and the Rogers home seamlessly, skillfully drawing quirky little parallels which prevent the film from every having too jarring a shift in tone. She never lets A Beautiful Day in the Neighborhood veer off course into either hagiography or overly dramatic confrontation.
Tom Hanks is such a genial performer that he is believable as Fred Rogers, at least in an alternate universe where Mr. Rogers looks a bit more like Tom Hanks and provides heart to the film (and snagged another Oscar nomination). But the heart of A Beautiful Day in the Neighborhood comes from Matthew Rhys as the conflicted Lloyd who learns the important lesson, so often taught by Fred, that each and every one of us has positives and negatives but what's really important is that we are all unique and all special. The supporting cast are all fine. Chris Cooper, as Lloyd's heel of a father trying to make up for past sins, gets all the best moments and makes the most of them. As I was watching the film, I thought back to my own young encounters with Fred Rogers when I was a mere slip of a girl. The lesson I have always carries with me is what to do in sad, confusing, inexplicable, or disastrous times. Look for the helpers. There are always those who come forward to help. Focus on them, and it all seems better somehow.
With our current pandemic crisis, looking for the helpers is a good thing to remember and we could all use a little more of Mr. Rogers and his kindly but endlessly perceptive philosophy as we go about our current daily lives. By all means sit down some evening and give A Beautiful Day in the Neighborhood a view. It's worth two hours of your time.
Reception brawl. Diaper bag. Black eye. Gratuitous long suffering second wife. Dueling pianos. King Friday the 13th in a box. Awkward reunion. New cover story. Speedy Delivery.
To learn more about Mrs. Norman Maine, see our Movie Rewind introduction, visit her entire back catalog and follow her on Twitter at https://twitter.com/missvickilester
Image by Shirley Hirst from Pixabay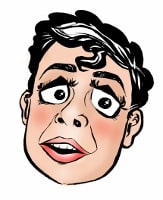 Originally from Seattle Washington, land of mist, coffee and flying salmon, Mrs. Norman Maine sprang to life, full grown like Athena, from Andy's head during a difficult period of life shortly after his relocation to Alabama.