THE BEAT GOES ON
Main Cast: Himesh Patel, Lily James
Director: Danny Boyle
I am absolutely thrilled to announce that I have found the perfect property to adapt into a new family holiday musical classic. The marquee was shifted down at the Pantages last night to now read: Coming for the Holiday Season – Vicki Lester in a New Musical for the Whole Family – Snakes on a Plane! Of course, we're under a bit of a time crunch as we open in just five weeks but the crackerjack team I've assembled at MNM productions is more than up to the task. In order to save time, I've gathered up a lot of Normy's unfinished works, loose manuscript sheets, and random musical ephemera and sent them all to a couple of talented musicians, Cris and Tyson, who are busy turning them in to a series of wonderful toe tapping show tunes celebrating the wonders of aviation, Christmas cheer, and escaped reptiles. Mr. David, my famous author friend is working on a fabulous book and lyrics that are sure to produce a couple of new holiday standards for the Sirius/XM specialty Christmas channels and a dramatic monologue or two that will be all the rage at college conservatory auditions.
Of course, in order to make the material truly suit me and my special talents, we're having to take a few liberties with the source. We are, of course, changing the plane to a special holiday flight taking an assortment of vacationers from Los Angeles to Tennessee for a special Smokey Mountain Christmas. (We're trying to get Dollywood to do a promotional tie in). This will give us a wonderful selection of supporting characters and chorus for the big numbers. I'm looking forward to the big tap number on the wings of the 737 by the ladies using real boas rather than the feather variety. I of course will be playing the role initially essayed by Samuel L. Jackson. It's going to require a gender change so I will be playing a lady FBI agent accompanying a high-powered career gal, who happens to be a witness against the mob, home for a small-town country Christmas holiday when the plot kicks into high gear. Leah, the head of my consumer products division, has been holed up in her study with the Hallmark channel doing research to make sure we get all the details right. I still haven't quite figured out what to do with the most famous catch phrase from the film as it's definitely not family friendly. Something will come to me. It always does.
After a long day of meeting with my design staff, I was simply exhausted but I still had my research to do so I headed off to LAX to catch a flight to anywhere so I could get my brain and muscle memory into the world of the modern airline cabin.  The first flight available was a Delta flight to ATL with a quick turnaround return so I settled into my seat with several hours to kill and explored the entertainment options.  I quickly settled on Danny Boyle's film Yesterday from earlier this year.  I had intended to see it in the theater when it came around, but life had gotten in the way and I had missed its too brief local run.  Danny Boyle has been making quirky little films for twenty-five years now, ever since his auspicious debut with Shallow Grave.  It was followed quickly by Trainspotting, cementing his reputation as a director to watch.  His oeuvre since then has had its ups and downs from the very good (Slumdog Millionaire) to the misfire (A Life Less Ordinary).
In Yesterday, we meet Jack Malik (Himesh Patel) a singer/songwriter/guitarist of middling talent but a dream who, along with his best friend manager Ellie (Lily James) plays pubs and the back tents of music festivals in the West Country of England.  One night, coming back from a gig, in one of those magic realism moments of which writer / director Boyle is fond, there is a sudden worldwide blackout.  During the blackout, Jack, riding his bicycle, is hit by a bus and wakes up in hospital missing a couple of teeth and feeling the worse for wear.  It doesn't take him long to figure out that there was some sort of odd space/time slip during that event and he now lives in a world where things are just slightly different. For instance, there was never a band called the Beatles.  Jack, being the only person that now knows the Beatles catalogue, quickly records a demo of some of their more famous songs and gives it away to his customers at the Costco type warehouse store where he's employed.  One thing leads to another and soon an instantly recognizable modern pop star playing himself is knocking at his door and asking him to be his opening act on a tour of Russia (You can probably guess which Beatles number Jack performs…)  This brings Jack to the attention of Debra Hammer (Kate McKinnon), a top LA music agent who is going to make Jack the next big thing in international pop music as all of his songs (Beatles standards one and all) are so brilliant.  Jack is torn between fame and fortune and the realization that he may be in love with Ellie from back home and who are the mysterious people turning up at his concerts with a Yellow Submarine model? Yesterday all comes to a head at a huge concert at Wembley stadium and eventually happy endings resolve for most of the characters.
I quite enjoyed Yesterday.  The central premise is interesting and there are enough twists in it to keep the audience guessing and on their toes, even while enjoying the iconic songs in new contexts.  Just because the Beatles never existed doesn't mean that the lads from Liverpool never did and there's a very affecting scene late in the film between Jack and a familiar, but aged cultural icon that helps Jack understand his role and what he should do with his life.  Like all of Boyle's films, there's a bit of a blend of genres and Yesterday weaves between romantic comedy, drama, and quasi-bio musical but none of the transitions seem particularly forced.  The actual ending is a bit weak and feels like it's more tacked on than earned by the previous actions of the characters, but most films have trouble with endings these days.  Screenwriters need to learn to write the endings first and then work backward.
The cast are charming.   Mr. Patel, a new face to me who seems to have mainly British TV credits in the past, is a lovely everyman and it's nice to see a South Asian man in a British film playing a romantic lead and fully integrated into modern British society.  He sings well enough to be engaging, but not so well as to make us forget John, Paul, George, and Ringo.  It's very much his film with everyone else playing support.  Lily James, as his love interest, does a sort of quirky every girl.  I think this is the first time I have seen her on celluloid without a flowing long blond wig and I almost didn't recognize her at first.  Joel Fry as Rocky, Jack's pal and roadie, steals every moment he can with his goofy turn.
There are various sly nods to moments and monuments in Beatles history throughout Yesterday in terms of settings, shots, and characters.  Boomers will pick up on them all.  Younger audiences will not so the film won't resonate in quite the same way for them, but they'll still enjoy it.  There's also a running gag throughout the film where Jack drops a reference, everyone looks blank, and he googles to find out that it's just not the Beatles missing from this Brave New World.  There may be no caped superheroes, CGI battles, or rampaging dinosaurs but Yesterday is still a fun little film worth seeking out and it leaves you feeling very happy at the end (especially given the choice of song under the flash forward which lets us know that there is a happily ever after).
Bored audience. Dilapidated beach resort. Private jet. Missing teeth. Gratuitous marketing meeting. Rooftop concert. Multiple post-it notes. Recording engineer rival. Massive upload.  
To learn more about Mrs. Norman Maine, see our Movie Rewind introduction, visit her entire back catalog and follow her on Twitter at https://twitter.com/missvickilester
Image by Foto-Rabe from Pixabay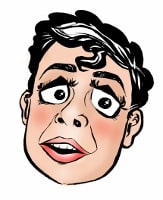 Originally from Seattle Washington, land of mist, coffee and flying salmon, Mrs. Norman Maine sprang to life, full grown like Athena, from Andy's head during a difficult period of life shortly after his relocation to Alabama.