The Horse and His Boy
Main Cast: Jeremy Irvine, Emily Watson
Director: Steven Spielberg
With Halloween around the corner, I have my whole team working on just the right holiday starring vehicle for yours truly. Something mom and dad can take the kiddies to during December rather than The Nutcracker for the tenth time and something that will entrance an audience with a miracle of modern stage technology. Nothing that has come through the mail recently has seemed quite right so I will produce this extravaganza myself. I've commissioned the finest scene shop in town to begin work on a number of rather generic sets which can be repurposed for most reasonable tales and I have put a down payment on an extended rental of the Pantages where the marquee now reads – 'Coming for the Holidays – Vicki Lester Live on Stage in…' I figure that mysterious ellipsis should be enough to get tongues wagging and a few reservations flowing in out of curiosity. After all, it has been a while since my last live stage appearance here in Los Angeles.
Everyone on my production team has been combing through literary, cinema, and theatrical files looking for just the right property to quickly adapt into a new perennial holiday treat. I've been through Normy's files of music, finished and unfinished and found a number of compositions that can be easily repurposed for the score. His variations on themes by Bela Bartok should be good for half a dozen numbers at least. As A Christmas Carol is such a favorite, Leah, head of my consumer products division suggested adapting another one of Dickens' classic tales. We had almost settled on Barnaby Rudge until I realized that appearing in a pants role, as I would have to portray the title character, would limit my choices of costume. Madame Laurie, my accompanist, was very hot on a new adaptation of Six Feet Under but the female roles are simply wrong for me: At my ever youthful thirty-nine, I'm a tad old for Claire, too young for Ruth (as if my public would ever believe me playing the mother of grown children), and Brenda is strictly a supporting role. I did like her idea of Have a Holly Jolly Christmas interpolated as a tap number with the Fisher family dancing on top of caskets, sort of an homage to We're in the Money from 42nd Street.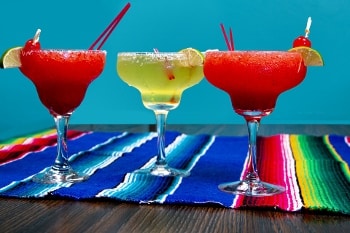 The right material will present itself shortly, it always does.  In the meantime, I've had a perfectly marvelous little margarita machine installed in the home theater and I've been putting it to good use while I work my way through a number of films, determined to find the perfect story for my triumphant return to the stage.  This evening's movie was Steven Spielberg's adaptation of War Horse from 2011.  I had briefly considered doing a tour of the stage version but the part I was considering, that of the goose, had no solo songs and no tap number making it a bit beneath my dignity so I ended up passing.  I did see the stage version, however, and found it quite impressive with its incredible puppetry creating the horse characters and making them such an integral part of the story and action.  I can see what attracted Spielberg to the material.  Young boy.  Majestic animal.  Dreams of glory.  Hellish warscapes.  It would very much appeal to the part of him that made such films as Empire of the Sun and Saving Private Ryan.  Unfortunately, the literalism of film realism as opposed to the symbolism and suspension of disbelief of stage illuminate all the flaws in the underlying material.
War Horse started life in the early 1980s as a children's novel by Michael Mopurgo who wanted to tell the story of the sufferings of World War I through the eyes of a horse. In 2007, the National Theater in London developed a stage adaptation by Richard Stafford using remarkable life size puppets for the animal characters. The production was a huge hit, transferred to Broadway, and toured for some years. It was this production that was seen by executives at DreamWorks who brought it to Spielberg as a possible project. Spielberg read the novel, saw the play and agreed it was his kind of property and the film was made in 2010 for a 2011 release.
The story revolves around a fine thoroughbred horse named Joey.  One day farmer Ted Narracott (Peter Mullan), who has been sent to market to buy a new plow horse by his shrewish wife (Emily Watson), comes home instead with Joey after he gets into a bidding war with the local landlord (David Thewlis) which neither his pride nor his drinking will let him lose.  The Narracott's son, Albert (Jeremy Irvine), falls in love with the horse and vows to train him to pull a plow and actually succeeds.  World War I breaks on the idyllic Devonshire countryside and farmer Ted sells Joey to a visiting Captain (Tom Hiddleston) who is off with the cavalry to fight in France to serve as his personal mount.  Young Albert is too young to go to war but vows he will come for Joey when he is able.  In France, the cavalry are no match for German machine guns and Joey and his friend, another horse named Topthorn, are taken by the Germans.  This begins a series of episodic adventures involving German deserters (David Kross and Leonard Carrow), a young French girl (Celine Buckens) and her grandfather (Niels Arestrup) and a stent at hauling artillery pieces under the care of a kindly German ostler (Nicolas Bro). The war has been going on long enough for young Albert to come of age and we find him in the British trenches at the Somme while Joey is weakened, wounded, and frightened behind the German lines.  If you can't figure out what's going to happen in the third act, you've never seen a Spielberg film.
War Horse is expertly shot and has the usual Spielberg visual touches.  An execution filmed through the rotating arms of a rural windmill, the doomed cavalry squad heroically charging a wood not knowing it's full of machine gun nests where we see riderless horses panicking through the trees, low angle shots of Joey running through a no man's land of mud and flares and barbed wire, a dissolve from ordered rows of knitting to the neat furrows of a newly plowed field.  It's always gorgeous thanks to Janusz Kaminski's lush cinematography.  The art department also deserves full credit for its recreation of an earlier area and the contrasting rural scenes of war and peace.   Unfortunately, it's also about twenty minutes too long.  Spielberg, working from a screenplay by Lee Hall and Richard Curtis, seems determined to get every possible story beat in.  A couple of episodes could have been easily dropped without narrative damage and with a better paced film.  The middle of the movie, in particular, sags.
While the film is essentially from the horses' point of view, we are never privy to their interior lives through narration or other device, unlike Black Beauty, a far superior book which War Horse strongly resembles. On stage, with all of its deliberate artifice, the audience could easily supply their own understanding of the horses and their emotional and physical states. On film, with its increased need for realism, the absence of point of view leaves a large hole at the center of the project. The human characters interact, and the animal trainers get the best they can out of their charges but we really could use something more. It doesn't help that most of the human characters aren't given much to do. Young Albert, the human we should most care about, is absent for about an hour in the middle of the film and Jeremy Irvine, while pretty to look at and young enough to almost be convincing as a teen in the early scenes, isn't a strong enough screen presence to make up for the vacuum left by a nonverbal, nonhuman protagonist. The rest of the cast all have about ten minutes of screen time apiece and don't have much to do although all are fine in their roles. I particularly liked Emily Watson who takes her few brief scenes and creates a character far beyond the clichés that the story requires.
Ultimately, War Horse, is a good adventure film for older children. (The war scenes are likely far too cruel and traumatic for younger ones.) Adults are more likely to enjoy the original stage production which was filmed for broadcast in cinemas and which is available for home viewing on DVD and various streaming services.
Symbolic war pennant.  Rocky field. Sneering gentry. Failure to jump. Gratuitous practice saber charge. Trampled field kitchen. Horses in bedroom. Windmill sleeping. Muddy horse. Troublesome goose.
To learn more about Mrs. Norman Maine, see our Movie Rewind introduction, visit her entire back catalog and follow her on Twitter at https://twitter.com/missvickilester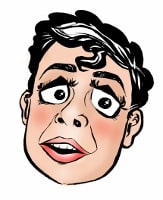 Originally from Seattle Washington, land of mist, coffee and flying salmon, Mrs. Norman Maine sprang to life, full grown like Athena, from Andy's head during a difficult period of life shortly after his relocation to Alabama.