Please make it the only season. Please.
Main Cast: Dennis Quaid, Bridgit Mendler
Creator: Tucker Cawley
This is part of my Netflix Holiday Movie Round-Up. Click the link to find the rules and see a complete list of the holiday movies I've watched and graded.
Premise
Merry Happy Whatever is a series. I'm so sorry, but it is. There are eight sit-com length episodes all focused on the Quinn family and their holiday celebration. Daughter Emmy (Bridgit Mendler) is home in Philadelphia from L.A., where she lives with boyfriend Matt (Brent Morin). Matt is meeting the extended family for the first time. Emmy's dad Don (Dennis Quaid) is a gruff cop who rules his family with an iron fist, even more so since his wife passed away. Emmy has three siblings – Kayla (Ashley Tisdale) who is married to Alan (Tyler Ritter), Patsy (Siobhan Murphy) who is married to Todd (Adam Rose), and Sean (Hayes MacArthur) who is married to Joy (Elizabeth Ho). Sean and Joy have three children.
The entire premise of Merry Happy Whatever is that Don Quinn is an asshole. Over the eight episodes we see him meddle and dominate and try to bend the world to his small minded will. We also watch his children buckle and cave and in some cases act exactly like their tyrant father while mocking, excluding, and judging their spouses and significant others. Yippee. So funny.
Message
I don't even know. Love your family bigot? Do whatever they want even if it hurts your soul? Let a loudmouth bully ruin every family gathering with idiotic dictates and unrealistic expectations? Don softens a little over the course of the season, but he's still a jerk. I suppose they're trying to show a conservative guy learning about inclusivity or something, but wow, that's so not there.
Message Delivery
Ugh. Horrible. I can't stand these characters and whatever redeeming qualities they may have is vastly overshadowed by their meek acceptance of a tyrant parent who has to control every single moment of every single day. It's gross. The only message that comes through loud and clear is that if you marry into this horrible family you need to support your fellow in-laws because you will be thrown under the bus by your spouse and their family at least once per day. Did I mention that Merry Happy Whatever is a comedy?
Cast and Performances
Why, Dennis Quaid? Remember The Right Stuff? Or Breaking Away? Or even The Parent Trap or Inner Space? I know it's been a long time, but has it really come to this? This is an eight episode torture session and a now-creepy grin isn't going to fix it.
The rest of the cast is lost. And stiff. And not funny. Ashley Tisdale is okay in spots as Kayla, and the in-laws getting together to vent about this hideous family is passable (the only characters I really like are Joy and Todd). Bridgit Mendler sadly goes from sort of okay to detestable – but her acting is mediocre throughout, so that's something! Brent Morin has the most thankless role in this entire train wreck, and it shows. I think he genuinely tries with the material but it's so cringe-worthy that no matter what he does as the beleaguered boyfriend trying to win the approval of his possible-father-in-law is just painful. I'm sorry, Brent, I really am. And the rest of you – nobody deserves this.
Honorable Mention
This dumpster fire has two honorable mentions. I know, weird, right? But here we are. First, Merry Happy Whatever has the most awkward, intrusive, and insipid laugh track I've ever heard. And people, I've seen every single episode of Gilligan's Island, more than once. Second, the small role of Kayla's husband is played by Tyler Ritter. Before I even knew the actor's name I said – out loud – "He looks like John Ritter!" Not just appearance but mannerisms, too. I would very much like to see him in something else. Anything else.
Overall Feel Good Rating
Nope. Not good at all. No good feelings. Just sustained irritation at this ridiculous, cowering family that's supposed to be funny and REALLY REALLY IS NOT. This gets a hard F – I can only hope to never set eyes on these characters ever again. Please Netflix, I'm begging you.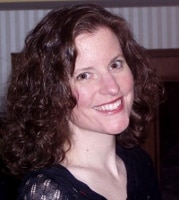 Sue reads a lot, writes a lot, edits a lot, and loves a good craft. She was deemed "too picky" to proofread her children's school papers and wears this as a badge of honor. She is also proud of her aggressively average knitting skills  She is the Editorial Manager at Silver Beacon Marketing and an aspiring Crazy Cat Lady.