MARY, MARY
Main Cast: Emily Blunt, Lin-Manuel Miranda
Director: Rob Marshall
Captain Drew sailed the Normitainia up the Chao Phraya River and into the port of Bangkok. I looked absolutely stunning in my hastily assembled 19th century ballgown, pieced together from Normy's old parasail and trimmed with some purple brocade I cut off the divan in the smoking lounge. No one smokes anymore, so I figured the holes in the upholstery wouldn't be noticed. I can have them redone in a nice teal Naugahyde the next time we put the ship in dry dock. The crew, Miguel, Miguel and Miguel broke out their mariachi instruments and I had the ship's PA blast a loud karaoke track of 'Shall We Dance?' as the ship moored at her birth. I was in fine voice, belting out the lyrics in my clearest soprano, including three high Cs and I interpolated a lovely little tap improvisation up and down the poop deck.
I expected a royal welcome quayside by King Rama X or at least some of his senior staff but the message regarding my arrival must have gone astray as all that seemed to be on the dock were a couple of mystified stevedores and an elderly lady in a coolie hat selling some sort of exotic fruit. None of them seemed to speak much English so I hailed a passing Tuk and told the driver to take me to the Royal Palace. I descended from my carriage, went up to the entrance and asked to be taken to the King. I was told he was not at home but that I could take the public tour for a 100 Baht entrance fee. I had not yet had time to exchange any money, so I handed the ticket office a booklet of stamps, a one-dollar bill, and a Santa Monica library card and sailed inside. The security men were most rude positively manhandling me out the door. A star of my caliber is not used to such treatment and I had half a mind to have Fajer and Hellmann, my attorneys, call the American Embassy to protest what could become an international incident.
I had a couple of curt words for the security men, especially the one who stepped on the hem of my ball gown. The silk wasn't in the best condition, so the entire back of the skirt gave way. Thank goodness I was wearing one of my better pair of tap pants underneath. I snapped a few pictures of the palace with my camera phone as I was hustled away and then took a cab downtown to a large shopping mall cum cineplex where I was able to buy a bolt of silk and have a tailor shop quickly stitch a fancy new train on my gown. I then headed up the escalators to the seventh level and the theaters. The assembled crowds were staring at me all the way up. I presume they rarely get to see a star of my magnitude in the flesh, so I blew them all kisses. When I got to the ticket booth, I purchased an admission to Disney's new film, Mary Poppins Returns, starring Emily Blunt as the magical nanny.
The original, much loved film, an apogee of the classic period of Disney when it was still under Walt's personal supervision, came out in 1964 and transformed Julie Andrews from a stage personality into a movie star, and garnered her an Oscar along the way. The simple cheery songs by the Sherman brothers entered the musical DNA of the country, still in its early 60s period of buoyant optimism before Vietnam and the turbulence of the later half of that decade completely changed the tenor of society. The new regime at Disney, conscious of their cultural assets, has been on a kick of sequels and remakes so it was only a matter of time before they got around to Mary Poppins. Even though original stars Julie Andrews and Dick Van Dyke are still with us more than fifty years later, it was probably too much to ask them to go through the rigors of carrying a major motion picture, so a sequel would need to be recast and rethought.
Disney hired Rob Marshall, who gave the movie musical a shot in the arm with his dazzling production of Chicago some years ago, to direct and the result, working from a screenplay by David Magee, is an odd cross between a remake and a sequel. While the plot and characters are a generation on from the original, the beats of Mary Poppins Returns are such that direct parallels can be drawn between moments and numbers of the original and this new version such that it's almost possible to predict what sort of scene is coming next. As a film making technique, it works as it gives the audience the comfort of the original but it's not a huge success artistically as it lacks originality and makes one wonder what the talented creators might have come up with if they hadn't straight jacketed themselves with a fifty-year-old formula.
Mary Poppins Returns opens to find us still at Cherry Tree Lane, near Regent's Park in London. It's twenty some years after the first film and Michael Banks has grown into Ben Whishaw, a recent widower with three children, still living in the family home while mourning the loss of his wife and trying to cope with being a single parent. It's the 1930s, a gloomy period for England as the Great Depression hovers over everything and the horrors of World War II are just around the corner. Michael is aided by his sister Jane (Emily Mortimer), still single and the maid Ellen (Julie Walters) but his household is falling apart. His young son Georgie (Joel Dawson), finds an old kite in the attic and takes it to the park to fly along with his brother John (Nathanael Saleh) and sister Annabel (Pixie Davis). Storm clouds approach and when the kite disappears into a cloud bank, it reappears with Mary Poppins (Emily Blunt) serenely holding its tail and descending to earth. She marches the children back to the Banks household and proceeds to kindly, but firmly, restore order to both children and parent. In this, she is aided by her friend Jack (Lin-Manuel Miranda), a lamplighter along with his fellow leeries.
The adventures she serenely involves herself, Jack and the children in include a bath that turns into an undersea adventure (standing in for the room cleaning of A Spoonful of Sugar), a visit to a peculiar relative (Meryl Streep) where they're all walking around on the ceiling (standing in for the tea party I Love To Laugh), being sucked into a fantasy world within a Royal Doulton bowl (standing in for Jolly Holiday), and roaming the streets of London with a bunch of lamplighters (standing in for Step in Time). The new songs, with pastiche music by Marc Shaiman that evokes, but doesn't live up to the Sherman brothers score, are perfectly serviceable but by no means memorable. I don't see them becoming the cultural touchstones the originals did and, when the original memories appear as underscoring from time to time, they mean a lot more than these newer additions to the canon.
I ended up enjoying Mary Poppins Returns immensely. It's sumptuously produced with no sparing of expense in the technical and design departments making it lovely to look at. There are a number of Easter egg moments inserted for fans of the original film. The tail of the kite is still Mrs. Bank's suffragette sash. Karen Dotrice, the original Jane, has a brief cameo as a lady asking directions and her last line is "Many thanks, sincerely" (try singing it). Dick Van Dyke reprises one of his roles as a banker and shows that, even in his 90s, he's still got it. 93-year-old Angela Lansbury, as elegant as ever, sends us off on an airborne finale. (One wonders if the part was created for Julie Andrews and, if so, she was wise to turn it down as it would have invited too direct a comparison). Emily Blunt has the mannerisms and the mix of lighthearted fun and steely resolve down pat in the title role. Her makeup design makes her look enough like Julie Andrews that you can see her as the same character without her looking odd or as if they were trying to solely copy an original. In the other major role, Lin-Manuel Miranda is perfectly agreeable but doesn't really have enough charisma to be truly memorable. He also seems to have picked up his accent at the Dick Van Dyke school of Cockney Dialect.
By all means see Mary Poppins Returns and take the kids or the grand-kids. It's a perfectly family friendly fantasy with a few gentle moral lessons thrown in. It's not the original but it has its own charms. I'm looking forward to the home release in a few months, so I can watch the original and this one back to back and pick up more of the parallels.
Crabby admiral. Missing bonds. Leftover Bedknobs and Broomsticks animation. Gratuitous parkour. Big Ben climbing. Gratuitous evil banker. Animated horse. Grumpy park keeper. Magic balloons.
To learn more about Mrs. Norman Maine, see our Movie Rewind introduction, visit her entire back catalog and follow her on Twitter at https://twitter.com/missvickilester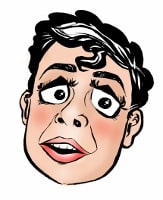 Originally from Seattle Washington, land of mist, coffee and flying salmon, Mrs. Norman Maine sprang to life, full grown like Athena, from Andy's head during a difficult period of life shortly after his relocation to Alabama.