Killing Eve, Killing Adam, Killing Everyone
Main Cast: Sandra Oh, Jodie Comer
Creator: Phoebe Waller-Bridge, based on novels by Luke Jennings
I don't know what I expected from Killing Eve. The critically acclaimed British series for which Sandra Oh won a Golden Globe and a SAG Award is usually described as being about two women obsessed with each other. But that really doesn't do it justice at all. AT ALL. Killing Eve is so much more than some tawdry tale of obsession. I mean, it's that too, but with a lot of other awesome stuff.
First, basic premise. Eve Polastri (Sandra Oh) is an American woman married to a British man, working an interesting if not breathlessly exciting job with British intelligence. Her job does come with the occasional brush with more covert aspects of MI5 and she enjoys those – enough to speak out at one such meeting and catch the eye of the Carolyn Martens (Fiona Shaw), who runs the Russian section of sister agency MI6. It is this fateful meeting that sets in motion Eve's official search for an elusive assassin – Villanelle (Jodie Comer). It is this search that frames the series. I'm not going to tell you more about the plot, you need to watch it yourself to find out how obsession comes onto the scene and how this cat and mouse game becomes something a lot more interesting.
So what should you know going into this first season (Killing Eve was renewed for a second season before the first even premiered)? First, be prepared for some bloody violence. Villanelle does kill people for a living, after all, and she's good at it. And she enjoys it. There are some pretty gruesome scenes in here, and forewarned is forearmed.
Next, an oddity coming from a British crime series, Killing Eve is funny. I mean really funny in a most unexpected way and at the most unexpected moments. That is almost entirely the doing of Sandra Oh and her impeccable gallows humor and witty non sequitur timing. The humor lifts the series from a better than average crime thriller into the extraordinarily well crafted realm of works like Fargo.
Watch also for incredible performances across the board. Sandra Oh is absolutely amazing. Eve is so real and so wonderful that even her fights with her husband feel authentic in a way that you don't often find in peripheral scenes. Oh makes this character sing as a complex person who doesn't always really understand herself as well as she understands others. But it isn't just Oh who is great, it's everybody. Jodie Comer as Villanelle has a hard target to hit – this character is not likeable. But Comer makes it work with really cunning use of her ability to be wide eyed and innocent looking – it makes it deliciously hard to get a handle on why Villanelle is the way she is, or how she is at all.
The supporting cast is superb. Fiona Shaw is properly somber and mysterious as an MI6 agent. David Haig, Kirby Howell-Baptiste, Sean Delaney, and Darren Boyd play Eve's colleagues without whose talents much of the humor would be impossible and all of the team dynamics would be lost. Special shout-outs to Kim Bodnia who plays Villanelle's handler with a very special kind of aplomb, and Owen McDonnell who plays Niko, Eve's rightly aggravated husband. They're all wonderful.
I can't recommend Killing Eve more highly. It's fantastic as both a crime/thriller series and a complex web of character development. You can find season one streaming on Hulu now and the second season begins on BBC America in April, 2019. I can't wait to see where they take this crew in season two!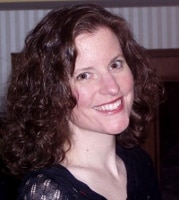 Sue reads a lot, writes a lot, edits a lot, and loves a good craft. She was deemed "too picky" to proofread her children's school papers and wears this as a badge of honor. She is also proud of her aggressively average knitting skills  She is the Editorial Manager at Silver Beacon Marketing and an aspiring Crazy Cat Lady.