Netflix Holidays Hits the Airwaves
Main Cast: Romany Malco, Sonequa Martin-Green
Director: Leslie Small
This is part of my Netflix Holiday Movie Round-Up. Click the link to find the rules and see a complete list of the holiday movies I've watched and graded.
Premise
Rush Williams (Romany Malco) is a hot radio DJ with a hit morning show, a big house, and some spoiled kids. A reversal of fortune has him scrambling just as the holidays are about to begin. Holiday Rush has a very simple premise.
Message
This is a straight forward "be thankful for what you have" movie. Rush is a single father whose wife passed away and he has four kids he's been spoiling ever since. His producer Roxy (Sonequa Martin-Green, who I know from The Walking Dead) is a big part of his support system, as is his aunt (Darlene Love). Both women remind him, in their own ways, of the things that are really important.
Message Delivery
Honestly, it's pretty heavy handed. Those kids are spoiled and entitled from the get-go, so it comes as no surprise when their material excess becomes a focus. But the Holiday Rush also manages to get in some smaller moments, as the family deals with loss and the pressure to move on. Those themes are handled pretty dexterously compared to the urgency of the money situation.
Cast and Performances
I really like the leads in Holiday Rush. Romany Malco played one of my favorite characters on Weeds and it's REALLY nice to see Sonequa Martin-Green get to do something that does not involve brain eating or dystopian despots. Their banter is quite delightful, and makes for the best scenes in the movie. The rest of the cast? Meh. The kids don't have a whole lot to work with and the only one that stands out is Amarr M. Wooten as the eldest son, the one who remembers his mom the best and struggles hardest with her loss. Darlene Love is…not good. Her character is the one tasked with delivering all the corniest lines and knocking us over the head with the message and after a while it gets quite painful. Deon Cole seems to have fun with his role as mandatory bad guy.
Honorable Mention
Holiday Rush has a few scenes that contain the rarest commodity of all when it comes to made-for-TV holiday movies – moments of genuine comedy. Not cuteness or sweetness, but actual laughter inducing comedy. It is thanks entirely to the sparkling chemistry between Malco and Martin-Green and Malco's agility with self-deprecating physical comedy and I applaud both. I LOLed on *several* occasions.
Overall Feel Good Rating
Holiday Rush is not great. It also is not actively bad. The main message is heavy handed, but there are smaller, genuine feeling moments as well. The leads are attractive (you know I don't make the rules on this) and their scenes together really work well, while the rest of the cast flounders with underwritten characters and shaky performances. But it made me laugh – more than once. I give it a solid C and recommend it for any fans of Malco or Martin-Green.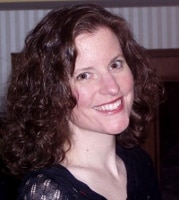 Sue reads a lot, writes a lot, edits a lot, and loves a good craft. She was deemed "too picky" to proofread her children's school papers and wears this as a badge of honor. She is also proud of her aggressively average knitting skills  She is the Editorial Manager at Silver Beacon Marketing and an aspiring Crazy Cat Lady.