DAY OF THE DEAD
Main Cast: Anthony Gonzalez, Gael Garcia Bernal
Director: Adrian Molina, Lee Unkrich
My team of talented staff have all been gathering on board my luxury yacht, the Normitania, anchored in the Gulf of Thailand off Phuket. Our mission is to concoct a brilliant modern take on the venerable musical classic, The Pajama Game, for a new film commissioned by Amazon Studios streaming services. We've found the perfect location, an old factory warehouse complex on the Northeast coast of the Island and a construction team is removing the seaward walls so we can open out all those factory scenes from interiors onto the beach and take advantage of the natural beauty of the location. Of course, our factory is going to be manufacturing T-shirts for H&M rather than pajamas, so I have to come up with a new title that will immediately entrance a younger demographic. I can't decide between Fashion Nation and Huis Clothes. Joseph, my manager, has an incredibly talented writer, Mr. David here working over the script to a more modern idiom and carefully resetting the musical numbers to best show off my prodigious talent. He's also bringing in Thai references and cultural tropes to best take advantage of our exotic locale. The big love song now begins, Hey there, you with the lemur like eyes…
More and more people have been arriving at basecamp over the last week or so and it's been old home week. I was particularly pleased to see my lovely seamstresses, Kim Dee and Mary Gee tottering off the red eye from Seoul as I know they can turn the excess bales of jersey cotton I picked up on the wharf for a song into a whole series of stunning outfits for me and the chorus gals. In fact, I'm toying with the idea of adding a fashion parade to the second act in place of my customary dream ballet. It might make a nice change. The executives from Amazon have given MNM enterprises carte blanche as long as we remain on schedule and budget. I made sure that Mr. Michael, my head of finance, submitted overly generous estimates in every department so I'm sure we'll have no problem keeping the books in line.
My biggest problem at the moment is finding an appropriate leading man who can share a believable romance with me, a living legend, and whose fee won't set the budget off kilter. I had my people reach out to Jussie Smollett's people a few weeks ago but he's apparently unavailable for some time due to a minor legal problem. Justin Bieber's fee was too high. Alex Trebek is having some health issues. You can see my quandary. Someone appropriate will turn up shortly I'm sure, in the meantime I'm having a lovely working beach holiday and getting into fighting shape under the ministrations of Lulu Pigg, my tap therapist, Miss Mimi, my vocal coach, and Madame Laurie, my accompanist.
After a hard afternoon's work, during which I must confess the four of us did down a few more pineapple daiquiris than we should have, I retired to my lovely hotel suite, high above Patong Bay, to unwind and to search for musical inspiration. Flipping through the movie channels, I happened upon Coco, the Pixar animated film from 2017. I had missed it in the theater but had heard some good things from friends about its story stressing the importance of music in life, so I settled in for a viewing. I'm very happy that I did for the film is a masterpiece of music, color, drama, comedy, sentiment and emotion and shows what geniuses the people of Pixar can be when they aren't churning out quickie sequels.
Coco draws heavily on Mexican culture and folklore, but never in a condescending or culturally imperialist way. It is the story of young Miguel (Anthony Gonzalez) who has been born into a family of cobblers in small town in Mexico. Miguel is not much enamored of shoes, he loves music. Unfortunately, in the distant past, his great great grandfather, a musician, abandoned his wife and child for his passion. His wife, the imperious Mama Imelda (Alanna Ubach), took up shoemaking to save her family and banned music from the premises. Through the intervening generations, these strictures have come down to Miguel who is chafing to show his musical talent. Miguel believes his musician ancestor is the great Ernesto de la Cruz (Benjamin Bratt) and, on the day of the Dio de los Muertos festival, Miguel swipes Ernesto's guitar from his tomb so he can play in the local music competition. A little magic happens, and Miguel is transported to the land of the dead where the dead are all preparing to come visit their families as they do every year at the holiday, provided they are still remembered, either by a living person or in a photograph.
Miguel, as a live boy, doesn't belong in the land of the dead and soon various mishaps take place drawing him to his great great grandmother Imelda, imperious as ever, Ernesto, who is not what he seems to be, and the sad sack Hector (Gael Garcia Bernal) who just wants to visit his family before he is forgotten. There are run ins with Frida Kahlo, harried bureaucrats, a huge concert arena, and back at home, the titular Coco, Miguel's great grandmother, slowly sliding into advanced age and dementia. The last ten minutes, in which the themes of music, family, and the importance of generational continuity play out, is as beautiful and profound a piece of film making as I have seen in years. I was bawling by the final credits.
Pixar has created two contrasting and equally fascinating visual worlds in Coco. Small town Mexico is dry and sunbaked, all tans and brown relieved with colorful clothes and plants. It has a coziness to it which makes it feel safe and immediately puts one in mind of one's own childhood when the world was the size of your neighborhood. The land of the dead is full of exotic luminous Day-Glo colors, towers of improbable architecture and odd adaptations of modern technology. The newly deceased obviously bring tales of how the world changes but the authorities on the other side don't get things quite right. It's a bit like Beetlejuicebut warmer and more inviting and not nearly as morbid. The dead characters are skeletal, as befits the Dio de los Muertos, but they're individual and full of life and never gross or scary and should not frighten the youngsters.
Children and parents will get very different things out of Coco, and that's one of the keys of a successful children's movie. All of the best operate on several levels so that no one in the audience from 3 to 103 ever gets bored. Children will love the colors and visuals and will follow the adventures of Miguel as a straightforward adventure story. The parents will understand the deep ties that bind families together and how the revelations regarding Miguel's great great grandfather and why he never came home and how that impacted the rest of the family are actually the most important part of the film.
Coco is mainly the creation of Adrian Molina, who takes the Mexican cultural elements very seriously.  (I presume he is of Mexican heritage, but I do not know).  He shares screenplay credit with Matthew Aldrich and directing credit with Lee Unkrich.  Robert and Kristen Anderson Lopez wrote the songs and Michael Giacchino, the background score, all of which contribute to the movie's success.  Coco won the Oscar and the Golden Globe for best animated feature and the Lopezes won an Oscar for their song Remember Me (enabling Robert Lopez to become the first double EGOT winner, having two of every major award).
I cannot recommend this film enough. No matter who you are, watch it. You'll be glad you did.
Marigold petals. Ofrenda photographs. Frida Kahlo performance art. Gratuitous luchador abuelita. Cenote pit. Exasperated border guards. Incline railway. Gravity bell. Baby sister.
To learn more about Mrs. Norman Maine, see our Movie Rewind introduction, visit her entire back catalog and follow her on Twitter at https://twitter.com/missvickilester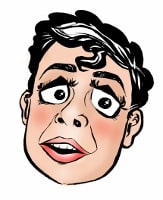 Originally from Seattle Washington, land of mist, coffee and flying salmon, Mrs. Norman Maine sprang to life, full grown like Athena, from Andy's head during a difficult period of life shortly after his relocation to Alabama.