TWICE TOLD TALE
Main Cast: Lily James, Amanda Seyfried
Director: Ol Parker
Madame Rose, my publicist, has jetted into town to plan my next great triumph of the stage.  It looks like the role of Eliza in My Fair Lady will not be available, at least my attorneys, Fajer and Hellmann say contract negotiations are hopelessly deadlocked on my demand for cutting all those dreary Sprechstimme numbers of Higgins in order to make way for a second act dream ballet and a new tap finale in which Eliza makes her final exit tapping down the aisle while inviting the audience to form a conga line behind her.  Not to worry though, I have just had a most productive meeting with Scott Rudin about essaying the title role in Hello, Dolly!.  The New York production is about to close but there is a national tour.  I have persuaded him that it would make economic sense for there to be two tours, one with Betty Buckley and one with me, that way the show can play twice as many dates and I am so much bigger a name in the heartland than darling Betty ever will be.
I hurried back to my suite at The McKittrick where I filled Madame Mimi and Lulu Pigg in on the good news and the three of us repaired to one of the larger unused salons to start working on getting the part into my bones.   I know that I, at my ever-youthful professional age of 39, am really too young for the part but that didn't stop Babs Streisand when she did the film and I have so much life experience to bring to the role given my recent personal tragedy.  We quickly got the essence of Before the Parade Passes By worked out, including a lovely little novelty bit where I tap up the side of the proscenium after a quick change into a pair of sateen bloomers.  We were forced to stop working after a couple of old fashioned nurses turned up and began to do some sort of modern dance, rather coarse and unrefined if you ask me, followed by a crowd of hotel guests who seemed to think they were attending Carnival in Venice.  So, we retreated to take a free afternoon, Mimi to the Opera America Center, Lulu to the Broadway Dance Center, and I to the local cineplex to take in a film.
My choice today was the new musical film, Mamma Mia!: Here We Go Again, the totally unnecessary prequel/sequel to the 2008 hit, Mamma Mia!, based on the stage musical of the same name which opened in London in 1999 and on Broadway several years later in 2001.   When it came time to make the movie, original writer Catherine Johnson and director Phyllida Lloyd teamed up to recreate the work.  The result was a piece of frothy summer fun highlighting a number of performers of a certain age with no specific song or dance talents but who were nevertheless obviously having fun and, as old pros, had no problems taking the audience along for an idyllic Greek Island ride.  Everything was helped along by the infectious score of old ABBA hits making it ripe for baby boom generation singalongs worldwide.
This time, directorial chores are left in the hands of Ol Parker, director of The Best Exotic Marigold Hotel.  He also wrote the screenplay, although story credit is given to original scribe Catherine Johnson and Richard Curtis.  Mr. Parker is a talented man, but he and the other creators have made a fatal mistake in the construction of the film which destroys it thematically and puts the audience in the wrong frame of mind right from the start.  The film opens by letting us know that one of the beloved characters from the original film has died and with the rest of the legacy cast mourning, coping and working out how to honor her and move on.  Now, if the music were Schubert lieder, it might be able to support such weighty emotion, but it's not, it's ABBA which can't handle much more than the heartbreak of teen romance.  I'm sure the creators were interested in exploring complex emotions, intergenerational conflict, the challenges of aging and other such subjects but this is completely the wrong film and the wrong style of music for their intentions.
The film then begins to interweave two time periods, present day (with the legacy cast all reprising their roles) and extended flashbacks to the younger Donna Sheridan (Lily James) arriving in the Greek Islands and the circumstances that led her to becoming the proprietress of a ramshackle hotel and a single mother with three putative fathers in the background.   Ms. James looks enough like Amanda Seyfried, who plays her now grown daughter Sophie in the present-day sequences, that at first, I thought they were supposed to be the same character as the transitions between present and past are not always handled well, and it took me some time to sort out who is who.  Meryl Streep is back as the older Donna, but, for reasons of plot, her presence isn't much more than an extended cameo and, when she enters late in the proceedings, all it does is remind you about how much of the success of the original film was due to her performance.
Anyone who has seen the original is aware of what will happen in the flashback scenes.  Young Donna meets the younger versions of Colin Firth (Hugh Skinner), Stellan Skarsgard (Josh Dylan) and Pierce Brosnan (Jeremy Irvine) and sleeps with them all in turn, becoming pregnant somewhere along the way.  She also pals around with the younger versions of Christine Baranski (Jessica Keenan Wynn) and Julie Walters (Alexa Davies).   All of the youngsters are energetic singer/dancers and look enough like and capture the essence of the characters that we buy them as versions of the veterans.  There's also an older Greek woman, Sofia (Maria Vacratsis) who becomes a benefactress to Donna.  It's kind of fun to see what was talked about in the first film fleshed out and to have some numbers performed by a kicky young cast, but ultimately, we already know all this, and it teaches us nothing new about anyone.
In the present day, Sophie has remodeled her mother's hotel and is planning a gala grand reopening.  She's having issues with her partner Sky (Dominic Cooper) who must choose between island life and his dream job.  Everything is held together by her new hotel manager, Fernando (Andy Garcia) as the great day approaches, until a storm threatens to derail all her plans.  The legacy cast eventually all get to the island, musical numbers are performed, and in a surprise entrance, Cher turns up as Sophie's grandmother, a Vegas entertainer in a platinum glamour wig and killer makeup, who gives the impression of being a younger version of Lady Gaga despite being in her early 70s.  Cher gives the movie a late shot of adrenaline, showing us what the film might have been had we not wasted quite so much time on flashbacks of events the audience knew about ten years ago.
As most of the well-known ABBA back catalogue was used in the first film, the musical pickings are slimmer this go around.  Some of their lesser known hits (Angel Eyes, Why Did It Have to Be Me) make appearances.  Well known songs turn up in the underscoring, and a bunch of the big hits from the first film (the title song, Dancing Queen, Waterloo, Super Trouper) make return appearances.  The staging of a couple of numbers is fun – a graduation ceremony which becomes a mosh pit to When I Kissed the Teacher with a hoot of a performance from Celia Imrie, Waterloo in a Parisian restaurant with the waitstaff in burlesque Napoleonic garb – almost nothing rises to the level of sheer enjoyment that Dancing Queen did in the first film.  Mamma Mia!: Here We Go Again tries to recreate that, including the same elderly peasant woman with the firewood, but it comes across as limp and halfhearted.  Maybe Meryl Streep could have saved it, but she's off screen at the time. We'll never know.
I don't mind bad movies that are fun movies, but Mamma Mia!: Here We Go Again ends up being glum due to the underlying current of sorrow that should never have been placed there.  If they couldn't have figured out a way to make the film without it, they should have made a different film.  Go if you liked the first film, the stage show or the music of ABBA, but prepare to leave unsatisfied, even if you spot Benny Andersson and Bjorn Ulvaeus in their cameos.  And, if you do go, sit through the credits for the bonus scene after.
Dancing undergraduates. Loss of virginity. Architectural plans.  Boring contract negotiations. Gratuitous flirtatious Greek passport control official. Frightened horse.  Bad bar band.  Chopper landing. Party flotilla.
To learn more about Mrs. Norman Maine, see our Movie Rewind introduction, visit her entire back catalog and follow her on Twitter at https://twitter.com/missvickilester
photo by Doug Kline
If you haven't seen the first movie, it's a far better choice!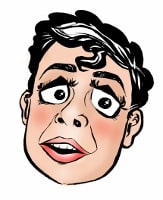 Originally from Seattle Washington, land of mist, coffee and flying salmon, Mrs. Norman Maine sprang to life, full grown like Athena, from Andy's head during a difficult period of life shortly after his relocation to Alabama.