HIGH SCHOOL CONFIDENTIAL
Main Cast: Nick Robinson, Jennifer Garner
Director: Greg Berlanti
I had a very nice meeting with Bartlett Sher and the production staff at Lincoln Center about their new production of My Fair Lady.  I just know that I could be a superb Eliza for them when Lauren Ambrose finishes her contract.  Of course, we would have to make the Embassy Ball into a rousing tap number where Eliza wows Karpathy with her triple time step as well as her accent and the costumes would have to be rethought somewhat as there are simply not enough sequins or ostrich plumes in the current design.  Imagine my surprise when Joseph, my manager, received a contract from them offering me not the lead role of Eliza, but rather the relatively minor role of Mrs. Pearce, the housekeeper.  Obviously, there has been some sort of mistake made but I will leave it to my management team to correct. In the meantime, as a spur to the negotiations, I shall talk to some of the other production teams in town about some of the other opportunities on the boards this summer and how box office can be jazzed up by adding the name Vicki Lester to the marquee.  In order to prepare for what might be a grueling round of auditions, I have had Lulu Pigg, my tap therapist and Madame Mimi, my vocal coach, flown in at great expense and we have all taken adjacent suites at the McKittrick Hotel.  There seem to be some creepy goings on on the lower floors, but all three of us are used to roughing it together and the drinks at the bar are lovely.
New York is a healing environment after my recent losses.  There are always new things to see, entertainments to distract, and important people with whom I can renew acquaintance.  And then there are the only in New York moments.  I was walking through Sheridan Square when one of the boys recognized me and set up a wild whoop on the street.  Of course, I had to stop and thank him for being a loyal fan and pretty soon, surrounded by a whole bevy of Greenwich Village people, I simply had to break into an impromptu version of 'But Alive' from Applause.  I'm submitting the cell phone video to James Corden for use in his crosswalk theater as that should help push my Q rating through the roof.  The street scene became so riotous by the end that I was forced to take refuge in the nearest subway station, put on a large pair of dark glasses and the spare babushka I keep in my handbag, and then sneak back up to street level and flag down a passing taxi.
On my return to the hotel, I found myself somewhat exhausted, so I decided to spend the evening in with a film on my portable DVD player.  My choice was Love, Simon, a teen romantic comedy with a twist that made a bit of a splash this past spring but which I had not been able to see until now.  Based on a young adult novel by Becky Albertalli, the film follows the titular Simon (Nick Robinson) through his senior year of high school.  Young Simon lives what appears to be a charmed John Hughes upper class life (only in suburban Atlanta rather than suburban Chicago) in a big house with his loving family and with his groovy ethnically and gender balanced posse of high school friends.  Simon, however, has a secret.  He's figured out he's gay, but he isn't sure how to deal with that piece of himself or how to come out to his family or friends.  He's afraid that revelation will alter the dynamics of his life and, like most of us, he's afraid of change.  This being the age of social media, the high school has a sort of online burn book where the kids post gossip and, one day, an anonymous young man, calling himself 'Blue', posts that he is gay and isn't sure how to handle it.  Simon concocts an anonymous online persona and enters in to an intimate conversation with the unknown boy, anxious to connect with one of his peers who might understand him.
The majority of the film involves Simon going through all the usual rituals of senior year, falling in love with Blue through the correspondence, and trying to figure out which of his classmates he might be.  As he runs into guys who might fit the bill, he imagines them as his mystery boyfriend.  Things get complicated when class clown Martin (Logan Miller) discovers the correspondence, and blackmails Simon for reasons of his own.  One thing leads to another and Simon is eventually outed to his family and friends.  His sensitive and caring parents (Jennifer Garner and Josh Duhamel) love him unconditionally and his friends care more about his lies than his sexuality and, eventually, all ends happily with a ride and first kiss on a Ferris wheel because, as the tag line says, everyone deserves a great love story.
Love, Simon, directed by Greg Berlanti, the current king of heightened reality teen television between the Arrowverse and Riverdale, evokes the teen dramedies of an earlier generation, predominantly from the pen of John Hughes, where the kids struggle with moving into adult roles and relationships but nothing really bad ever happens due to the high socio-economic standing of their enclosed world.  There are scenes that would slip right into Sixteen Candles or The Breakfast Club.  The biggest difference is, of course, the fact that the hero is gay is treated as a matter of course and there's almost no homophobia of any type exhibited by any of the characters.  The moral dilemmas are not ones of sexuality, but of the destructiveness of secrets and lies.  Even the actual outing is not done out of maliciousness, but more out of thoughtlessness.  Such a film would simply not have been possible thirty years ago and, even if it had been made, it would not have been any sort of mainstream hit.
The script, by Isaac Aptaker and Elizabeth Berger, at times veers into very special episode of long running sitcom territory, but is redeemed by some well written and performed sequences.  Much has been made of the scene between young Mr. Robinson and Jennifer Garner playing his mother after his secret is out and they actually start to really communicate after years of his withdrawal and her not knowing why other than typical adolescent angst.  My favorite scene, however, is when Simon confronts the person who outed him.  The message he delivers about how he was robbed of coming out in his own way and on his own terms is an important one and well done and almost makes up for the silly fantasy dance party number to an old Whitney Houston track.  Nick Robinson, whom I only knew from Jurassic World in which he plays Bryce Dallas Howard's older nephew, manages to capture all of Simon's turmoil and the simple joys and horrible agonies of late adolescence.
Music plays an important part in Love, Simon and the soundtrack, full of contemporary music that these characters might love, helps set the tone and the emotional state and helps us, as audience, understand that first love is first love, no matter whom it might involve.  There's also a smattering of older music (such as the Whitney Houston mentioned above) which will keep the older generation involved and, as the high school gang are involved in the theater program, there's a smattering of Kander and Ebb as they rehearse Cabaret under the aegis of a sassy African American drama teacher (Natasha Rothwell).
There are a lot more hits than misses and the film works as a whole, and it's nice to see something where you cheer at the end when a man kisses another man and it's a romantic moment, not a comic or tragic one.  It's suitable for middle school ages and up.
New car.  Bad home video montage.  John and Yoko costumes.  Motel menorah.  Gratuitous bad 'Wilkommen'.  Waffle house.  Dove release. Gratuitous effeminate African American man. Carnival tickets.
To learn more about Mrs. Norman Maine, see our Movie Rewind introduction, visit her entire back catalog and follow her on Twitter at https://twitter.com/missvickilester
photo by popculturegeek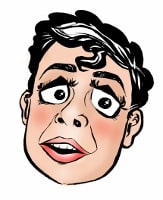 Originally from Seattle Washington, land of mist, coffee and flying salmon, Mrs. Norman Maine sprang to life, full grown like Athena, from Andy's head during a difficult period of life shortly after his relocation to Alabama.