A ghost can be a lot of things…
Main Cast: Michiel Huisman, Elizabeth Reaser
Creator: Mike Flanagan
So I heard via some warped grapevine that The Haunting of Hill House was so scary that some people were left feeling physically ill. To me that usually means too many jump scares and CGI monsters, things that don't interest me. Also, who wants to get ill from watching TV? So I had no intention of watching it. But then Stephen King tweeted about liking it and what choice did I have? None, I tell you, none.
First of all, do not believe those rumors – The Haunting of Hill House is definitely scary, but it absolutely did not make me sick and I'm a pretty big chicken. Rather the opposite – it's got a strange beauty to it that makes every last scare worth it. Based loosely on the 1959 novel of the same name by Shirley Jackson, the 10 part series tells the story of the Crain family, who purchase Hill House in the early 1990s with the intention of fixing it up and flipping it for a profit. One could say that this project does not go as planned, seeing as the house is most definitely haunted. The series takes place in two time periods – the time during which the family lived in the house, and 26 years later when the children are all adults.
The family consists of seven members. Patriarch Hugh Crain (played by Henry Thomas and Timothy Hutton) and his wife Olivia (played by Carla Gugino) and their five children: Steven (played by Patton Singleton and Michiel Huisman), Shirley (played by Lulu Wilson and Elizabeth Reaser), Theo (played by Mckenna Grace and Kate Siegel), and twins Eleanor (played by Violet McGraw and Victoria Pedretti) and Luke (played by Julian Hilliard and Oliver Jackson-Cohen). Note that I've listed the child (or in the case of Hugh, young adult) actors and their adult counterparts, because they're all important to the development of each character.
Make no mistake; The Haunting of Hill House is definitely a horror series. If you're terribly squeamish, don't bother. I would also not have enjoyed watching it by myself at night. That's really just the function of a haunted house story – to make you hear bumps in the night after you've turned it off. But it's also much, much more than standard horror. This is the story of a family, one that was destroyed by their brief time in Hill House and has now come back together 26 years later to reckon with everything they've buried as well as the damaged people they have become. The series spends as much time bringing these people to life in a way that makes us care about them as it does building suspense and tension. Which obviously makes the suspense that much more effective.
I was surprised at how little the creators of Hill House depended on cheap scares. Yes, there are plenty of scary visuals and surprise moments. But most of the scariest bits are foreshadowed by the musical score so that you don't wet your pants when something pops out of the woodwork (most – but not all). The scariness is more about how the ghosts or hallucinations (or are they?) or creepy images affect the characters. How does it shape the adults they will become? How does the way the family deals with these strange occurrences color the lives of the children decades down the road?
Let's talk for just a bit about the visuals. I love the way Hill House is rendered. It's quite like a Hogwarts house, where you can't really pinpoint the layout of the rooms. There are lots of dark spots and shadows, but there is also plenty of light as the family goes about their daily business and normal feelings of frustration as Hugh realizes his flip is turning into a money pit. That house is definitely one of the highlights of the series, though it does take a back seat to the wonderful script.
I'm not going to tell you anymore about the plot, because that obviously spoils things. But I think this is a brilliantly executed story of hauntings, both real and existential. It's about family, and parenting, and trust, and loss. It's scary but also redemptive. The actors put their all into their characters and it shows, each performance is layered and emotional, not something one expects from horror. Some of the quiet scenes of the adult children telling their stories are absolutely heartbreaking.
Overall, The Haunting of Hill House brings a new story to an old setting and makes it sing. I gobbled up these 10 episodes in less than a week. This is technically season 1, but this story finishes with a perfectly satisfying ending that needs nothing more. If they do bring it back, hopefully it will be in anthology form. I'm happy to say that The Haunting of Hill House is a brilliant and successful re-imagining of the original novel. It's currently streaming on Netflix. Do try to watch with someone else, though, and perhaps not right before bed…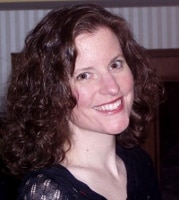 Sue reads a lot, writes a lot, edits a lot, and loves a good craft. She was deemed "too picky" to proofread her children's school papers and wears this as a badge of honor. She is also proud of her aggressively average knitting skills  She is the Editorial Manager at Silver Beacon Marketing and an aspiring Crazy Cat Lady.