QUEEN FOR A DAY
Main Cast: Rami Malek, Gwilym Lee
Director: Bryan Singer
My fabulous Second National Tour of Hello, Dolly! is currently in Scranton, Pennsylvania for the second half of a split week run (after sellout crowds during the first half of the week in Wilkes-Barre).  I felt that we had quite a good show this evening.  The dancing waters effect during the polka contest was particularly fine and barely doused Ambrose and Ermengarde tonight when they sashayed past.  One rogue jet did catch Barnaby in the face, but as it's happened a few times in the past, Mr. Pohler Bear and La Luker have managed to make a lovely comic moment of it using a plastic lobster and a waiter's tray and they have just enough time to towel off before the courtroom scene.
There was one minor glitch.  During my lovely little monologue prior to the first act finale, a group of rather rowdy drunks in the front row of the mezzanine began to chant 'Take it all off baby'.  Fortunately, the ushers were very well trained, quieted them down and escorted them off the premises at intermission.   I later learned they were employees of a local firm entitled Diddler Muffin or some such and that they had mistakenly booked tickets for an office bachelor party thinking it was some type of nouveau burlesque.  I had hoped that the documentary crew that seemed to be following them everywhere might have gotten some good performance footage and drummed up a little viral publicity but that doesn't seem to have happened.
Anyway, after the show was over, there was just enough time for me to nip to the multiplex down the street to catch a late night showing of the new musical movie entertainment, Bohemian Rhapsody, a musical biopic based on the history of the late Freddy Mercury and the group Queen.  Given that I am considered something of a queen myself, but of the Hollywood variety, I thought that it might be just the ticket for a late evening, so I ordered a large popcorn, mixed in a box of peanut M & Ms, had them pour me a large diet Coke and settled into my Barcalounger for the evening.
Bohemian Rhapsody turns out to be a rather formulaic biographical melodrama that could have been made in 1937 had Queen been around during the jazz age.  We meet young Farrokh Bulsara (Rami Malek), a Parsee Indian émigré to England who is employed as a baggage handler at Heathrow.  Farrokh has a set of traditional parents (with a father/son relationship straight out of The Jazz Singer), a huge ambition to become a rock musician, and an enormous overbite and is soon changing his name to Freddie Mercury and joins a pub band called Smile consisting of guitarist Brian May (Gwilym Lee) and drummer Roger Taylor (Ben Hardy) whose lead singer has just quit on them.  The three add bassist John Deacon (Joseph Mazzello) and the quartet rechristens themselves Queen and sell their touring van to finance a recording session.  Their unique style and willingness to experiment catches the eye and ear of EMI records.  They eventually break with EMI (in a very funny scene that owes its existence and humor solely to the actor playing the executive who refuses to release Bohemian Rhapsody as a single due to its length.  There are conflicts amongst the band members, a love interest for Freddie (Lucy Boynton), bad lifestyle choices, and eventually a triumphant performance at Live Aid where all the plot threads come together in thrilling and completely historically inaccurate musical and dramatic climax.
First, the good.  Rami Malek gives a superb performance in the lead role.  He handles the transitions in Freddie from cocky post-adolescent to musical icon and manages to let the audience into his conflicted nature.  We understand that the flamboyance and the showmanship are covering for deep seated insecurities and a much shyer nature off stage.  Malek recreates the legendary stage performances, the sound engineers blend his voice, the real Freddie's voice and a vocal double seamlessly to make us see and hear the rock icon in close up.  Bohemian Rhapsody is so much Malek's picture, that all the other characters and performances pale by comparison.  The roles of the other band mates are terribly underwritten and come across as somewhat noble in nature, likely due to the influence of the real-life counterparts who are all very much alive and likely have reasons to want to be seen in the best possible light.  The most that can be said for any of them is that it's fun to see Jurassic Park's little boy all grown up as bass player Deacon.
Also, amongst the good is the music.  It is, after all, a musical biopic so all the greatest hits must be shoehorned in somewhere.  The film gives plenty of time for us to enjoy the string of songs that helped define stadium rock in the 70s and early 80s.  At times, there's a little too much emphasis on the music.  The famous set from the Live Aid concert of 1986 is recreated late in the film as the peak of the film.  Unfortunately, director Bryan Singer gets the pacing wrong and, what should lead us to ride from our seats cheering, drags as it just goes on too long.  A carefully edited five minutes would have had much more impact than the fifteen that's there.
Then there's the not so good. Much has been made of the film's treatment of Freddie's sexuality.  The real Freddie was a gay man in an age when being an out gay man was essentially impossible in a well know entertainer.  His early relationship with Mary Austin (which ended when he came out to her although they remained great friends), his entanglement with a companion in dissipation (Kenny Everett in real life, a composite character named Paul Prenter (Allen Leech) in the film), and his eventually loving partnership with Jim Hutton (Aaron McCusker) show that he, like all of us, was a complex human being whose identity evolved over several decades.  Bohemian Rhapsody, for reasons of plot and need to stay within familiar biopic tropes, simplifies and sanitizes all this but the elements are all there.  Mercury isn't straight washed, but we're never given enough information and the significant others aren't given enough dramatic material to play to create memorable characters.  Bryan Singer, an out gay director, seems determined to use silly short cuts, rather than let the characters live and breathe.  His casting of Adam Lambert in a cameo as a truck driver who comes on to Freddie and helps him and us understand his awakening gay side is just short of offensive.
The other not so good is the screenplay by Anthony McCarten.  While it gets the general outlines of the story right, it plays fast and loose with a lot of the historical record to create all the cliché moments so common to musical biopics.  The timeline of the music creation is altered to have certain musical cues available.  The relationships of the band, especially regarding their pursuing of solo projects is turned into an us against him argument that never existed.  And, in a completely ridiculous lead up to the Live Aid concert, Freddie is diagnosed with HIV, meets the love of his life, and comes out to his family all in the same day.   (In reality, that whole process took years and the HIV diagnosis was several years after Live Aid).
Ultimately, I enjoyed Bohemian Rhapsody for Rami Malek's performance (I smell Oscar nomination), the music and for being a perfectly entertaining bundle of cliché movie making.  I did not enjoy the oversimplification of what could have been an interesting exploration of a seminal pop culture figure.
Biba store clerk. Extra teeth references. Gratuitous Wayne's World moment. Prepared piano. Bus tour. Rio audience sing along. Multiple cats. Flirty cater waiter. German sybarites.
To learn more about Mrs. Norman Maine, see our Movie Rewind introduction, visit her entire back catalog and follow her on Twitter at https://twitter.com/missvickilester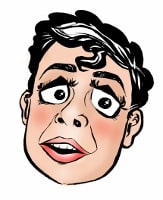 Originally from Seattle Washington, land of mist, coffee and flying salmon, Mrs. Norman Maine sprang to life, full grown like Athena, from Andy's head during a difficult period of life shortly after his relocation to Alabama.