The Ghost in the Shell
Main Cast: Aman Siddiqui, Amitabh Bachchan, Juhi Chawla
I sat down last night with Leah, my gal Friday to continue with some new ideas for the military themed parade that MNM Enterprises has been engaged to design. The hiring outfit is something called either the RNC or the R and C. I didn't catch which. I figure it must be some sort of off shoot of R and H and I so dearly love a good Rodgers and Hammerstein moment. I once did a symphonic concert of some of their best-known pieces. The Los Angeles Times called my medley of You'll Never Walk Alone, Something Wonderful and Climb Ev'ry Mountain as one that must be heard to be believed which I thought was high praise indeed. I made it the encore in my nightclub act for some years after and audiences throughout the supper club circuit were rendered simply speechless from Kansas to Kentucky. Mary Gee and Kim Dee, my seamstresses, have the chartreuse sailor suits ready to go and have started on some absolutely stunning hot pink flight suits for the air force contingent. I figure we'll need some additional military expertise to pull this off and I have feelers out to some of the boys at 29 Palms to see if any of them would be interested in joining the team.
A luck at the girls readying those sailor suitsThe other big news, of course, is my recent meeting with Steven Spielberg about playing the lead role of Maria in his soon to be lensed remake of West Side Story. I thought it went quite well. I went in, dressed to the nines in a gown which revealed my considerable bosom and the full length of my shapely legs and proceeded to do an exquisite tap routine, complete with flaming batons, while singing I Feel Pretty in a new arrangement quickly put together with Normy which modulated through twelve keys in the course of three minutes. Dear Steven had trouble finding words to thank me after I finished so I told him that Joseph, my manager, would be over with my standard contract riders next week. I of course, will maintain casting approval over my costars. I am considering Zac Efron for Tony and Eddie Redmayne for Riff as they will help keep me looking my ever-youthful age of 39 in comparison. I was in quite the ebullient mood as I drove my lovely lavender convertible out of studio city back up the hill towards Casa Maine.
When I returned, I discovered Normy was out for the day, so I made myself a snack of some leftover petit fours and celery sticks and poured myself a nice glass of pinot noir and headed into the home theater and flipped through the Netflix. While perusing some of the more obscure corners of the service, I happened across a huge cache of Bollywood spectaculars that I did not know were hiding there. I am a huge fan of films full of melodrama which burst into enormous full cast musical numbers at the slightest pretext, so I was filled with infinite joy. I have only made one film in the genre personally, where I played the victim of a villainous Indian-Chinese white slave trade. Sari Wong Number turns up occasionally on Turner Classic Movies, but I don't consider it my best work.
Anyway, I chose a title at random. My Hindi being somewhat primitive, I had no idea what Bhoothnath might be about, so I settled in uncertain what the filmmakers might have in mind. It turns out that bhoot is the Hindi word for ghost and the title translates roughly as Lord of Ghosts. This particular epic is a comedy drama somewhat reminiscent of a Bollywood Beetlejuice, by way of Oscar Wilde's The Canterville Ghost. The film opens with a young couple (Aashish Chaudhary and Nauheed Cyrusi) moving into a huge old bungalow in Goa, India. Their happiness is cut short by mysterious things going bump in the night and they flee in terror. The house is then rented by a young family. Papa Anthony (Rajpal Yadav) who is an engineer on a cruise ship, Mama Anjali (Juhi Chawla), and adorable son Banku (Aman Siddiqui) who is about ten, into cricket, and somewhat ill at ease about his new school run by a principal (Satish Shah) who has a taste for his student's lunches. Banku soon discovers that the mysterious goings on in his new home are the work of a ghost of a former owner of the house, Kailash Nath (Amitabh Bachchan) whom Banku identifies as an angel. Banku soon begins to charm the ghost of the older man, making him regret his scary ways and an unlikely bond forms between them, helping the boy grow up and helping Boothnath to understand how and why he became a ghost and his life regrets. The scenes where we learn his history and relationship with his own son are quite affecting and speak to both universal truths and the unique situation of the choices of the rising Indian upper middle class.
Of course, this story is told with a number of major musical production numbers appearing out of nowhere featuring Hindu deities, fantasy figures, Gangsta rap done by children, and stylized American football performed by those unfamiliar with the game. These are all great fun and performed with the usual style and vigor found in Bollywood films. What I found most interesting was the mix between English and Hindi in the patois of the characters. Both are official languages of India and the characters switch effortlessly back and forth between the two with Hindi words dropped in the middle of English idiom and vice versa. The whole thing is subtitled in English but there's enough familiar language and clear storytelling that they aren't all that necessary.
The film was written and directed by Vivek Sharma who has been kicking around the Bollywood scene for decades but who hasn't had a lot of enduring successes. This seems to be his best known title and was a modest success in India due to its family friendly themes. Much of the comedy comes from the scenes in a Goa elementary school with somewhat hapless faculty and kid dynamics which are similar the world over. It's not the world's greatest script and some of the staging is awkward with some cheap looking visual effects, but it ends up getting the job done and Sharma does a good job of getting us to care about his characters and their relationships. The exotic locale (Goa not being a part of India usually seen by US audiences), and bright colorful costumes also help keep things moving along.
The performances of the central trio of boy, mother, and ghost are all delightful. Young Aman Siddiqui is natural and not mannered and precious in the style of so many American child actors and his scenes with the older man ghost are affecting and it's perfectly believable that this child could bring this ghost out of his shell. Juhi Chawla as his harried mother has some great comic timing, especially in a scene that revolves around potato pancakes.
If you've never seen an Indian film before, this is a good one to start with. The plot is strong and easily understood, the performances decent, the musical numbers fun and at least tangential to the rest of the film, and it's not overly long. (A lot of Indian films creep up on the three-hour mark with less than two hours of material). Go ahead and check it out.
Enchanted leaves. Malfunctioning taxi. Gratuitous Michael Jackson moment. Multiple bouts of stair falling. Stretch Armstrong arm. Athletic contest winning. Animated lion. Hindu exorcism. Love triumphs over all ending.
To learn more about Mrs. Norman Maine, see our Movie Rewind introduction, visit her entire back catalog and follow her on Twitter at https://twitter.com/missvickilester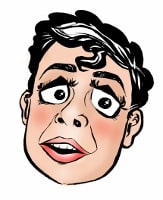 Originally from Seattle Washington, land of mist, coffee and flying salmon, Mrs. Norman Maine sprang to life, full grown like Athena, from Andy's head during a difficult period of life shortly after his relocation to Alabama.