STAR CROSSED LOVERS
Main Cast: Lady Gaga, Bradley Cooper
Director: Bradley Cooper
The company of my fabulous new touring production of Hello, Dolly! has arrived in Bismarck, North Dakota for our grand opening.  The show is ready to roll but we have had to do a little revamping of the second act.  The dear child who was playing the comic role of Ernestina fell down the Harmonia Gardens staircase on the night of second tech shattering both her femurs, so we had to import a last-minute replacement at great expense, the legendary actress from Pittsburgh, Vera Charles who has been between gigs for the last few decades.  In order to get her to sign, the producers agreed to beef up the part a bit and the second act dream ballet has been retitled The Importance of Being Ernestina and now features a dance off between her and myself as Dolly Levi as we battle over which of us will get to dine with Horace Vandergelder.  It's a novel take on the Waiter's Galop and I'm sure the opening night audience will rise to their feet in adulation.
I'm writing this on my laptop in my dressing room backstage at the Bismarck Civic Center.  It's magic hour, the house has just opened and the sounds of excited first nighters are drifting through the monitors.  I've done my stretches and my vocalises, tested my body mic and have the underpinnings of my first costume on while I have a nice white wine spritzer before the curtain goes up.  (I make it a rule never to have more than a teeny little pick me up prior to performing).  My supporting cast have exchanged their opening night gifts and hugs and soon we will carry people away on the wings of song and corny jokes to a happier, simpler time.  La Luker, who is playing the second female lead, is coming around shortly for some instruction on how to make a proper star entrance.  I'm planning a little surprise for everyone tonight – the usual reveal for my first entrance just isn't splashy enough so I've got a new one worked out with a hidden trampoline and some live sparklers in my hat that should do the trick.
As it's opening night, we all had the afternoon off to rest and gather energy.  I saw all of historic downtown Bismarck in about ten minutes, so I found myself with some time to head off to the local cineplex for a film.  The next feature that was starting had a familiar title, A Star is Born, which seemed very like a film version of my life that came out some years ago.  Then I remembered that Fajer and Hellmann, my attorneys, had sold the rights to a remake a few years ago when some extra cash was needed to complete the new west wing at Casa Maine, so I figured I better go take a look and see what had bought my new in home studio, consumer products division offices, and video storage library.
This is at least the fourth cinematic adaptation of A Star is Born, the tale of the rising young female who eclipses the established and waning career of her older man.  The first two versions of A Star is Born, from 1937 with Janet Gaynor and Fredric March and from 1954 with Judy Garland and James Mason, take place in Hollywood with the film world as the backdrop.  The third version, from 1976 with Barbra Streisand and Kris Kristofferson, changed the setting to the world of pop music.  This go round, with Lady Gaga and Bradley Cooper, is pretty much a straight forward remake of the 70s version, again using the music world and owes very little to the earlier films.  Jon Peters, the hair stylist turned Barbra Streisand escort turned producer, who was the muscle behind her version, returns as one of the chief producers of this one.
A Star is Born   starts with Jackson Maine (I guess Norman is too old fashioned…), a country rock star a la Glen Frey, who plays large stadium gigs fueled by alcohol and pharmaceuticals.  He's played by Bradley Cooper (who also directed), and who allows himself to be photographed as weather beaten and aging, but still with a raffish sexual charm.  One night, after a gig, he needs a drink and he stops in at a bar which turns out to be a drag bar full of refugees from To Wong Foo.  The one biological female entertainer is Ally (Lady Gaga), a young waitress from some restaurant where the servers dress like 1960s stewardesses and who makes herself up into a glamorous diva one night a week to sing for the boys.  Her selection this night is a bang-up rendition of Edith Piaf's Ma Vie En Rose.  Jackson is smitten, and soon he is singing with her in a parking lot, making her believe in her talent, and eventually sends a car and private plane for her to come join him at his next gig.  Ally, who knows a drunk when she sees one, is flattered but tempted to turn all this down but is cajoled by her father (an unrecognizable Andrew Dice Clay) and gay BFF (Anthony Ramos).  Soon she is singing on stage in front of the crowd with Jack, much to the consternation of his much older half-brother who has long been his nursemaid (Sam Elliott).  One thing leads to another and soon Ally's star is on the rise, under the tutelage of a smarmy manager, Rez (Ravi Gavron) while Jack copes with his inner demons and his creeping deafness and tinnitus with alcohol and bad behavior.  When Rez turns Ally into a flame haired pop princess, things go from bad to worse while we head for the inevitable tragic conclusion.
A Star is Born boasts several very good performances.  Bradley Cooper, who usually plays lightweight pretty boys, digs deep to find the tortured Jack.  He also does his own singing and acquits himself well.  We can believe that he's one of those dinosaur rock acts that's been around for decades and he's not afraid to let his camera show the mileage on his face and body.  He films the concert sequences with swirling Steadicam movements to give the audience a feel for Jackson's altered state of mind.  It's a device that works, but could have been used a bit more judiciously as it does tend to induce motion sickness.  Lady Gaga, who has been busy conquering one medium after another over the last decade, acquits herself well as his opposite.  She captures Ally's transformations and certainly knows how to portray a believable pop diva.  I do wish they had gone with a bit different look for her.  When she appears with the orange hair, all I could think of was that she was one of the Spice Girls – Pumpkin.  The third greatish performance is from Sam Elliott who, despite now being in his mid-70s, remains a magnetic screen presence and who can convey more with a look or a gesture than most actors can with a three-page monologue.
The music is an eclectic collection, from old standards, to rockabilly, to modern pop, and it's performed well.  There are sometimes when it's a little paint by numbers (such as the use of the verse of Over the Rainbow with the main title) but in general it captures the correct mood and it allows the stars, especially Lady Gaga to show off what they can do.  In general, Cooper, as director, delivers the goods.  My only major complaint is that the last third or so of A Star is Born feels long.  We know where the story is going to go, and we don't need to drag it out quite so much.  With good performances, good music and a good plot that still feels timeless, it's definitely worth a matinee showing, and maybe even an evening showing if you have a hot date.
Crushed pills.  Symbolic Carole King Tapestry album cover.  Gratuitous cute dog. False eyebrows. False breast signing. Poster breaking.  Wind farm. Gratuitous Ron Rifkin. Instant wedding. Public urination.
To learn more about Mrs. Norman Maine, see our Movie Rewind introduction, visit her entire back catalog and follow her on Twitter at https://twitter.com/missvickilester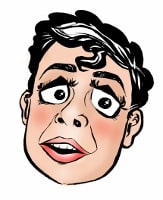 Originally from Seattle Washington, land of mist, coffee and flying salmon, Mrs. Norman Maine sprang to life, full grown like Athena, from Andy's head during a difficult period of life shortly after his relocation to Alabama.