RUNNING RIVERS
Main Cast: Melanie Griffith, Harrison Ford
Director: Mike Nichols
I have fabulous news all of you wonderful fans out there in the dark. I have just signed to play a highly featured role in the great impresario DeWolfe's new stage spectacular. I'm only truly happy when I am bringing top quality entertainments to the lives of ordinary people just like you and, with the completion of my new musical film version of Stephen King's It, I must confess that I have been somewhat at loose ends. Leah, the head of marketing for my fine consumer product lines, has been quite busy launching a brand-new campaign (Vicki Lester is It! – see her new fall line at Pic n Save and Dollar Delight) but I find the day to day business of contracting with suppliers and getting the product to stores to be quite tedious and best left to others. There is no glamor in a loading dock.
Where was I? Ah yes… the new stage show. DeWolfe is bringing a thrilling reconception of Donizetti's Elixir of Love to the stage. In this new, terribly modern operetta, we keep some of the less dreary music (souping it up with a techno beat and some clever new rap lyrics to attract the Hamilton crowd), add a number of exquisite tap routines, and jazz up the book resetting it to present day DC. They're in talks with Kevin Spacey to cameo as the president. I am to play Dulcie Mary, a charlatan of the highest order, who convinces senator Nemorino to win the love of supreme court justice Adina through use of a magic bottle of very expensive Chardonnay. (I need to remember to contact one of the more exclusive wineries about the possibility of producing an MNM private reserve label to complement the production. We should be able to make a tidy profit on intermission sales, not to mention souvenir bottles for people to take home and impress their friends and neighbors. I wonder if Crane Lake might be interested)? Rehearsals are set to begin next week so I must get back into shape quickly.
I immediately phoned up Madame Mimi, my vocal coach, Lulu Pigg, my tap therapist and Ms. Laurie, my rehearsal pianist and told them to get ready to go to work! This gal has to be in fighting trim with the stamina for a ten minute tap routine while belting a high C within a fortnight. They were, of course up to the challenge and arrived soon after armed with trail mix, petit fours and a very nice bottle of vodka and we set to work. Ten hours later, exhausted and spent, I collapsed in the home theater and looked for a film that might encapsulate the female work experience. I found it in Mike Nichols' 1988 comedy Working Girl with Harrison Ford, Sigourney Weaver and a career making performance from Melanie Griffith. I remember enjoying it very much in when I originally saw it so decided to go ahead and give it a whirl.
Working Girl is the story of Tess McGill, a bright and ambitious young lady who is a secretary at one of the big Wall Street firms. Every day, she commutes from her drab existence in working class Staten Island via the ferry to the strains of a Carly Simon anthem and enters one of the enchanted glass towers of lower Manhattan and goes to work. We know she's lower class because she has big 80s hair and excessive eye makeup, just like her friend Cyn (a brilliant Joan Cusack). As she's good looking with a great figure, the men in the office (including Oliver Platt and Kevin Spacey) treat her as a piece of meat rather than as a competent colleague. She's nearly fired for fending off wanton sexual harassment until the kindly HR lady (Olympia Dukakis) places her as assistant to a new hire, Katherine Parker (Sigourney Weaver). Katherine is everything Tess wants to be. Sleek, elegant, rich, and an insider to the executive society Tess longs to join. Katherine's also a narcissistic conniving bitch who steals Tess's idea for a media merger. When Katherine breaks her leg skiing and is holed up in traction, Tess decides to get her own back and impersonates an executive from the firm for the benefit of Jack Trainer (Harrison Ford), the go-to guy for these kinds of deals and Katherine's sometime boyfriend. Will Tess do the deal? Will she win the man? Will Katherine's bony ass get its comeuppance? The answers to these and other questions are telegraphed from miles away by the romantic comedy formula of Kevin Wade's script.
Working Girl, following a formula that was old in the days of George Cukor and Howard Hawks, should be dull and formulaic, but it's saved by a couple of things. The first is Mike Nichol's brilliant direction. From the opening helicopter shot swooping around the Statue of Liberty to the staging of beer bust birthday parties and society weddings, he is a master of pacing and pulls amazingly good performances from his talented cast. Melanie Griffith is perfect in the title role as the Cinderella figure using all her assets to make her way forward. She was never this good again. Hollywood scuttlebutt is that she was coked out of her mind during the shoot (she entered rehab shortly after the film was completed) and that Nichols carefully coached her performance out of her line by line and scene by scene. It's a mark of his brilliance that she got an Oscar nomination for the role. Sigourney Weaver and Joan Cusack also took home nominations and Weaver was widely expected to win (she was a dual nominee that year for supporting actress for this and best actress for Gorillas in the Mist). She lost to Geena Davis for The Accidental Tourist.
The film is chock full of brilliant comic actors in small supporting turns including Kevin Spacey as a coked-up executive in a limousine, Nora Dunn as a stuck up executive, Philip Bosco as an avuncular tycoon, Ricki Lake as a zaftig bridesmaid and a blink and you'll miss him David Duchovny in his first film role. Everyone is at the top of their game and, with Nichols direction to carry them, the film moves effortlessly along through its various plot machinations. The talent keeps various plot holes and other script problems from bogging things down.
The biggest problems with Working Girl come from some of the visual and script shorthand employed. The film was made at the apogee of the Reagan 80s when Wall Street was king and everyone was getting rich, the societal costs of these machinations at the top were still being quietly swept under the rug. Nichols uses fashion and hairstyle to immediately characterize the women into two competing camps and the attitudes come across today as more than vaguely sexist. It forces the audience to generalize and keeps the characters from becoming as fully human as they might. Less talented actors would not have been able to find the human core in these broad-brush stereotypes for us to hang on to and the film would have failed. There are also some issues with the leading men. Harrison Ford was still a huge star following the success of Star Wars and Indiana Jones and has the rakish charm to pull his part off but it might have worked better with a less known face. Alec Baldwin, as Tess's boyfriend who doesn't understand her ambitions or drive to leave their social circles, is pleasant to look at but doesn't have enough to do. Nichols in general gives their scenes short shrift. This is a film all about the women and how they function in the patriarchy of big banking business.
To a younger audience who did not live through the 80s, Working Girl is going to seem very dated from a visual point of view but, if they stick with it, they might learn a bit about their mothers and the battles that have been fought, won and remain to be fought to bring about true gender equality.
Newspaper clippings. Important lunch box. Gratuitous Warhol painting. $6000 dress. Unchecked milligrams. Tropical wedding. Dancing bridesmaid. Limousine porn. Underwear vacuuming.
To learn more about Mrs. Norman Maine, see our Movie Rewind introduction, visit her entire back catalog and follow her on Twitter at https://twitter.com/missvickilester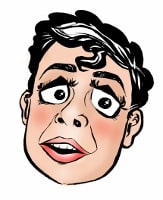 Originally from Seattle Washington, land of mist, coffee and flying salmon, Mrs. Norman Maine sprang to life, full grown like Athena, from Andy's head during a difficult period of life shortly after his relocation to Alabama.