WINDS OF WAR
Main Cast: Ben Stiller, Robert Downey, Jr.
Director: Ben Stiller
Today was not a good day. It turns out that someone caught my problematic tech rehearsal for Love Potion Number Ten on a cell phone camera and the footage was sold to some low rent cable entertainment show. From there it was posted on the YouTube where it has been racking up thousands of hits. Apparently my hanging on for dear life in front of the Jefferson Memorial while being assaulted by several hundred pounds of artificial cherry blossom petals has become something of a meme and visual shorthand for the current status of the federal government. While Madame Rose, my publicist, says that this is valuable free publicity and good for my image with the younger generation, I am wary about becoming too immersed in politics as I want to be seen as a superstar for all the people, not just those voting a certain way. And I really didn't like the snark when they screened the clip on Hollywood Tonight!
In an attempt for some damage control and image repair, I'm having Peter Lovejoy, Rose's assistant, set up an exclusive interview with every cable network to discuss my new theatrical project, the vagaries of the rehearsal process which lead to imperfect outcomes, and the problems of people passing judgment on shows before all the kinks have been worked out. (I dipped my toe into All That Broadway Chat.com earlier today and the kids were less than complimentary about Love Potion Number Ten even though we haven't even actually entered previews.) I may be down but I am hardly out. I'm putting all my energy into polishing up the routines for the show so when we get back on set at the Pantages (the crew from Jose's Automotive Repair is still fixing the hydraulics in the stage machinery), we'll be able to release some footage showing just how marvelous a project it is.
I also had a meeting with Leah, head of my consumer products division, about our new interior colors. We're having a hard time breaking into Sherwin Williams' market share with my Hollywood glam line. We groused about the nature of the business for a while when I had a brilliant idea. Why not make the clip of me being pounded by cherry blossom petals the basis of a new viral marketing campaign? Vicki Lester presents Petal Pink. A color so vibrant it'll blow you off course! All we need to do is replace the sound track (me singing a new hip-hop version of Kay Thompson's Think Pink should do the trick) and voila, instant sales.
Leaving the meeting on a high, I figured it was time to reward myself with a film so I toddled off to the home theater, fixed myself a large vodka Collins and turned on the Netflix looking for a film that might reflect my winning can-do attitude. I settled upon Tropic Thunder, the meta-Hollywood spoof of Vietnam war movies that was a big success for Ben Stiller as writer, director and star in 2008. I did not see it on its initial release so decided to see what I might have missed. Several hours later I decided that having skipped it was probably the right decision. It's one of those comedies that simply isn't funny. I don't think I so much as cracked a smile during my viewing.
Tropic Thunder is one of those movies within a movie. A book of that name written by John Tayback (Nick Nolte) about his Vietnam experiences has been optioned by Hollywood in order to turn it into a Vietnam epic a la Platoon, The Deer Hunter, and Apocalypse Now. The film, helmed by an inexperienced British director (Steve Coogan) is careening out of control, much to the consternation of the cast (Ben Stiller as an action star on his way down, Robert Downey Jr. as a prestige actor so fully committed to his roles that he completely transforms for them, and Jack Black as a comic actor trying his hand at drama). When the money back in Hollywood threaten to take the film away from the director, he decides to shoot it cinema verite style and helicopters his cast to a remote location so that they must survive just the way their characters had to in the actual war. Things quickly go awry with land mines, drug cartels, and the occasional geographically challenged panda.
There are some things that work well. The actor characters are introduced through a series of coming attractions regarding their other projects. The styles of the previews are spot on but the content isn't especially amusing. The scenes back in Hollywood where moneymen and agents (including Matthew McConaughey and a sly and practically unrecognizable Tom Cruise) attempt to manipulate the film and actors from a distance are also quite clever. The problem is the war film stuff. The blood and guts are so over the top and the explosions so massive that they move beyond satirical to the realm of ridiculous. If Ben Stiller had pulled his punches just a little bit, he might have had something. Unfortunately, Stiller, when left to his own devices, usually goes a step or two too far, swamping his initial premises in barrels of excess. (I found the same thing true with Zoolander and The Cable Guy.) This is complicated by a couple of choices which I am sure some found funny but which left a bad taste in my mouth. The first is that Robert Downey Jr. 's character in the film within a film is African American. This leads him to spending most the movie in blackface. I'm sure the intent is to be hip and ironic, but I found it insulting. The second is Stiller's character having made (and flopped) in a film about a developmentally delayed man (think a really bad version of Rain Man). His performance as this Simple Jack becomes a major plot point in the second half of the movie and it's a compendium of every cliché and misinformed stereotype that Hollywood has proffered over the last century on such individuals. It's cringe inducing to watch.
Stiller came up with the idea for Tropic Thunder while shooting his scenes in Steven Spielberg's Empire of the Sun some two decades before showing its long gestation. His film was coscripted by actor Justin Theroux and Etan Cohen and went through several different concepts and iterations before the shooting script was finalized. The biggest issue with the film, to my mind, is Stiller directing his own script. An objective eye might have been able to tone down some of the more offensive elements and could have figured out a way to find the humor in the piece, rather than covering it with bombast. Comedy is a delicate art and often less is more. Stiller's need to keep the film focused on his character (in many ways the least interesting one on screen) also doesn't help.
The lush tropical forests of Kauai, subbing for Vietnam, are lovely. Tom Cruise steals every scene he's in. I was also taken by Jay Baruchel as an earnest novice actor in his first big movie role and Danny McBride as the special effects hot shot who loves blowing things up. Robert Downey Jr. fully commits to his character, no matter how wrong headed the idea behind it. Despite these pluses, most of the rest of Tropic Thunder plays as if a bunch of aging frat buddies got together and decided to make a war comedy. I'm sure they all had a lot of fun, but we didn't need to be subjected to it.
Napalm drop. Booty sweat. Gratuitous child bonding. Poolside drinks. Chopper flights. Obsequious yes men. Bridge explosion. Panda cuddling. Gratuitous Tobey Maguire. Tivo in the jungle.
To learn more about Mrs. Norman Maine, see our Movie Rewind introduction, visit her entire back catalog and follow her on Twitter at https://twitter.com/missvickilester
cherry blossom photo by Ludovic Bertron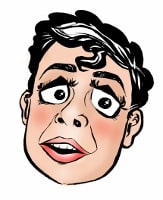 Originally from Seattle Washington, land of mist, coffee and flying salmon, Mrs. Norman Maine sprang to life, full grown like Athena, from Andy's head during a difficult period of life shortly after his relocation to Alabama.