Can I Have an Otherworldly AMEN?
Main Cast: Dominic Cooper, Ruth Nega
Creators: Sam Catlin, Seth Rogen, Evan Goldberg
Fear Not, No Spoilers Ahead
I freely admit that I went into watching Preacher with an hour to kill and zero expectations. I didn't even know what it was about, except that it looked a little supernatural and I do love that. I'm happy to say that the first season of this AMC series grabbed me by the throat and kept me watching (also, I had to finish it before it left On Demand, so it was a bit of a binge).
Anyway, Preacher is based on the comics of the same name by Garth Ennis and Steve Dillon. The main character is Jesse Custer (Dominic Cooper) who is – you guessed it! – a preacher. He has a checkered past and is trying to make up for it by bringing the word of God to the small Texas town of Annville. To say that he hasn't had terrific success would be an understatement. He has the game assistance of Emily (Lucy Griffiths), a single mom who can only be described as downtrodden, but nobody else has much faith in him.
Pun entirely intended.
As he struggles with his mission, his ex-girlfriend Tulip (Ruth Nega) does her level best to lure him back to his former life of unsavory shenanigans, and he manages to befriend Cassidy (Joseph Gilgun), an Irish vampire. Yep, a vampire. His vampirism, miraculously (more puns – I can't stop), has almost nothing to do with the plot – it's just who he is.
Meanwhile, there is something supernatural afoot. Across the world, ministers and preachers are, well, exploding. Something is looking for a host and these poor folks are simply the wrong vessels. There are a couple of guys tracking this thing and lo and behold, it finally finds a place to rest inside of one Jesse Custer.
What ensues is the entire first season of Preacher.
It sounds very weird, and it is. But…it's so, so good. Jesse is almost fatally flawed and having some being inside him absolutely does not help. Neither does the presence of Tulip, but she grew on me a lot as the season progressed. The townspeople of Annville are a mix of the odd, the vile, and the passive. A guest starring role from Jackie Earl Haley is one of the scumbag highlights. Ian Colletti as Eugene, a tortured soul if ever there was one, adds a whole separate dimension as he seeks guidance from Jesse in dealing with his existential angst. The whole thing is shot in the most desolate, isolated, Godforsaken place imaginable. It looks great, to be honest – perfect for the story.
What I like about Preacher is its unholy combination of religion, blasphemy, violence, and hijinks. There is a sense of gritty absurdity that permeates the entire series, creating an atmosphere that is surreal, ridiculous, comical, and ultimately really engaging. I like Jesse, more or less despite his entire character, and I adore both Tulip and Cassidy. The first season ends with a terrific set-up for season 2 without any annoying cliffhangers, and I will absolutely be watching when it premieres on June 25th.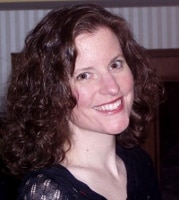 Sue reads a lot, writes a lot, edits a lot, and loves a good craft. She was deemed "too picky" to proofread her children's school papers and wears this as a badge of honor. She is also proud of her aggressively average knitting skills  She is the Editorial Manager at Silver Beacon Marketing and an aspiring Crazy Cat Lady.