I'm OK with The OA
Main Cast: Brit Marling, Jason Isaacs
Creators: Zal Batmanglij, Brit Marling
I feel like, somewhere out there, a Netflix executive decided to give me a Christmas present. How else to explain two marvelously binge worthy series released one after the other in December? Fine, maybe there are a thousand other explanations, but I prefer my fantasy world in which Netflix programming revolves around me. Within a one week period they offered up both Travelers and The OA. Holiday Binge Heaven.
The OA stars co-creator Brit Marling as Prairie Johnson, a young woman who disappeared seven years before the series takes place. We enter her story as she turns back up in her hometown, after apparently trying to commit suicide and miraculously having regained the sight she lost as a child. No one has any idea what happened during those intervening years and Prairie is not in the mood to share. Not with her parents or with the FBI. No, she will share only with a rag-tag group of young people and a teacher. She has her reasons – both for choosing them and for telling them her story.
I will tell you no more details, as that would be mean. This is a series you need to let evolve – don't rush it. You'll have a lot of questions, and they will be answered as you follow along with Prairie and the tale of those lost years. Because it's a Netflix release, you won't have to wait a week for the next installment; I've watched all eight episodes twice – once on my own and once with my daughter. Beware – if you get hooked you're going to want to binge this in its entirety.
So how do you know if you'll like The OA? It isn't necessarily going to be for everyone. You need to be able to place your disbelief on a shelf and go with the story. It isn't sci-fi like Travelers, where you need to believe in the science. It's far more personal, more about Prairie and the other characters tapping into something elemental, something with the power to free or ensnare, or both.
The OA is strange and ethereal and captivating, with Marling giving an outstanding performance that frames the entire series. Her Prairie is strong and fragile, self-assured and hopelessly lost, terribly naïve and unexpectedly wise. Every other character orbits her, but the writers (of which Marling is also one) do not let them get lost. The peripheral actors, including Alice Krige and Scott Wilson as Prairie's adoptive parents, Phyllis Smith (who played Phyllis on The Office) and Patrick Gibson as part of the group hearing Prairie's story, and Emory Cohen and Jason Isaacs as key players in that story, all stand out in some way. Be it as voices of fear, reason, oppression, youth, hope, or naked grief, each has a part to play in Prairie's evolution.
I would classify The OA as sci-fi, but understand that it is not techno sci-fi. If you embrace the character you'll embrace the show. If you aren't pulled in by the first episode, try at least one more before making up your mind. I was hooked in one, and by the end of the eighth wanted only for the next season to release that instant. I'll be eagerly waiting, Netflix, for my next gift. Perhaps you would like to give me a lovely Valentine!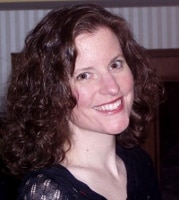 Sue reads a lot, writes a lot, edits a lot, and loves a good craft. She was deemed "too picky" to proofread her children's school papers and wears this as a badge of honor. She is also proud of her aggressively average knitting skills  She is the Editorial Manager at Silver Beacon Marketing and an aspiring Crazy Cat Lady.