BABY YOU CAN DRIVE MY CAR
Main Cast: Corey Haim, Corey Feldman
Director: Greg Beeman
I've been studying the script and score of the musical, Gypsy, in which I am shortly to appear in the title role. I'm not quite sure that it's up to my usual exacting standards. Some other character by the name of Rose (who is supposed to be Gypsy's mother if I am not misreading it) seems to get all the best numbers and lines. This will never do. If I am going to be Gypsy in Gypsy, my adoring public expects to see me as the protagonist, not some aging harridan. I immediately called up my crack team of show doctors to have them come over and craft some improvements to this little musicale. Soon after, I was settled in with Madame Mimi, my vocal coach, Lulu Pigg, my tap therapist, Laurie, my accompanist and a couple new additions to my little coterie, Miss Julie, poetess and playwright extraordinaire, and Senora Stout who is an absolute genius at production management and who can bring these disparate little elements together into a thrilling coup de theatre.
The most immediate problem is the first act finale Everything's Coming Up Roses in which my character sits on the sidelines while this Rose person sings the whole number on a relatively bare stage. We're going to turn it into a full cast tap extravaganza and I'm having Kim Dee and Mary Gee, my seamstresses, alter my red, white and blue sequin tailcoat from my patriotic musical film, Stars and Bars, (about the afterhours escapades of the Hollywood Canteen), so that I'll have something appropriate to wear. I nixed the rose petal drop that Senora Stout wanted to include as the curtain came down given recent events but we will keep the confetti cannons and the helicopter. We're also having You Gotta Have a Gimmick retooled as a solo for me in which I will play all three parts courtesy of some stage magic and lightning fast costume changes.
Feeling elated by our progress, I decided it was time to break for limoncello mimosas and we all repaired to the home theater to put up our feet, to gossip, and make further plans. Like all such gabfests, we soon started to talk shop about productions past and became incredibly nostalgic for the simpler times of yesteryear. After the third pitcher, we decided it was time for a film, and with our halcyon days drenching the atmosphere, we all agreed a light hearted nostalgic film of some sort was apropos. I poked through the Netflix offerings and ran into the 1988 comedy, License to Drive, starring the two Coreys, Haim and Feldman, at the height of their teen idol fame. Personally, I've always preferred my two Coreys, tenor and baritone, who have made quite the career with their shark act, but they weren't around to make 80s teen flicks, so this had to do.
License to Drive takes place in an idyllic West LA in an equally idyllic upper middle class existence that never actually existed. Our protagonist is Les Anderson (Corey Haim) a slightly dorky high schooler who is just about to hit that magic moment in the life of any young male, the acquisition of a driver's license. He has an equally dorky (but thinks he's way cooler) best friend in Dean (Corey Feldman) who keeps talking him into not very good ideas. In addition, he has a nebbish of a father (Richard Masur), a heavily pregnant kooky mother (Carol Kane doing her patented shtick), and a snotty twin sister (Nina Siemaszko). When Les ends up failing his driving test, he lies about it and through a lot of silly plot devices too insipid to go into here, he ends up heading off for a night on the town in his grandfather's oversized Cadillac along with Dean, his other dorky friend, Charles (Michael Manasseri) and the girl of his dream Mercedes (Heather Graham in her first major role). There are car chases, bad guys, nasty boyfriends, car trashings and an emergency medical run in reverse gear. All of this is supposed to be amusing, I think, but comes across more as a pathetic attempt to keep a cardboard plot and characters going through ninety minutes of film.
It strikes me that License to Drive was 20th Century Fox's attempt to recreate the successes of John Hughes 80s teen comedies such as Sixteen Candles and Pretty in Pink and, to a certain extent, it succeeded as the film made plenty of money. However, it's nowhere near as smart as those films were. The secret to the Hughes movies were some real humans and recognizable situations among the smart remarks allowing audiences to empathize and older viewers to tap back in to the awkward embarrassments of adolescence. This film, on the other hand, has few recognizable humans and while we can all identify with the euphoric feelings of freedom from driving, few of us can relate to impossible chase scenes down the boulevards of greater Los Angeles. Writer Neil Tolkin followed this effort up with some other light weight comedies starring folks like Pauly Shore but it was clear that original ideas and scintillating dialogue were not among his talents and his career petered out by the mid-90s. Director Greg Beeman was smart enough to get out of cheap comic features and honed his craft in dramatic television and is one of the most sought after television directors out there. His pacing and choices for the film are just fine but you can tell he knows he doesn't have much to work with.
As far as performances, it's Corey Haim's film and he's adorable as the geeky Les. He, like Anthony Michael Hall a few years before him, was adorably awkward as an adolescent and the film picks up when he's on screen. Corey Feldman, on the other hand, is as annoying in this as he is today. The supporting cast, in general, are inoffensive. The only one who makes much of an impression is Carol Kane, but she's playing the same whacky dame she's played in a dozen other better films. Heather Graham is lovely to look at, even with the bad 80s hair, and it's easy to see how she was able to move on to bigger and better things. Richard Masur is playing the same character he played in Risky Business (another smarter 80s teen comedy) such that I expected Tom Cruise to run across the screen pursued by Guido the killer pimp.
All in all, License to Drive is a fun look back at the late 80s in terms of art direction, styling and costumes and it's interesting to see some actors who are still working as they looked thirty years ago. It's inoffensive, but if you're looking for a good comic film from the period, there are many more worthwhile titles out there.
Bratty younger sibling. Computerized testing. Evil DMV employees. Gratuitous Grant Godeve. Posh night club. Abandoned father. Dyspeptic grandfather. Girl in trunk.
To learn more about Mrs. Norman Maine, see our Movie Rewind introduction, visit her entire back catalog and follow her on Twitter at https://twitter.com/missvickilester
photo by David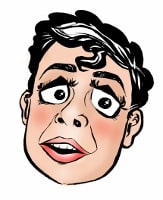 Originally from Seattle Washington, land of mist, coffee and flying salmon, Mrs. Norman Maine sprang to life, full grown like Athena, from Andy's head during a difficult period of life shortly after his relocation to Alabama.