WHALE OF A TALE
Main Cast: Chris Hemsworth, Benjamin Walker
Director: Ron Howard
Principal photography has wrapped on my latest film project so I am starting to have some time to have a life again. The first order of business was to begin planning a fabulous open house for my new residence Casa Maine. The painters and decorators have finally finished their work and it's time to show off my lavish good taste to industry captains, neighbors and adoring fans. My new studio space has been based on the Old Chapel of Regensburg for a full rococo effect but, as the cherubs and putti seemed a little naked in their original state, I have had them all dressed in miniature versions of my great movie costumes. My absolute favorite is the dear little fellow who hangs above the center of the rehearsal mirror dressed in my ball gown from The King and Eye for an Eye, the musical version of Titus Andronicus in which I played Tamora, Queen of Goths.
I was working on some new routines with Lulu Pigg, my tap therapist, and Madam Mimi, my vocal coach, earlier this afternoon and we started to discuss party plans when Lulu came up with the most amazing idea. We would have a camera crew come and document the preparations and the festivities themselves and edit them into a glorious reality television special allowing all my fans to experience my hostessing abilities on a vicarious level. I might even be able to parlay it into a continuing series. I immediately ran to tell Normy of this amazing brainstorm, but he was too busy putting the finishing touches on his new symphonic fantasy for euphonium and tuba to pay much attention. I left him to it and headed off to the home theater for some alone time and a film.
While descending the grand staircase, which we've had redone in the style of Versailles' Hall of Mirrors, I caught sight of my reflection. All the time on the soundstage recently has kept me out of the sun and bleached me of my usual healthy glow. I also noted that my inability to keep up my usual exercise routine had led to a little expanding of the waistline that was going to need a corset for the next few months while I get back into shape. The image stayed with me while sorting through my 'to view' pile and so I naturally settled on a film involving a great white whale, Ron Howard's recent epic retelling of the story of the whaleship Essex, one of the major inspirations for Moby-Dick, a little opus called In the Heart of the Sea from late 2015.
In the Heart of the Sea was Warner Brother's prestige release for last year's holiday season and was considered a contender for major awards until met with tepid reviews and an indifferent populace leading to its quick sinking from sight. The year is 1850. Author Herman Melville (Ben Whishaw) pays a visit on innkeeper Thomas Nickerson (Brendan Gleeson) to get him to recount his experiences some thirty years earlier as the cabin boy on the whale ship Essex, which was sunk after an encounter with an albino sperm whale in the South Pacific. Nickerson, supposedly the last survivor of that doomed voyage (historically untrue – the captain and first mate both died around 1870), agrees to tell his story at the prodding of his wife (Michelle Fairley). We then meet the young Nickerson (Tom Holland), the cabin boy on the Essex and through his eyes meet the rest of the crew as a whaling they did go. The major protagonists are Captain George Pollard (Benjamin Walker), the scion of a whaling family entrusted with his first captaincy and first mate Owen Chase (Chris Hemsworth) who feels passed over at not getting the captaincy. With no luck in the Atlantic whaling grounds, the crew round Cape Horn and head for the South Pacific. While replenishing supplies in Ecuador, they run into a Spanish Captain (Jordi Molla) who tells them of a great white whale who destroyed his ship. Despite dire omens and with tensions mounting between captain and mate, they journey on, find the great white whale, who gets the better of them, and they find themselves thousands of miles from shore with minimal supplies and a harrowing journey back home.
The historical record has been somewhat repurposed by Hollywood to play up the conflicts between Pollard and Chase to give the narrative additional dramatic tension. Even so, neither Hemsworth or Walker is a magnetic enough actor to make us care. As they spar with each other, all we really want to do is get back to the details of whaling, or an exciting storm sequence, or our framing story which has three excellent actors working in seamless ensemble. Ron Howard is an intelligent enough director to cut back to them when things start to flag and heighten our interest in the story.
The recreation of New Bedford the shipboard scenes are well staged and give us a sense of the dirty and dangerous profession that whaling was as relatively small ships crossed thousands of miles of ocean in pursuit of animals three and four times their size. Some of the cinematography is gorgeous, especially of the whaling ship among the spawning grounds of the whales and there are a few shots which linger long after In the Heart of the Sea is over, such as what it really means to butcher a whale – from the inside. Anthony Dod Mantle is responsible for the sumptuous photography. There is a fair amount of CGI in use, especially to make the whale villain (or freedom fighter, depending on your political leanings) able to do things no animal trainer would be able to do. Having once played Pollyanna in a musical version of Doctor Dolittle, I am well aware of the limitations of our four footed, or four fluked, friends.
I think the film makers had good intentions going into the project… a gripping story, a connection with a classic piece of American literature that has put more high schoolers to sleep than Hawthorne and Thoreau combined, but something slipped in the execution. Some of it was bad casting. There are young leading men out there capable of giving compelling performances but the Hemsworth brothers and Meryl Streep's ex son-in-law are not amongst them. Some of it is dialogue and character motivations (script by Charles Leavitt based on a book by Nathaniel Philbrick) which are far out of period and seem more like office politics of the early 21st century than the way young men of two hundred years ago would have treated each other. (The historical Owen Chase was 23 and George Pollard 29 when the Essex left on its ill-fated voyage). The last act of the film, when the shipwrecked men struggle to survive, also doesn't build the necessary desperation and their life and death choices come across as ho-hum rather than the dire struggles that they should be.
I can't say I disliked In the Heart of the Sea. I found much to like in it but in the end, it remained curiously uninvolving. It didn't transport me to an earlier time and place in ways that better films do. It ends up being a good adventure story, but not the tale of brutal struggle and survival that it intends to be.
Blubber. Whale oil. Blow holes. Blown up ships. Bag of money. Ecuadorean natives. Harpoon throwing. Dropped revolver. Gratuitous historically inaccurate petroleum reference.
To learn more about Mrs. Norman Maine, see our Movie Rewind introduction, visit her entire back catalog and follow her on Twitter at https://twitter.com/missvickilester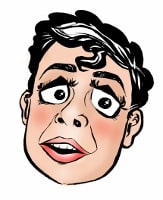 Originally from Seattle Washington, land of mist, coffee and flying salmon, Mrs. Norman Maine sprang to life, full grown like Athena, from Andy's head during a difficult period of life shortly after his relocation to Alabama.