SINGING OUT LOUD
Main Cast: Meryl Streep, Hugh Grant
Director: Stephen Fears
The rehearsals are all finished and Love Potion Number Ten is ready for its first preview audience this evening. DeWolfe has gone all out, transforming not only the stage of the Pantages theater here in Los Angeles, but also having the entire façade of the theater redone to resemble the Capitol building. He must have found a true design genius as the papier mache dome integrates marvelously well with the neon marquee. He's also had the lobby filled with copies of the figures from the hall of statuary, only reduced to 2/3 size and holding cute little placards which say things such as 'Love Potion Number Ten is the first great musical of the 21st century', 'Don't miss Miss Vicki Lester as Dulcy Mary in Love Potion Number Ten' and 'Vicki Lester is turning it up to eleven in Love Potion Number Ten'. I'm all a flutter in the dressing room where I'm writing this, getting ready to dazzle an audience for the first time. All the kinks have been worked out but we've decided to keep the veritable explosion of cherry blossoms at the end of the first act. There's an ingenious air cannon system all around the house that's going to scatter petals all through the audience as I rise from the stage in an ode to love.
The dressing rooms here leave a bit to be desired. I can hear the rest of the cast through the paper-thin walls working on their vocal warm-ups. Our Adina, the Supreme Court Justice who falls for Senator Nemorino through all my character's machinations, is Diva Carin, the famous soprano, and she's busy taking her voice up to A above high C which strikes me as a bit silly as her highest note in the score is an octave lower. (It's in my contract that I get all the high notes.) She's very sweet and has quite the career ahead of her and I've been giving her tips on how to handle the very heavy burdens of stardom. Nemorino is being played by some gentleman with entirely too much facial hair who starred on some television show about one of the lesser royal families of Europe, something called Duck Dynasty. I don't have many scenes with him other than the finale so I haven't really gotten to know him well and he always seems to have some sort of strange whistle in his mouth while waiting in the wings.
Fortunately, we have free wi-fi backstage so I brought along my trusty iPad and decided to while away the hours until curtain with a film. As I am about to go on in a part that is sure to add to my living legend, I decided a biopic of a living legend of yesteryear might be in order so I punched a few buttons until I found a streaming copy of Florence Foster Jenkins from last year starring Meryl Streep in the title role and Hugh Grant as her doting husband. I had missed this at the Cineplex during its initial release but have been interested in catching up with it as Flo and I are divas cut from the same cloth, albeit my musicianship is a teensy bit better.
Florence Foster Jenkins is the true story of a New York socialite and amateur coloratura who was one of the great patrons of classical vocal music in mid-20th century New York. She founded the Verdi club for other music lovers and starting in the years following World War I, to create extravagant musical recitals with elaborate tableaux vivante. She also gave private recitals for her friends singing standard arias and art songs from the repertoire. These became infamous for not only did she have a complete lack of vocal technique, but she also had no sense of pitch, rhythm or phrasing. She would also perform in elaborate costumes of her own design and the total effect was one of surreal lunacy. She jealously controlled access to her performances, refusing to admit the general public or music critics until very late in her career when she scheduled a recital at Carnegie Hall. Her notoriety was so great that thousands were turned away and the performance became legendary in New York history for its combination of bravura confidence and musical ineptitude. She suffered a heart attack shortly after this date and died a few weeks later, truly going out while she was on top.
The film is a British production, with Liverpool substituting for New York, written by Nicholas Martin and directed by Stephen Fears. It focuses on the end of Mrs. Jenkin's life during World War II era New York when the Diva was in her 70s and the events leading up to her famous Carnegie Hall debut. We first meet her at the Verdi club where she is being hoisted into the flies to be lowered as the muse of musical inspiration for Stephen Foster in a music hall turn that's full of mid-century bad taste. We then return to her lavish apartment, where we learn of her rather peculiar domestic arrangements. Following the quick end of her first marriage to Dr. Jenkins (who infected her with syphilis while still a very young woman), she began a lifelong, but asexual relationship with failed Shakespearean actor St Clair Bayfield (Hugh Grant) who became her constant companion, biggest fan, and protector of her musical fantasies. The two of them decide, if she is going to perform, that she needs an appropriate accompanist and hire a fey young man with the improbable name of Cosme McMoon (Simon Helberg) to help her bring her musical dreams to life. McMoon is somewhat surprised by her complete lack of talent but the money is excellent and, as they work together, an awkward friendship and eventual close bond develops between the two. Bayfield, in the meanwhile, has a girlfriend (Rebecca Ferguson) on the side with whom he can express his sexual nature. This odd and awkward family all work together to try and make Florence's big concert the success they all want it to be.
Meryl Streep turns in another tour de force performance in the title role (and earned yet another Oscar nomination). She does her own painfully bad singing (and it takes quite a good singer to sing quite so badly) and plunges into the world of Florence Foster Jenkins with firm conviction. She makes sure that we all have full sympathy for Florence, whom life has dealt a series of significant disappointments and setbacks and no matter how dreadful her singing, we want her to succeed because she is so eminently likable. She is helped along by Nicholas Martin's screenplay which constructs several intimate scenes in which Florence opens up and lets herself be vulnerable with the two men in her life and, by extension, us. Simon Helberg is her match and their scenes together are a joy to watch. Hugh Grant is overshadowed somewhat by the two of them as he underplays his role, graciously conceding the film and most of his scenes to Streep. There's nothing wrong with what he does or the choices he makes, it's just quiet and not the larger than life performance another actor like Kevin Kline, for instance, might have brought to the role.
There are a lot of questions about Florence. Did she understand her lack of talent or was she self-deluded? Did her advancing neurosyphilis cause damage to her hearing and neural processing such that she was unable to interpret what she was hearing properly? Many of the musical illuminati of the period including Cole Porter and Giancarlo Menotti were fans. Did they go to her concerts to laugh at her and was she in on the joke? The film doesn't attempt to answer these questions, simply present us with a woman who, in her own words, people said could not sing but of whom it could never be said that she did not sing. The performances of Adele's Laughing Song from Die Fledermaus and Der Holle Rache from Zauberflote, amongst others, are drawn from historical accounts and must be seen to be believed evoking a combination of hilarity, pathos, and congratulations at the surety of the performance.
The visual look including Consolata Boyle's Oscar nominated costumes is stunning and it's not possible to tell that we're not actually in the New York of seventy years ago. There is also a strong supporting cast. I was particularly taken with stage actress Nina Arianda's take on the social climbing show girl trope who ends up helping save the day when everything seems to be going wrong. Florence Foster Jenkins is definitely worth seeing and will leave you with the feeling that you too can sell out Carnegie Hall. (Something I have done twice, but that's another story).
Famous chairs. Gershwin playing. Gratuitous stage mammy. Flower props. Drunken bacchanal. Mysterious leather satchel. Gratuitous Arturo Toscanini. Tallulah Bankhead sighting.
To learn more about Mrs. Norman Maine, see our Movie Rewind introduction, visit her entire back catalog and follow her on Twitter at https://twitter.com/missvickilester
photo by Mdbeckwith
[AMAZONPRODUCTS asin="B01KKYB3O2″]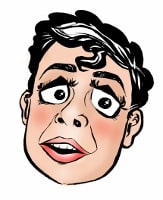 Originally from Seattle Washington, land of mist, coffee and flying salmon, Mrs. Norman Maine sprang to life, full grown like Athena, from Andy's head during a difficult period of life shortly after his relocation to Alabama.