SHAKE, RATTLE, AND ROLL
Main Cast: Charlton Heston, Ava Gardner
Director: Mark Robson
Things are progressing quite rapidly on my splendid fund raiser for disaster relief for all those areas hit by floods and wildfires over the last few months. Vicki Lester in I've Seen Fire and I've Seen Rain live at the Hollywood Bowl is sure to be the entertainment event of the season. I'm urging all my friends to get their tickets now because they're sure to go fast once they open up to the general public. The scenic effects for the first act devoted to rainstorms, hurricanes and flooding have been completed and the wall of water that Mr. Ed has created to rush out of the proscenium arch is going to be absolutely spectacular. I've had a brilliant idea for the first act finale. As the water crashes into the orchestra, I'll ride the crest of the wave on a specially constructed magenta sparkle surfboard while an instrumental of Surfin' Safari brings down the curtain. It'll be a Hollywood Bowl first. For the second act fire effects, we're having several miles of gas pipe placed under the stage so carefully controlled flames can encircle me as I sing a mash up of Bruce Springsteen's Fire and Brunhild's music from Gotterdammerung. After the show, I've made arrangements to donate the whole set up to LA Opera for their next staging of The Ring Cycle.
After getting those arrangements squared away, and leaving Normy to work out some new orchestrations to better show off the upper range of my belt without being drowned out by the brass section, I had a little sit down with Leah regarding my consumer product lines. Sales in the third quarter were down by more than fifteen percent and that must be corrected if I am going to continue to maintain the opulent lifestyle to which my fans have become accustomed. The latest focus groups have suggested that my clothing line, VickiWear, is becoming dated, despite being based on the costume designs of famous musicals. The millennials are no longer into Rodgers and Hart, or even Hammerstein, and we need some updating. I have therefore commissioned a whole new line of Hamilton inspired ready to wear complete with a new line of foundation garments to be known as Schuyler Sistahs! For the young men, we're working up a whole bevy of Evan Hansen branded polos and hoodies. They should be ready for the holiday season where no hipster home should be without them on Christmas morning.
That chore being over, it was time to relax. As I am still gathering disaster themed ideas for my upcoming charity concert, I decided it was time to head to the home theater for a viewing of a classic disaster film from the 70s. My choice as Earthquake from 1974 starring Charlton Heston and Ava Gardner and famed in its day for the introduction of Sensurround, a low frequency vibratory track played through special speakers that made the audience feel like they were really in an earthquake and which threatened the structural stability of movie theaters across America. I recall reading for the Ava Gardner part at the time the film was being cast, but turned the role down when the producers were unwilling to create a rubble ballet for me in the latter half of the film. Pity. It might have improved the film.
The idea for Earthquake was hatched at Universal Studios in the early 70s following the success of Airport, the progenitor of the suspense/disaster cycle that came of age during that decade. Mario Puzo, of all people, was hired to write a screenplay and he came up with a sprawling, intricate story of peoples' lives being disrupted all over Los Angeles when the city is struck by a massive temblor. The project sat on the back burner for a time until a rival studio made a small fortune with The Poseidon Adventure and it was greenlit for production. Puzo was no longer available due to commitments to The Godfather Part II and his original script was given to George Fox, a magazine writer who had never written a screenplay. The studio gave the production team serious budget constraints so much was altered from Puzo's original vision. Mark Robson, a journeyman director since the 40s, came on board to helm the project and filming commenced. The end result, while not a great film, was a major financial success and kept the disaster genre viable for a while longer.
Our all-star cast is headed by Charlton Heston as Stewart Graff, ex-football star and now architect who has a conflicted relationship with his wife, Remy (Ava Gardner who was in her fifties at the time and a good fifteen years too old for the part). Stewart's boss is Sam (Lorne Greene), Remy's father who looks roughly her same age. Remy gets Sam to offer Stewart a promotion to try and save their failing marriage, which backfires and sends Stewart into the arms of Denise (Genevieve Bujold), the young widow of a colleague. Another plot involves George Kennedy as an LA cop in trouble with his superiors. He's sweet on Rosa (Victoria Principal in a Foxy Brown afro) whose brother Sal (Gabriel Dell) is trying to help his friend, a sort of Evel Kneivel manqué (Richard Roundtree), get a Las Vegas gig. Also, sweet on Rosa is Jody, a psycho supermarket manager/national guard person (Marjoe Gortner) who lets a little power go to his head. After some rather dreary exposition, some scenes with seismologists filling us in on the San Andreas fault, a couple of foreshocks, and some really bad acting, it's time for the main event and, in a nine-minute sequence, Los Angeles is destroyed while various minor characters are pulverized by falling masonry, make the mistake of getting in elevators, or blow themselves up. Our survivors must gather themselves, survive an aftershock or two, escape the waters of a broken Mulholland dam, and get on with their lives. Earthquake ends with a Sophie's Choice moment for Stewart where he ends up taking the nobler, but stupider course of action. (Apparently Charlton Heston had script approval and it's the ending he wanted.)
These sorts of films are not about great performances. They are theme park rides designed to deliver excitement and thrills and allow for moments of catharsis as we, as audience, sit comfortably back with our popcorn and live vicariously without having to think too hard about what such destruction would mean for real human lives. The actors gathered for Earthquake range from stiff and noble (Heston) to stiff (Roundtree) to anything but stiff and chewing the scenery (Gortner). There's not much that resembles a real human being in sight other than a couple of the minor characters like Gabriel Dell's Sal and a supporting turn by 1950s glamour girl Monica Lewis as Lorne Greene's secretary. The screenplay is also a clunker. It's simply an excuse to get from one action sequence to another. Earthquake eventually became an amusement park ride at Universal Studios where visitors were treated to an experience where they could feel what it might be like to be trapped in a BART station during a major earthquake. (There was a planned sequel set in San Francisco but it was never made. San Andreas covered that territory forty or so years later.)
The special effects, on the other hand, are pretty amazing and still hold up decades later. There was no CGI in 1974 so everything was shot in camera with real stunt crew and props or was faked with matte paintings and miniatures. The dam collapse (a large miniature), the dropping of rubble and buildings on real people, and the steady Sensurround rumble of the earthquakes (not the best on my DVD copy but you get the idea) have a visceral immediacy that the demise of thousands of CGI figures fails to engender in the modern disaster films of directors such as Roland Emmerich. Earthquake is worth seeking out for this alone. The mid 70s fashions, on the other hand, date the film terribly and younger viewers will probably wonder why the entire population of Los Angeles was dressing for a pimps and hos party.
It's not a bad way to spend a couple of hours, although you might want to fast forward through most of the dialog scenes.
Fake OD. Elevator drowning. Shaking building model. Gratuitous Walter Matthau. Zsa Zsa Gabor's hedge. Melting Clint Eastwood film. Failed loop the loop. Bully neighbors. Pastry stealing. Flooded sewer.
To learn more about Mrs. Norman Maine, see our Movie Rewind introduction, visit her entire back catalog and follow her on Twitter at https://twitter.com/missvickilester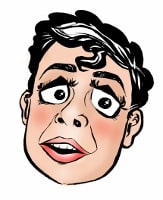 Originally from Seattle Washington, land of mist, coffee and flying salmon, Mrs. Norman Maine sprang to life, full grown like Athena, from Andy's head during a difficult period of life shortly after his relocation to Alabama.