More Proof Horror Is Better Out of the Hands of Studios
Main Cast: Emilia Ares Zoryan, Stephen Zimpel
Director: Michael McQuown and Vincent J. Guastini
You want to know what's better than being a lover of horror movies and having a filmmaker contact you to ask if you'll watch their horror movie? When the movie is good. I've been pretty lucky in this regard as almost every movie I've been asked to review has been worth the time and effort. The streak continues with the latest movie, Michael McQuown's The Dark Tapes.
This found-footage anthology features four stories and a wraparound, all of which are incredibly interesting and well-made short films in their own right, but then are made even stronger when seen in the context of this connected whole.
I won't go into too much detail–the stories aren't long and I don't want to spoil any of them–but I'll give a brief bit about each.
The first story, "To Catch a Demon" is about just that, a small group of scientists out to prove, through science, that something exists out there that we can't see with the naked eye.
In "The Hunters and the Hunted", a married couple have moved into a new house where strange noises are heard upstairs–but there is no upstairs here–and things begin to move on their own. To help figure out what's going on, the couple hired a team of paranormal investigators who are about to get more than they bargained for.
In "Cam Girls", Caitlin and her girlfriend Sindy are running a successful cam girl business out of their LA apartment, then one night Sindy wants to pick one guy and kick things up a notch.
Finally, "Amanda's Revenge" opens with the titular character talking to the camera about having been kidnapped and how she's ready to fight back.
With the exception of the "To Catch a Demon" segment, which was written by Vincent J. Guastini, the rest of this movie was written and directed by Michael McQuown, and while he's short on credits, he's got plenty of talent as a writer and director, so I'm expecting to see much more from him in the future.
With a cast this big, I'm not going to dive into all of them except to say no one stood out as bad or distracting; everyone gave solid performances. There were a few standouts who made their presence known, though, and who kept me awake and attentive.
David and Karen (Stephen Zimpel and Shawn Lockie) in "The Hunters and the Hunted" really shone, as did Emilia Ares Zoyan, who played Caitlin in the "Cam Girls" segment. Even amongst a cast of half a dozen or so, I feel she carried the weight of the story alone.
While I have no idea if a sequel is in the works, perhaps something with a different wraparound story so as not to diminish the impact of the original one, I certainly wouldn't be opposed to seeing it, if it ever happens. And if it doesn't, well, I can always just come back to this one as soon as the DVD is available.
(side note: there's another segment, "Psycho Therapy" that was cut for time, but McQuown is offering it free to anyone who pre-orders the movie from iTunes. Email him a screenshot of your pre-order purchase at TheDarkTapesExtra@gmail.com.)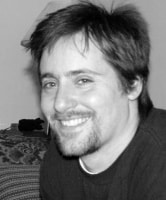 C. Dennis Moore is the author of over 60 published short stories and novellas in the speculative fiction genre. Most recent appearances are in the Dark Highlands 2, What Fears Become, Dead Bait 3 and Dark Highways anthologies. His novels are Revelations, and the Angel Hill stories, The Man in the Window, The Third Floor, and The Flip.