CRASH AND BURN
Main Cast: Terry Finn, Ann Morrison
Director: Lonny Price
The Gremlins are still plaguing the set for my new stage spectacular, Love Potion Number Ten, so rehearsal is off for the next week or so while needed repairs are made. I knew the producers had made a mistake in hiring Jose's Automotive and Tractor Repair to do the installation. This has left me with some extra time at Casa Maine. I of course sat down with Leah, my gal Friday who is in charge of my lines of fine consumer products to discuss some new opportunities. While my clothing and beauty products remains perennial best sellers at all the finest Pic-n-Saves, I feel that there is so much more that a lady of my taste and refinement can offer to shoppers. We began to bandy about some new items we might be able to sell all of my fans. We thought about designer pets, new breeds of dog whose coats could be clipped to resemble me in some of my famous film roles, but neither one of us wants to clean up after them. We also nixed an idea for Pretty Pistols, revolvers built into fashionable handbags for the gal on the go.
We settled on working up some new ideas for interiors by MNM. My most recent trip to furniture mart on Melrose showed me that pretty much everything in modern interiors is dull and lifeless. Beige, taupe, and all of those boring neutrals. Have no fear, MNM enterprises is here to bring Technicolor back to home décor. We're going to start by marketing fine interior latex in such shades as Ruby Slipper Red, Elizabeth Taylor Violet Eye, and Scarlett O'Hara Drape Green. We can then move on to throw pillows, couch throws and lamp bases in the shape of me in costume in some of my famous film roles. (A good way to recycle some of the unsold Vicki Lester collector dolls.) Once upon a long time ago, I took some college chemistry courses so I shouldn't have too much trouble creating some vibrant dyes. After my yoga, calisthenics, and vocal exercise, I'll see if I can find some cobalt salts and start working on some South Pacific aquamarine.
Beforehand, I decided it was time to relax with a film. I left Leah to her calls to chemical supply houses and headed off to the home theater to see what I could find on the streaming channels. By chance, I stumbled across the new documentary, The Best Worst Thing That Ever Could Have Happened, about the creation, failure and afterlife of Stephen Sondheim's Broadway flop, Merrily We Roll Along, which opened and closed relatively quickly on the Great White Way in 1981. During the 1970s, Sondheim, who had been a Broadway professional since the 1950s with his score for the aborted Saturday Night and his lyrics for West Side Story and Gypsy, teamed up with producer director Harold Prince and began a series of collaborations that completely transformed what the Broadway musical could be. Together, the two created Company (1970), Follies (1972), A Little Night Music (1973), Pacific Overtures (1976) and Sweeney Todd (1979). There seemed to be no end to their creativity and ability to spin artistic gold. In 1980, the two sat down together with book writer George Furth to begin work on their next creation, a musical updating of the 1934 Kaufman and Hart play, Merrily We Roll Along which explored how the idealism of youth collapses into the compromises of middle age. The conceit of the original play is that it runs backwards in time. We first meet the characters as jaded adults and in each additional scene, see their progressively younger selves and come to understand their choices, their mistakes and how their naïve idealism has been warped by life. Prince was eager to do a show with a young cast and so they set about hiring a group of highly talented teens and early twenty somethings to bring their vision to life.
At the time of the production, there were plans to make a documentary about the show's genesis and much footage
was shot of the young performers and their giddy joy at being in the next Sondheim/Prince collaboration which, given their track record was certain to be a career making hit. Unfortunately, the production was troubled, the elements did not gel together. A combination of an inexperienced cast, a flawed design concept, and unclear storytelling led to less than rapturous reviews and a shuttering after sixteen performances. Sondheim's excellent score was preserved on an original cast album and the youngsters went their separate ways. Fast forward to today. Lonny Price, the original Charlie, the comic sidekick lead, has become a well-known theater director. He conceived of the idea of this documentary exploring what the show had meant to the young cast, how it had impacted their lives and what happened to them as they, like their characters lurched forward with the business of living, growing up, and traveling the serendipitous journeys we all must travel. They are all in their fifties now. Some still in show business (it was a major step towards success for Jason Alexander of Seinfeld, Broadway divas Liz Callaway and Tonya Pinkins, and Giancarlo Esposito). Others have gone on to other careers they could never have envisioned.
The Best Worst Thing That Ever Could Have Happened is a film that could not have been made about any other Broadway production. Plenty of shows have succeeded and flopped over the years and the 'where are they now' game has been played with the casts of every iconic show from Oklahoma! to A Chorus Line to Rent but no other show has been at its core about the process of becoming an adult and learning to accept what that means. The thematic resonances between the show and seeing our now middle aged performers reflecting on and interacting with footage of their young selves strikes at the core of what Merrily We Roll Along is trying to say. Young performers with no life experience could not convey that back in 1981. The world-weary veterans of today can. The result is an incredibly moving documentary that has something to say to everyone, whether young and going to age, or old and reflecting back on what that has meant.
A familiarity with the stage show is helpful (snippets of the score and rehearsal/performance footage are included throughout) but not necessary to understand what the documentary is trying to convey. The end message is also one of hope and optimism. Despite the failure of the show, all the people we meet had their lives impacted in positive ways. Things did not end badly for the material either. It continues to be produced as a vehicle for young casts all over the world and the original London production won the Olivier award for best musical of the season. Several of the musical numbers have become standards in the great American songbook. I guarantee you will recognize 'Old Friends' and 'Good Thing Going'.
The Best Worst Thing That Ever Could Have Happened is a must view for any fan of musical theater, Sondheim, or just for those interested in the cultural anthropology of the maturation process. It's full of very human moments and a few surprises which I will not spoil here.
Moviola. Alvin Theater. Rigorous casting sessions. Stiff leading man. Gratuitous fairy collection. Multiple piano playing. Singing Sondheim. Reunions. Worlds to change and worlds to win.
To learn more about Mrs. Norman Maine, see our Movie Rewind introduction, visit her entire back catalog and follow her on Twitter at https://twitter.com/missvickilester
photo by SpeckledOwl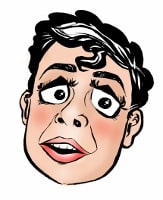 Originally from Seattle Washington, land of mist, coffee and flying salmon, Mrs. Norman Maine sprang to life, full grown like Athena, from Andy's head during a difficult period of life shortly after his relocation to Alabama.