KIDDIE CAR
Main Cast: Elisabeth Shue, Maia Brewton
Director: Chris Columbus
I've got things well in hand for my benefit concert at the Hollywood Bowl later this month.  I'm so happy to lend my star power to disaster relief.  (And I plan to sue Eve Harrington for slander for that little remark of hers in Variety where she said that every performance of mine is a disaster…)  Every time I turn around, however, there's a fresh horror on our hands so I've decided to expand beyond just hurricane relief for Puerto Rico.  I'm going to raise money for Houston, for Florida, for Puerto Rico, and for Northern California with Vicki Lester in her stunning new I've Seen Fire and I've Seen Rain concert.  Tickets are sure to go fast so all you lovely people out there in the dark better start calling Telecharge now.
The performance will be in two acts with the first act devoted to songs about water and the second act devoted to songs about fire.  Normy suggested that I get my motorized iceberg from my famous Titanic themed tour of some years ago out of storage but I have a bit of an aversion to that idea after having spent a little too much time in cryogenic storage. I'm thinking that we need to keep all our water effects at least lukewarm.  I'm thinking we could so something really exciting with a flooding of the stage with gallons upon gallons rushing off the proscenium and into the front rows for a truly immersive experience but we'll have to work out how to waterproof all the stage electrics.  I'm still looking for the right pyrotechnics firm for the second act.  We need to have an absolute firestorm on stage while I do a really hot number, perhaps Disco Inferno.
I'm getting my brain trust together, including Lulu Pigg, my tap therapist, Madame Mimi, my vocal coach, and Mr. Carl, my choreographer, for a meeting later this week so we can strategize and come up with a concert for the ages.  I'm also thinking of setting up some sort of social media poll so that all my devoted fans can suggest numbers that simply must be included.  Normy promises that he can do both the vocal and instrumental arrangements so all systems should be go by Thanksgiving.  I haven't been this excited since I lensed the bungee cord ballet for my musical film version of Sense and Sensibility some years ago.
All this planning was making me exhausted so I toddled off to the kitchen, fixed myself a pitcher of watermelon margaritas and repaired to the home theater for a chance to decompress.  I decided I needed a film of high amusement and low intellect and so I flipped through the channels until I landed upon Chris Columbus' directorial debut, the 1987 comedy Adventures in Babysitting with Elizabeth Shue.  I had seen the film in its original release and recall it being a bit of a farrago of light hearted nonsense so I hit the button to give it a whirl.  Normy came in to join me, poured himself a drink, and promptly started to snore as there were no space aliens or loud explosions.
Adventures in Babysitting is the story of Chris Parker (Elisabeth Shue), a high school senior in suburban John Hughes land Chicago.  She's all psyched to have a fancy first anniversary dinner with her boyfriend, Mike (a very young Bradley Whitford) and we can tell as she dances around her bedroom during the credits to the old Crystals song And Then He Kissed Me.  Unfortunately, Mike cancels on her at the last minute so she's free to take a babysitting gig for the neighbor's 8-year-old daughter, Sara (Maia Brewton).  Sara's older brother Brad (Keith Coogan) is supposed to be over at his friend's Daryl's (Anthony Rapp long before Rent) house, but gorpy freshman Brad has an unrequited crush on senior Chris so the two older boys arrange to stay in Chris's charge as well.  Chris's friend, Brenda (Penelope Ann Miller) picks this particular evening to run away from home and gets as far as the downtown Chicago Greyhound station before she realizes she is far out of her suburban element and calls Chris to come rescue her.  Chris decides the best course of action is to load Sara, Brad and Daryl in her mom's station wagon and set off for the dark and dangerous city.  While on the expressway, they have a tire blowout leading to a run in with a somewhat scary tow truck driver (John Ford Noonan).  Soon the kids are involved with a shoot-out, a car theft ring, an auto mechanic who looks suspiciously like a superhero (a very young Vincent D'Onofrio), a cheating boyfriend, and some random dangling off a skyscraper.  Will the kids rescue Brenda?  Will they make it back to the suburbs and safety before any of the parents find out what's been going on?  Will Chris find a boyfriend worth kissing?  It's a mid-80s comedy.  I think you can figure it out.
The script, credited to David Simpkins, had been kicking around Hollywood for decades (a young Jane Fonda had originally been attached to it) and gone through innumerable revisions over the years.  When Adventures in Babysitting was finally greenlighted, it was handed to Chris Columbus, known mainly as writer for Spielberg with such scripts as Gremlins, The Goonies, and Young Sherlock Holmes to his credit.  He had always wanted to be a director and this project was seen as a reward for having contributed to Spielberg's success.  He auditioned several of the leading young actresses of the day and went with the relatively unknown Elisabeth Shue who, at 23, was young enough to be a convincing high schooler but still old enough to bring a little comic gravitas to the part.  She more or less has to carry the film as all the craziness revolves around her and does it relatively well.  Her stardom was assured with her delivery of the immortal line "Don't f#@$ with the baby sitter".
The other three kids are adequate.  Keith Coogan comes off the best, capturing that awkward period of adolescence and finding a balance between boy and man, trying desperately to hold on to some maturity in some crazy situations.  Anthony Rapp overdoes it.  He plays up all the hormonal moments and becomes annoying.  Young Maia Brewton is also annoying but I can't tell if it's acting or directorial choices.  The rest of the cast are comic cameos.  Most of them are forgettable but I did like the young George Newbern as a sweet souled frat boy and Sam Moses as an exhausted Emergency Department doctor.
Columbus keeps things moving and doesn't dwell too long on any particular set piece and his film making skills are perfectly competent, even as a novice director.  He would go on to helm better projects in the future.  He has a reasonable eye for detail and knows how to set up a visual joke.  He also seems to borrow.  Large swaths of Adventures in Babysitting seem lifted from the oeuvre of John Hughes and there are sequences that feel like we've seen them a hundred times before (people hiding from each other at a fancy party, a fight in a restaurant) because we have.
There are worse ways to spend a couple of hours on a lazy evening.
Camaro driving.  Shot out windshield.  Marked up centerfold.  Blues singing.  Gratuitous homeless people. Gang fight.  Thor helmet. Gremlins backpack.  Gratuitous John Carpenter music. Kindly car thief.  
To learn more about Mrs. Norman Maine, see our Movie Rewind introduction, visit her entire back catalog and follow her on Twitter at https://twitter.com/missvickilester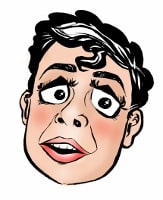 Originally from Seattle Washington, land of mist, coffee and flying salmon, Mrs. Norman Maine sprang to life, full grown like Athena, from Andy's head during a difficult period of life shortly after his relocation to Alabama.