BEATLEMANIA
Main Cast: Jim Sturgess, Evan Rachel Wood
Director: Julie Taymor
You must excuse me, dear readers for my prolonged absence from these pages.  I don't like to leave you all hanging, as I was left hanging in the flies of the Dolby theater after my unfortunate faux pas at the Oscar ceremony. You will be pleased to hear that I was finally able to escape the Dolby after a stage hand heard my plaintive cries for help and lowered me to the deck from the rather undignified position I had been occupying thirty-five feet up in the flies, having become tangled in some unfortunately placed rigging.   My lovely Mungojerrie formal from my GlamourPuss gowns collection (haute couture based on the costumes from Cats) was somewhat the worse for wear from hanging down over my head so I collected Normy, who had stuffed himself into a borrowed tuxedo that was at least three sizes too small and headed out the back service entrance before the paparazzi could discover us and publish some very unflattering photographs.  One must maintain one's image. We hopped into the first limo we could find and told the driver to take us immediately back to Casa Maine so we could recover from the ordeal.  I was in no mood for after parties.
Once we returned, I called Peter Lovejoy at my publicist's office and told him to put a full damage control plan into effect in case either Normy or my name's came up in conjunction with the debacle at the Oscars.  Fortunately, Warren Beatty and Faye Dunaway were busy shoving each other under the bus with the papers and we seemed to be in the clear.  My nerves were completely shot so I poured us both triple bourbons with bourbon chasers and we retired for a soak in the rock grotto jacuzzi I had installed next to the swimming pool.  When we're home alone, we bathe out there in complete dishabille which is usually not a problem except for the time we ordered the Chinese take-out.
Lying there amongst the waters, I thought it might be nice if we popped in a film in the outdoor screening system that we had installed for the entertainment of guests at summer pool parties.  Looking through a pile of DVDs that had been left in the cabana, I wanted to find one which might inspire our aquatic frolics.  There were no Esther Williams titles in the pile but I did run across Julie Taymor's Across the Universe from 2007 and I seemed to recall some lovely photography of submerged romantic couples so in it went to the machine for a look.
Julie Taymor, as you may recall, is the directorial genius behind the stage version of Disney's The Lion King, in which she drew upon African traditions, Asian puppetry, and American animation to make something truly unique.  In more recent years, she has branched out from the stage to film directing, having helmed several unique Shakespeare interpretations including Titus, The Tempest, and A Midsummer Night's Dream.  In 2007, she and some colleagues dreamed up a musical fable of the 1960s, using The Beatles song catalog, which became Across the Universe.  It was not a success.    The film is one of those projects I call a 'Why?' movie.  Why was the project made and for what audience?  The idea of using The Beatles as a soundtrack to a story of the US in the 60s sounds like a good idea on paper but it becomes very clear once one begins to think it through that it will be difficult to execute.  How do you encapsulate all those social changes into a story of two to two and a half hours?  Why would these characters express themselves in song?  How do you come up with a visual conceptual language that will support the conceits?  How do you get a modern audience to accept realistic characters in realistic situations expressing themselves in this way?  Which songs do you choose and which do you leave out and why?
The film begins in the mid-sixties, just before the seismic social upheavals changed America profoundly.  We meet Jude (Jim Sturgess), who looks and sounds a bit like a young George Harrison, who works at a shipyard in Liverpool with his mates.  He joins the merchant Navy, and jumps ship in New York determined to find the father he has never met, an ex-American GI who had a brief relationship with his mother when stationed in Britain during World War II.  His father is a janitor at Princeton and, while there, Jude runs into the privileged frat boy Max (Joe Anderson) who befriends him and brings him home to meet the family including his sister Lucy (Evan Rachel Wood).  Lucy's boyfriend, Daniel (Spencer Liff), has headed off to Vietnam and is ultimately killed in action.  The times, they are a changin' so Jude and Max head off to New York together where they rent rooms from aspiring singer Sadie (Dana Fuchs).  The communal household grows with the addition of JoJo (Martin Luther McCoy), Sadie's guitarist and boyfriend, Prudence (T.V. Carpio) a young woman escaping an abusive relationship and questioning her sexuality, and eventually Lucy as well.  Couples fall in and out of love, there are break ups and reconciliations, there are demonstrations, a group acid trip, cameos by famous entertainers, and everyone sings a lot of Beatles songs.
The film ends up having both strengths and flaws.  The major strength is Julie Taymor's splendid visual imagination.  Some sequences shine with indelible images that complement the music and remain with you long after the film is done.  An induction physical to I Want You (She's So Heavy).  A frustrated artist working with red paint, white canvas and fruit to Strawberry Fields Forever.  An innocent caught in the Detroit Riots singing Let It Be which morphs into the church choir singing it at his funeral.  These moments make it clear why Taymor was attracted to the project and what she had to bring to the table. She is aided by Bruno Delbonnel's gorgeous cinematography.  Other sequences are misfires.  Eddie Izzard as Mr. Kite in an animated circus seems to have wandered in from a completely different film.   Bono fares better as a psychedelic guru patterned on Timothy Leary and gives a mean rendition of I Am the Walrus.
The flaws include a relatively weak script (credited to Dick Clement and Ian La Frenais) which, in its quest to shoehorn songs written for a very different purpose into the story, makes some rather strange alterations in tone from time to time.  There's also a tendency to make a few too many clever references to songs that do not appear in the score.   Of course, Max uses a silver hammer (but not on anyone) and a character makes a dramatic entrance through a bathroom window.  The performances are also somewhat uninspired.  The cast does its own singing and, in looking for attractive young actors who could handle the music, they didn't find the most charismatic film personalities.  Jim Sturgess looks and sounds the part of a young lad from Liverpool but is uninspiring when he's not singing and Evan Rachel Wood is simply dull.  Dana Fuchs as the Janis Joplin inspired Sadie and Joe Anderson as the somewhat tragic Max come off the best.  It also helps that they have full character arcs to play.  Our central romantic couple has the relationship depth of a 1930s B picture romance from a poverty row studio.
The film reminds me of three other films, one good and two not so good.  The good one is Milos Forman's film version of Hair.  Like that film, we see the social changes of 1960s New York reflected in the musical styles of the time.  Hair, however, has the advantage of songs written to be part of a coherent whole.  Across the Universe uses wildly disparate songs created over a period of years in jukebox fashion leading to some uneasy segues, reminding me of Mamma Mia.  The third film it echoes is Ken Russell's Tommy with its over the top visual sensibilities and the use of the techniques of music videos.   Ultimately, I do think it's a film worth seeing but it needs to be approached as a noble, if flawed experiment and not a major work of art.
Prom couples. Suppressed Lesbian cheerleader. Gratuitous Statue of Liberty carrying. Rooftop golf. Spiked punch. On stage breakdown. Masked Vietnamese mothers. Underwater ballet. Rooftop concert. Pregnant ex-girlfriend.
To learn more about Mrs. Norman Maine, see our Movie Rewind introduction, visit her entire back catalog and follow her on Twitter at https://twitter.com/missvickilester
photo by Dezidor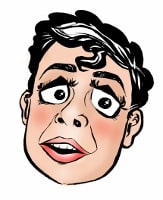 Originally from Seattle Washington, land of mist, coffee and flying salmon, Mrs. Norman Maine sprang to life, full grown like Athena, from Andy's head during a difficult period of life shortly after his relocation to Alabama.