WHEELS ON FIRE
Main Cast:  Jennifer Saunders, Joanna Lumley
Director:  Mandie Fletcher
The executives at the Arts and Entertainment network were thrilled at my pitch for my new reality special based on the preparations and execution of my grand open house, introducing my public to my new home and workplace.  If the footage turns out well, we should be able to edit some of the B roll into new commercials for my fine consumer product lines.  Leah, my head of merchandising, is already in talks with Pic-n-Save about a whole new specialty line from VickiWear, based on the costumes from Hamilton, so that the women of America can be as powerful as the Schuyler sisters.  I am going to make farthingales and panniers the must have women's accessories of the 2017 season.
We've decided to entitle the new special The Maine Event, and the camera crew is arriving later today to start filming the catering crew as they begin the preparations for the grand manger buffet in the kitchens, the florists, as they create cascades of freesia and baby's breath over the balustrades, and me working overtime in the studio creating an amazing new tap number with which I can entertain my guests, preventing any lulls in the party's energy flow.  I haven't found quite the right music yet but am leaning towards a medley of John Williams' greatest movie themes.  Of course, I could never top what Debbie Allen did with the theme to Schindler's List on the Oscar telecast back in the early 90s.
Madam Rose, my publicist along with her assistant, Peter Lovejoy, came over for a meeting.  They feel that I need to make sure I have some high-profile reality television stars at the party for there to be potential for crossover episodes in the future.  I've therefore had invitations hand delivered to the Kardashian family, the real housewives of Beverly Hills, and a couple named Heidi Montag and Spencer Pratt whom I have been told are guaranteed ratings gold.   It's more than a week until the party, plenty of time for them to get their schedules cleared for what is surely to be the social event of the season.
Exhausted by all of this, I repaired to the home theater to find a film depicting high fashion social events in a positive light so that I might pick up a few pointers.  My eyes fell across the recent release Absolutely Fabulous: The Movie, and as the series always featured the high life, I decided to give it a whirl and see if I could pick up an idea or two regarding my dress for the evening or a new beverage to introduce to my guests. Patsy and Edina, the anti-heroines of the series, have always been a source of inspiration to me and to all would be fashionistas, giving us all a chance to see the latest in couture, trendy living, and alcoholic excess.
The TV show, Absolutely Fabulous, premiered in a six-episode season on the BBC back in 1992.  It was a smashing success and several more seasons aired in the mid-90s with the characters coming back off and on for various projects in the early 2000s.  It was a spin-off of Dawn French's and Jennifer Saunders' legendary comedy show which first introduced the idea of an aging boomer mother who needed to be parented by her more level headed adolescent daughter.  The series, primarily penned by Saunders, revolved around Edina Monsoon (Saunders), a serially divorced middle aged London hanger-on in the PR industry and her best friend Patsy Stone (Joanna Lumley), a blond beehived fashion editor.  Together the two rampaged through Tony Blair's London in a series of misadventures made worse by their complete narcissism, inability to delay any sort of gratification, and general boorishness.  At home, Edina was trying to raise her daughter Saffy (Julia Sawalha), a no-nonsense level headed and intelligent high schooler, and contend with her dotty mother (June Whitfield).   A movie version of the duo's hijinks had been promised for some time and finally arrive this past summer.
This time around, Edina is trying to raise the profile of her embattled PR company by recruiting new clients from the world of high fashion.  She and Patsy are off to a big do on the banks of the Thames populated by a lot of well known Londoners doing cameos including Stella McCartney, Gwendoline Christie, and, for some reason, Jon Hamm.   During a scuffle, Kate Moss, who in this version of London seems to be a goddess second only to Aphrodite (despite being styled to look like ten miles of bad country lane), is toppled into the Thames and presumed drowned.  Edina and Patsy become personae non gratae and, like any sensible people in this situation, immediately leave the country for the French Riviera taking Edina's mixed race granddaughter (Indeyarna Donaldson-Holness) with them.  (I'm not making this up you know.)  Once ensconced in Antibes and Cannes, they become involved with an aristocrat (Marcia Warren) slyly lampooning the late Duchess of Alba.   Eventually the entire cast gathers for a finale, wide open for additional sequels.
I wish I could say Absolutely Fabulous, as a revisit to familiar characters, was a success.  Unfortunately, it is not.  What was funny a generation ago (and it has been nearly twenty-five years since Patsy and Eddie first kicked up their heels) just isn't funny in the same way anymore.  I sat there much of the time waiting for something amusing to happen.  Unfortunately, most of the forced comic moments came across as pathetic more than anything else. Arrested adolescence in a forty something works.  Arrested adolescence in a sixty something, especially in our modern world where arrested adolescents seem to be coming into political power, does not.   All the characters being several decades older than when we first met them make us wonder why Saffy doesn't just tell her mother off a final time and move out of the house or why Mother wouldn't find a senior living facility more peaceful. No one seems to have learned anything or evolved from who they were in the past and that's a recipe for audience boredom.
There are some good moments in the film.  Saffy's impromptu karaoke number in a drag club to Janis Ian's At Seventeen is borderline brilliant and suggests that a much better movie could have been made. There's also some wickedly funny moments from Marcia Warren and from Celia Imrie as a rival PR maven.  Chris Colfer, late of Glee, also breathes much needed life into his few scenes as Edie's stylist.  The end credits are full of stills that appear to be of scenes that didn't make it into the final film and I wonder if the real problem is not the characters or Saunders' screenplay, but Mandie Fletcher's direction.  Ms. Fletcher has some good comic credentials, having directed some of the classic British TV series Black Adder, but something seems to have gone amiss here.
The other fun part of Absolutely Fabulous is the number of cameos, both playing heightened versions of themselves, and small roles.  I think it may take on Around the World in Eighty Days and It's Mad Mad Mad Mad World for most familiar faces per frame.  A lot of the cameos will be lost on American audiences as they are folk without a following outside the British Isles but a few I did recognize included Lulu, Jerry Hall, and Rebel Wilson as a flight attendant.
I can't recommend this film to those who are unfamiliar with the characters.  Those who do know them will enjoy revisiting old friends but will leave at the end unsated and wishing that it had been a tastier dish.
PR Luncheon.  Gratuitous Jean Paul Gaultier.  Police detective boyfriend. Drag queen coiffures. Mom in suitcase. Caftans. Earrings.  Floating assistant. Truck in swimming pool.
To learn more about Mrs. Norman Maine, see our Movie Rewind introduction, visit her entire back catalog and follow her on Twitter at https://twitter.com/missvickilester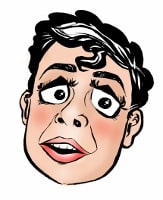 Originally from Seattle Washington, land of mist, coffee and flying salmon, Mrs. Norman Maine sprang to life, full grown like Athena, from Andy's head during a difficult period of life shortly after his relocation to Alabama.