ABOVE IT ALL
Main Cast: James Marsden, Karl Urban
Director: Eric Van Looy
Normy and I gassed up the Kimchi Kitchen food truck this morning and headed back to the Malheur Wildlife Refuge so that I could continue to entertain all those lovely patriotic men with a new tap routine I had devised to Quando m'en vo but when we pulled up outside the visitors' center, we found it overrun with federal marshals. Apparently there was some sort of disagreement and there is no longer a need for emergency supplies of snacks or entertainment. It's hardly the first time I've had a show close prematurely. (My first Broadway outing, Death of a Saleslady, closed sometime in the middle of act one). Normy and I decided to make the best of it and take a leisurely trip home through the scenic wonders of California's central valley. We're looking forward to the architecture of Fresno, the parklands of Bakersfield and the natural beauty of Los Banos.
In the meantime, Normy and I are busy casting around for a new project to set off my golden talents and keep me before my ever adoring public. I had Leah email up the offers that had come flooding into Chateau Maine during our absence certain that there would be something there from a major studio or an international production company. The first thing to arrive was a recurring part on a new cable drama series set in the world of professional dry cleaning. I would play Mavis, a wise cracking counter clerk with a penchant for sniffing tetracholoroethylene between customers. The pilot script had some good one liners but absolutely no dance routines so I don't think it's right for me. There was also a rather gushing letter from some politician named Rubric or Rubbo or some such who said he had been a fan for years and that I had to perform a patriotic routine at his upcoming rallies. I have a lovely red, white and blue spangled pair of tap shorts and a routine I worked up years ago to Kate Smith's recording of God Bless America (jazzed up with a techno beat courtesy of Normy's synthesizers); it would do well but I really don't want to go to New Hampshire in February. The weather is not good for the knees.
Normy received a new commission for a symphonic work for orchestra and solo klaxon which should keep him busy while I cast around for my next project. He became brilliantly inspired and began to scratch it out. I piloted the food truck for a few hours, then grew tired and as Normy was still working away, I pulled over into a convenient rest area behind a large orange Schneider truck and pulled out my Netflix equipped iPad to catch a film until he felt like driving again. I was in the mood for a thriller and my searches pulled up a little film from last year, The Loft, of which I had not heard but which had an interesting cast including James Marsden, Karl Urban, Wentworth Miller and Eric Stonestreet so I decided to give it a whirl.
The Loft is an English language remake of a 2008 Belgian film of the same name. The original film, written by Bart De Pauw and directed by Eric Van Looy, was apparently a smart and stylish thriller which was well received in its country of origin. The film was then adapted for an English language remake with Van Looy again at the helm and Wesley Strick adapting the original Dutch language screenplay. Unfortunately, something seems to have been lost in translation as the resulting film is shallow, witless and about as thrilling as a root canal.
The film concerns a group of five married men (Marsden, Urban, Miller, Stonestreet and Matthias Schoenaerts) who come up with the brilliant idea of sharing a fabulous urban loft as a crash pad to which they can bring assorted mistresses and prostitutes, having a safe space in which to desport themselves without their wives stumbling on tell-tale hotel bills or credit card receipts. All seems to go well until one day, when a pretty young blond woman turns up naked and dead in the bed with slit wrists, blood all over the sateen sheets, and a Latin epigram written in said blood across the headboard. Once the body has been discovered, the five miscreants gather to discuss what to do. There are accusations, recriminations, secrets are revealed, the police (Kristin Lehman, Robert Wisdom) become involved and in a series of flashbacks, we learn that all is not as it seems as the double crosses mount.
All five of our leading men are despicable human beings on one level or another. Let's face it, the central conceit of the plot requires that they all worship at the altar of Roosh Valizadeh and they all come across as douchebags of the highest order. This throws the film off from the beginning as we have no one to root for. When we do meet the women in their lives (Isabel Lucas as the victim and Kali Rocha, Elaine Cassidy, Valerie Cruz, Rhona Mitra and Rachel Taylor as the various wives), they are all playing various misogynist fantasies of harpies and there isn't a real thinking and feeling woman in the bunch. By the end, I wasn't sure if there was anything resembling an actual human on the screen.
The actors try hard, but are undone by the material. James Marsden of the marvelous cheekbones tries to do something with his sleazy psychiatrist and Wentworth Miller has a couple of good moments as the nebbish who may be more interested in Karl Urban's bottom than in the bottoms of the women in his life. However, the film is much more concerned with trying to play with the audience's perceptions and expectations than with actually developing character. Mr. Van Looy seems to think he is a Hitchcock in the making, but Alfred would have been smart enough to cut a few of the plot twists in order to make room for some real drama with real people. Hitchcock kept all of his best twisted ideas sublimated under the surface of what seemed to be relatively normal and well-rounded people. This film puts all the psychopathology right on the surface and thus completely diminishes its power and its interest.
The film ultimately plays out as an odd hybrid of one very good film (The Apartment) and one not so good film (Very Bad Things which at least had Cameron Diaz's whacko bride to breathe life into the proceedings. This film's attempt at comic relief is a drunk woman making threats at a casino party). It's the cinematic equivalent of a book picked up at the airport for a cross country plane trip. You keep with it because it's fast paced enough to keep you wondering what's going to happen next but you're not sorry to forget it in the seat pocket when you're done. Hollywood seems to have had a similar feeling about the film. It was shot in 2011 but wasn't released until January 2015. It might have been better in Dutch but I don't plan to seek out the original to see if it's actually a more enjoyable film.
Pills. Insulin shots. Secret videotaping. Drug use. Sister protecting. Naked pool swimming. Naked Karl Urban. No naked James Marsden. Gratuitous prostitute with heart of gold. Police interview room. Fall from roof.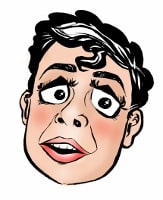 Originally from Seattle Washington, land of mist, coffee and flying salmon, Mrs. Norman Maine sprang to life, full grown like Athena, from Andy's head during a difficult period of life shortly after his relocation to Alabama.