RAPID DESCENTS
Main Cast: Harrison Ford, Anne Heche
Director: Ivan Reitman
We had our first day of filming for my new HGTV series earlier this week. After several title changes, we've decided to call it Hooray for Hollywood House Hunting with Vicki Lester: an intimate look at how the right piece of real estate becomes a living legend. With half of Chateau Maine having fallen into the canyon (which has caused quite the breeze through the hallways of the west wing), Normy and I are a bit under the gun to find a new domicile which I can turn into a fabulous showplace of both form and function. We are nicely ensconced on the yacht under the watchful eye of Captain Drew but it really isn't enough space for all of our projects. I was working out a little tap routine for a proposed musical adaptation of The Poseidon Adventure on the poop deck under the tutelage of Lulu Pigg, my tap therapist and Madame Mimi, my vocal coach when I did a few too many pirouettes and my extension caught Leah, my plucky factotum, right between the shoulder blades, knocking her over the rail and into LA harbor. It was quite the maneuver getting the yacht turned around so we could fish her out again. Fortunately, the cooler in which we had the pitcher of mai tais chilling was ready to hand and acted as a lovely life preserver when we tossed it down to her.
Anyway, the first day of shooting had us heading up Mandeville Canyon in a stretch limousine to look at a mid-seventies structure of wood siding and glass that had once belonged to Helen Lawson. At first glance, it was promising with a lovely setting of trees and chaparral but the interior was tragic beyond belief. The most recent owners had torn out all the lovely wall to wall carpeting in various day glow colors which Helen was so fond of and replaced it with some rather dull woods. The view from the master bedroom also seemed to be straight into the picture window of the master bath next door and I really didn't need to see a naked Harvey Fierstein relaxing in his garden tub. The film crew did get a great reaction shot when I first looked out the window. The kitchen was also a horror. No subzero refrigerator and a dishwasher that was at least five years old. Normy and I looked at each other and decided that it would never do and that Mr. Jeff, the realtor from the network, would have to do better. A true star needs a setting to make her shine in the cinema firmament.
The end of the day found us tired and slightly cranky, especially when we returned to the yacht and realized that the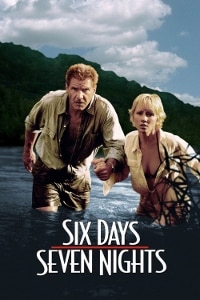 mai tais we were planning on enjoying had been tossed over the side with the cooler. We had to settle for sloe gin fizzes and checked the movie channels for something innocuous to take our minds off the taxing business of finding just the right home for the future. We settled on Ivan Reitman's adventure romance Six Days Seven Nights from 1998 with Harrison Ford and Anne Heche. I hoped for a lighthearted romp a la Romancing the Stone but ended up being sorely disappointed.
Anne Heche plays Robin Monroe, a high powered magazine editor, who is inexplicably engaged to a complete drip of a man played by David Schwimmer. They need a break from their big city lifestyle so he arranges for them to spend a week at a luxury resort in the South Pacific. Various unbelievable plot machinations lead to them arriving at the island on a charter flight piloted by Quinn Harris (Harrison Ford), a laconic guy straight out of Jimmy Buffet song who has been wasting away in Margaritaville with his lady friend (Jacqueline Obradora). A day into the vacation, Robin receives a call from her boss (a slumming Alison Janney) demanding that she make a quick side trip to Tahiti for a story. Soon Robin and Quinn are aloft for a three-hour tour but something goes wrong and they crash together on an uncharted desert isle. Off course, with a broken plane, they appear to be stuck with each other. Will they escape the island? Will the evil pirates (led by Temeura Morrison) who discover them and want them dead be defeated? Will they fall in love cute? Let us just say that Michael Browning's paint by numbers screenplay offers no real surprises.
The film was not a success in its initial release. The part of Quinn was tailor made for Harrison Ford's roguish charm but he has to have a strong and saucy woman opposite him to make the formula work and Heche is not it. She's far more Kate Capshaw than Karen Allen. It's not that Heche is bad, it's just that she has zero chemistry with either of the two men whom she is playing opposite. But then again, who has ever had chemistry with David Schwimmer? She has a certain charm, and looks great running around the jungle but you end up just not caring if she returns to New York or breaks her neck falling off some seaside cliff. Her tumultuous personal life also helped sink the film. After several years of Steve Martin, she embarked on a highly publicized affair with Ellen DeGeneres while the film was in post-production. Perhaps the film would have worked better if she had crashed with Alison Janney but late 90s film audiences were unlikely to be ready for that in a potential summer blockbuster.
There are a few things to admire. The tropical scenery is lovely. The modern day pirates are appropriately menacing. Ms. Obradora provides some much needed comic relief and some functional sex appeal. Perhaps if she and Mr. Ford had crashed together… Ultimately, however, the film is undone by the miscasting of Ms. Heche and the truly terrible screenplay. Mr. Schwimmer, who is intended to be the comic relief, is also embarrassingly bad and intrudes on the film in the vein of Mickey Rooney in Breakfast at Tiffany's. His scenes should have been left of the cutting room floor or at least drastically shortened. The time could have been made up with some more lovely helicopter shots of remote tropical beaches.
Harrison Ford is a licensed pilot and did most of his own flying for the film. There are a couple of great flight sequences involving crashes at the end which are well staged and edited. They bring the energy level up a bit as do the confrontations between Ford and the pirates. Most of the rest of the film, however, is a snooze. I cannot recommend it other than as an inspiration to book a tropical holiday, hopefully somewhere that does not require charter plane flights.
Red airplane. Sunburn. Emergency fashion event coverage. Gratuitous water snake. Cavern sliding. Yacht murder. Karen Black moment. Multiple infidelities. Beach memorial.
To learn more about Mrs. Norman Maine, see our Movie Rewind introduction, visit her entire back catalog and follow her on Twitter at https://twitter.com/missvickilester
photo by DromoTetteh
[AMAZONPRODUCTS asin="6305213283″]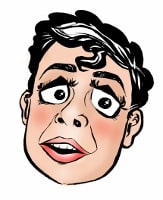 Originally from Seattle Washington, land of mist, coffee and flying salmon, Mrs. Norman Maine sprang to life, full grown like Athena, from Andy's head during a difficult period of life shortly after his relocation to Alabama.