Edward Romero hips me to another gem.
Main Cast: Patrick Hickman and Brian Krause
Director: Elias Mater
One of the dangers of being a reviewer is you don't always know what you're gonna get. Sometimes we review things we choose, and sometimes artists ask us to review something for them. If you're really lucky, you get an artist who consistently turns in great work. It just makes the whole process much more enjoyable for everyone. To date, Edward Romero has no let me down. His 2010 movie Butterfly quickly became one of my favorite movies, and his latest, Ribbons, is also an excellent piece of work. Okay, technically NOT a Romero movie. He wrote the script, but the film was directed by Elias Mater (the two collaborated earlier on the 2010 movie Ashes–in fact, a lot of the same cast members from Ashes returned for this movie). But it was Romero who asked if I'd be interested in reviewing it. I'm pretty sure I hadn't even finished taking a breath before I said "Hell yes."
And I was right. Another quality piece of work.
Ribbons deals with ex-soldier Vincent (Patrick Hickman, Eventide) who is contemplating suicide until a girl in a bar, Rachel (Haidyn Harvey, I Sell the Dead) offers to buy him a drink. The two leave together and Vincent suddenly has found something resembling a normal life outside of the armed forces. So when Rachel invites Vincent to a dinner date at her mother's house, Vincent is only too pleased to accept. And after the stories Rachel has told Vincent about her stepfather Kenny (Brian Krause, "Charmed"), and the strain he put on Rachel's relationship with her mother, Vincent WANTS to tag along to make sure Rachel is safe.
Add to this an Armenian hitman taking out sex workers downtown and a battle worn cop who's secretly in love with one of her exotic dancer CI's, and you've got yourself a WHOLE lot of drama.
For me, I felt the hitman and cop angles felt a bit out of place at first, but I should have known a writer of Romero's caliber would tie it all together perfectly in the end. What I didn't anticipate was just how perfectly that would be. It's not often a twist slips by me, but I seriously did not see that one coming. Excellent work.
While the acting in this movie is good, it was Krause who stole the show, turning in a great performance as dirt bag Kenny, a type I know all too well. There are bits of Kenny's personality that could so easily come across as cliché, but Romero's script and Krause's chops make him, instead, deeply engaging and hard to look away from.
Matar is a master at handling the tension of this script, ratcheting it up and up and up until you're sure SOMETHING is bound to blow, and then he ratchets it up a little bit higher. Put simply, I'm not sure I can say enough positive things about Ribbons. Even the soundtrack was excellent, each song catchy and perfect for its placement, but never overpowering any of the scenes. Overall, it's just a damn good movie made very well by people who know what they're doing and who have nothing but respect for the process.
It just so happens, they're pretty damn talented to boot. This movie is currently unreleased, but is currently set for a June 2016 release. Keep an eye out for it. You'll be glad you did.
**This review was written after previewing the movie. Screenings at select theaters around the country starting in Los Angeles on April 14.***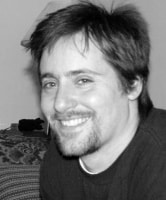 C. Dennis Moore is the author of over 60 published short stories and novellas in the speculative fiction genre. Most recent appearances are in the Dark Highlands 2, What Fears Become, Dead Bait 3 and Dark Highways anthologies. His novels are Revelations, and the Angel Hill stories, The Man in the Window, The Third Floor, and The Flip.