STRIKE AND YOU'RE OUT
Main Cast: George Mackay, Paddy Considine
Director: Matthew Warchus
The people from HGTV for whom I am filming my new reality television series, Hooray For Hollywood House Hunting with Vicki Lester really must step up their game. The first thing they had me and Normy tour this morning was only 17,000 square feet. How do they expect a star of my magnitude to truly shine in such a dismal little hovel? Where would I put my wardrobe? The second kitchen? Quarters for my fabulous staff? Not to mention the need for a tap studio, a sunken marble bathtub and a luxury home theater capable of seating at least six dozen intimate acquaintances. I really am going to have to have a talk with the producers. They don't quite seem to realize what sort of international celebrities we are and that people need to see us in the very best of everything. I had inquired as to the availability of Biltmore but North Carolina's recent unfortunate law will make it impossible to get good interior decorators and the inside would have to be completely redone to make it suitable. We then headed off to a second offering which was much more in line at something over 45,000 square feet complete with twelve car garage, riding stables and a lovely waterfall cascading into a multilevel pool but it was in Santa Clarita. It might as well have been in Thousand Oaks. Both communities are far too far away from Hollywood and I'm the kind of girl that needs to be in the center of the action.
In the meantime, between takes on the show, I have been poring over the new scripts and other offers that have come in over the last few weeks. A star as famous as I is constantly in demand for various projects and I must use all of my taste and discernment, developed over a career of some decades, to pick the projects that will both challenge me and continue to endear me to my legions of faithful fans. The script for a new stage spectacular, a musical version of The Poseidon Adventure looks promising, especially the Let's All Climb the Christmas Tree number in the first act, but the second act will require significant rewrites as the underwater ballet, in which all the surviving characters swim through dancing waters fountains and jets of multicolored flame in the burning engine room, simply comes too late in the story. I have been offered the Shelley Winters role but it's only a supporting part so I have sent it back to the authors with a very strong suggestion that the Gene Hackman role be rewritten specifically for me. I think my public would be thrilled to see me as a firebrand lady preacher, a sort of tap dancing Aimee Semple McPherson.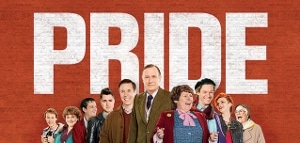 After an hour of quick pickups for the show late in the afternoon, Normy and I headed back to our temporary quarters of the yacht and I left him to work on some odd piece of chamber music he is composing for violin sopranino recorder and electric bass and I headed off to the home theater where I decided to put my feet up with a film. My choice this evening was one of those gentle slice of life comedies that the British excel at and have been turning out since the Ealing Studio days. This one, from 2014, was entitled Pride and is the true story of the unlikely alliance between striking coal miners and a group of gay men and lesbians in Margaret Thatcher's Britain of the early 1980s.
Margaret Thatcher's Britain of the time was as radical in adopting a more conservative approach to governance and benefits as her contemporary Ronald Reagan's was in this country. The defining moment here was the Air Traffic Controllers Strike which signaled the beginning of the den of public union strength. In Great Britain, it was the coal miner's strike of 1984-85 which the conservative government crushed with an iron hand. This event left an indelible mark on the British psyche as a way of life that had lasted for generations was callously exterminated and it has formed the background of a number of British films over the years. Billy Elliot and Brassed Off come to mind.
It's June 1984 and London's annual gay pride march is underway. Our young hero Joe (George Mackay), a college student just starting to come to grips with his sexuality, accidentally falls in with a group of gay men and lesbians led by Mark (Ben Schnetzer) who hang out at a gay bookstore run by Jonathan (Dominic West) and his partner Gethin (Andrew Scott). The gang starts to recognize that there are parallels between how the Thatcherites are treating the striking miners and how society has always treated them and they decide to start rising money for the striking miners and their families. It's the early 80s, HIV is just starting to enter public awareness and the LGBT community is still highly stigmatized so they're having difficulties getting the union to take their money. Eventually, they decide to help one community, plucked more or less at random from a map of Wales. A phone call to the little town of Onllwyn produces Dal Donovan (Paddy Considine) who comes up to London to meet his benefactors. Rather more open minded than the union, he is grateful for the support and soon, our gang of LGBT is off to rural Wales in a minivan to meet the miners and their families. As both the miners and the gay folk begin to understand their commonalities under societal oppression, they end up forming a deep bond and unlikely friendships start to blossom leading to a number of farcical fish out of water scenes such as the miners visiting the gay discos of London. By the time we reach the June 1985 pride parade, solidarity is in the air, despite a negative outcome to the strike and the growing specter of the HIV crisis.
While the film will appeal most to those with an interest in the LGBT community or queer cinema in general, the sexualities of the characters are incidental and there is essentially no dwelling on the intimate lives of the protagonists. Some happen to be straight, some happen to be gay and the film is really about two disparate cultures who come to understand each other's common humanity through shared struggle. The dividing line could have been race, religion, or political party. It just happens to be sexual orientation. There's nothing in it you couldn't show to your grandmother. Many of the more interesting characters are the miners' wives and mothers who provide the strength that sees the community through the hard winter of 84-85 spearheaded by the indomitable Imelda Staunton.
The film gets the period details right from the fashions to the music to Jimmy Sommerville and the Bronski Beat entertaining at a mine relief fund raiser. It has a bit of a low budget look to it as most of it takes place in generic London streets or in the mining town full of drab working class interiors. The only scenes with any sweep are the pride parade scenes that book end the film. The final one, in particular, gives a feeling of a world about to change, in both hopeful and tragic ways. This is underscored by the American Graffiti device of subtitles letting us know what happened to many of the major characters (real people all) after the events of the film.
I ended up enjoying the film immensely. The performances are uniformly excellent. The story is timeless and timely, given the renewed legal oppression being hurled at the LGBT community in this country in more conservative states. It may not be the fanciest of productions but gives a good feel for a vanished world and serves as a useful reminder of how much things have changed over the last thirty years.
Street spitting. Tumbledown book shop. Lesbian hair. Pastry alibis. Brick through window. Evil woman in red pageboy. Much drinking of pints. Gratuitous veganism. Bad public speaking.
To learn more about Mrs. Norman Maine, see our Movie Rewind introduction, visit her entire back catalog and follow her on Twitter at https://twitter.com/missvickilester
[AMAZONPRODUCTS asin="B00OY7YNKI"]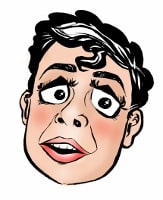 Originally from Seattle Washington, land of mist, coffee and flying salmon, Mrs. Norman Maine sprang to life, full grown like Athena, from Andy's head during a difficult period of life shortly after his relocation to Alabama.